Joyful Visions
In honor of taking a bold step forward, the makers of La Grande Dame posed a question to three women creators: What does optimism mean to you? For some of them, the past year was a tentative step back into shared spaces and collective life. For others, it was triumphant and euphoric—a linking of arms, metaphorically and literally, in celebration of being alive.
— Cleo Wade —
"
Optimism is a dedication to finding and holding on to what is good. Knowing its power can change your life.
Click to enlarge Cleo's artwork.
⤢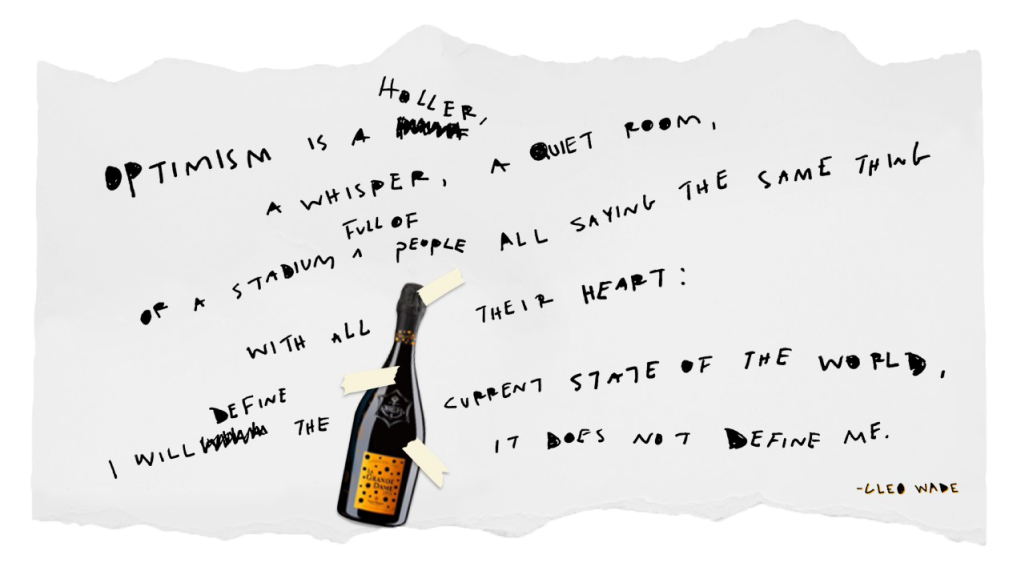 ×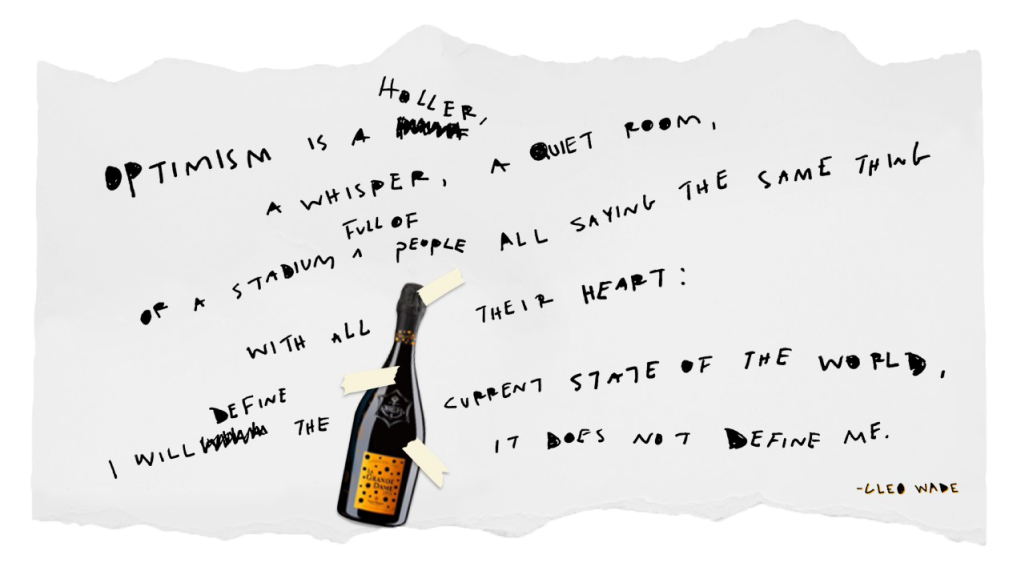 Cleo Wade is a writer, poet, and New York Times best-selling author of three books: What the Road Said, Heart Talk: Poetic Wisdom for a Better Life, and Where to Begin: A Small Book about Your Power to Create Big Change. Her work is dedicated to exploring love, freedom, self-care, and the power of community. She has been called the poet of her generation by Time and one of the 100 most creative people in business by Fast Company, and she sits on the board of the Lower Eastside Girls Club, the National Black Theatre in Harlem, and the Women's Prison Association. Cleo is from New Orleans and currently lives in California with her family.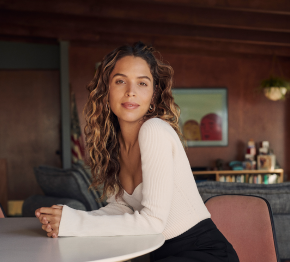 On the comforts of poetry
Poetry has always been my therapy, before I was in therapy or even knew what therapy was. I have developed a practice over the years of being able to create a safe space for myself with pen and paper. When the world felt especially unsafe this past year, I felt a certain level of relief in moments of anxiety because I knew I had a safe space in my writing, and I feel so lucky to be able to share that space with my readers.
On maintaining optimism
My optimism has gotten me through this past year. I have held on to it because I know the value of allowing it to be my guide and hold my hand. I grew up in New Orleans, I have seen my hometown be washed away and rebuilt by neighbors, I have witnessed and experienced resiliency that is only possible when powered by optimism and hope. When the pandemic was upon us, I knew it was a time to double down on optimism, not a time to turn my back on it.
On the inspiration behind this piece
Optimism is worth getting good at. And like all things, the only way we get really good at something is through practice and determination. My favorite thing about optimism is that it is a power we all have in our possession. I wanted to write those words to remind us of our power. Sometimes the world is overwhelming, and we forget.
— Doan Ly —
"
What is a more optimistic act than giving flowers—these delicate things of ineffable, impermanent beauty—to bridge this distance from my heart to yours, in hopes that it will bring you joy?
Click to enlarge Doan's artwork.
⤢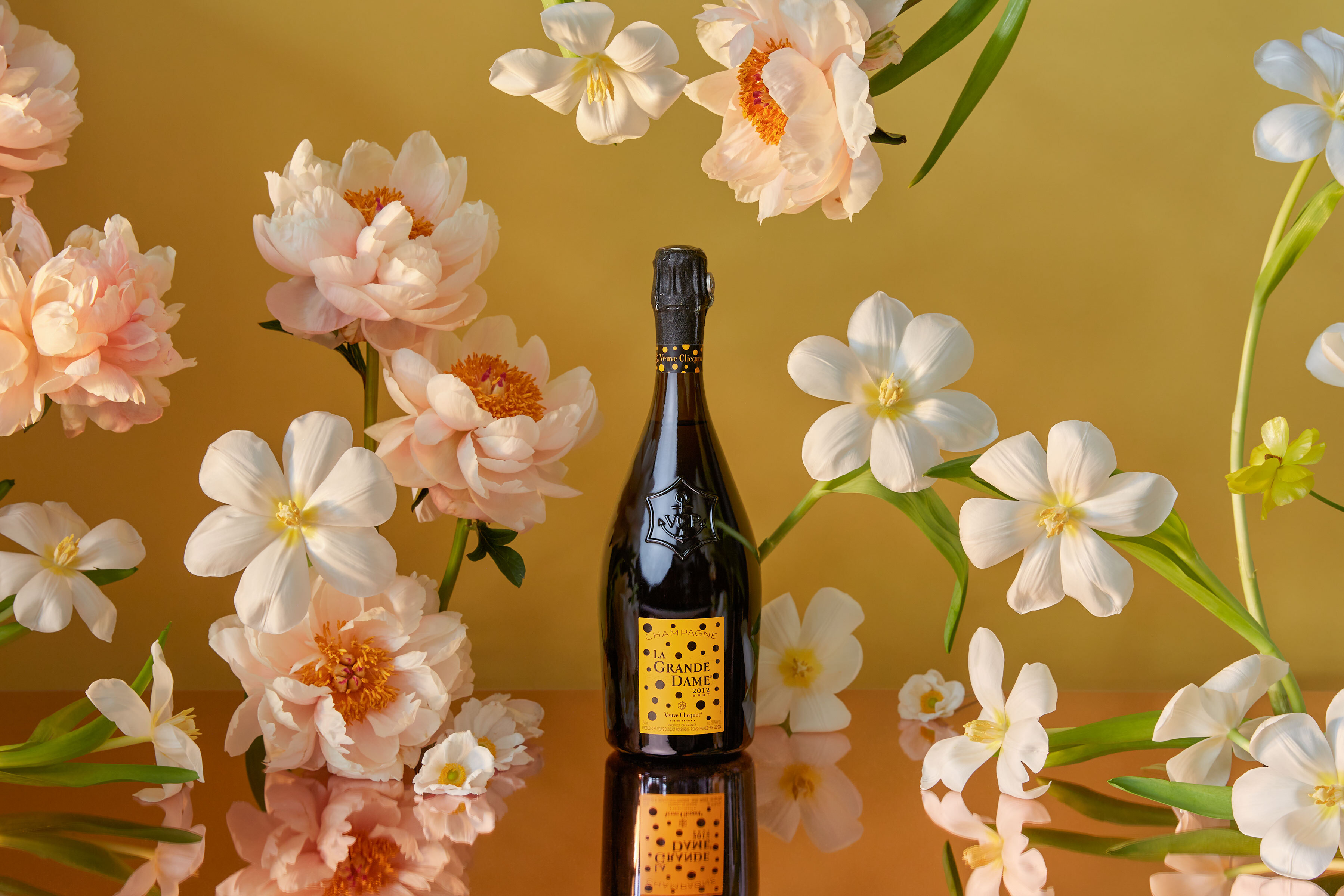 ×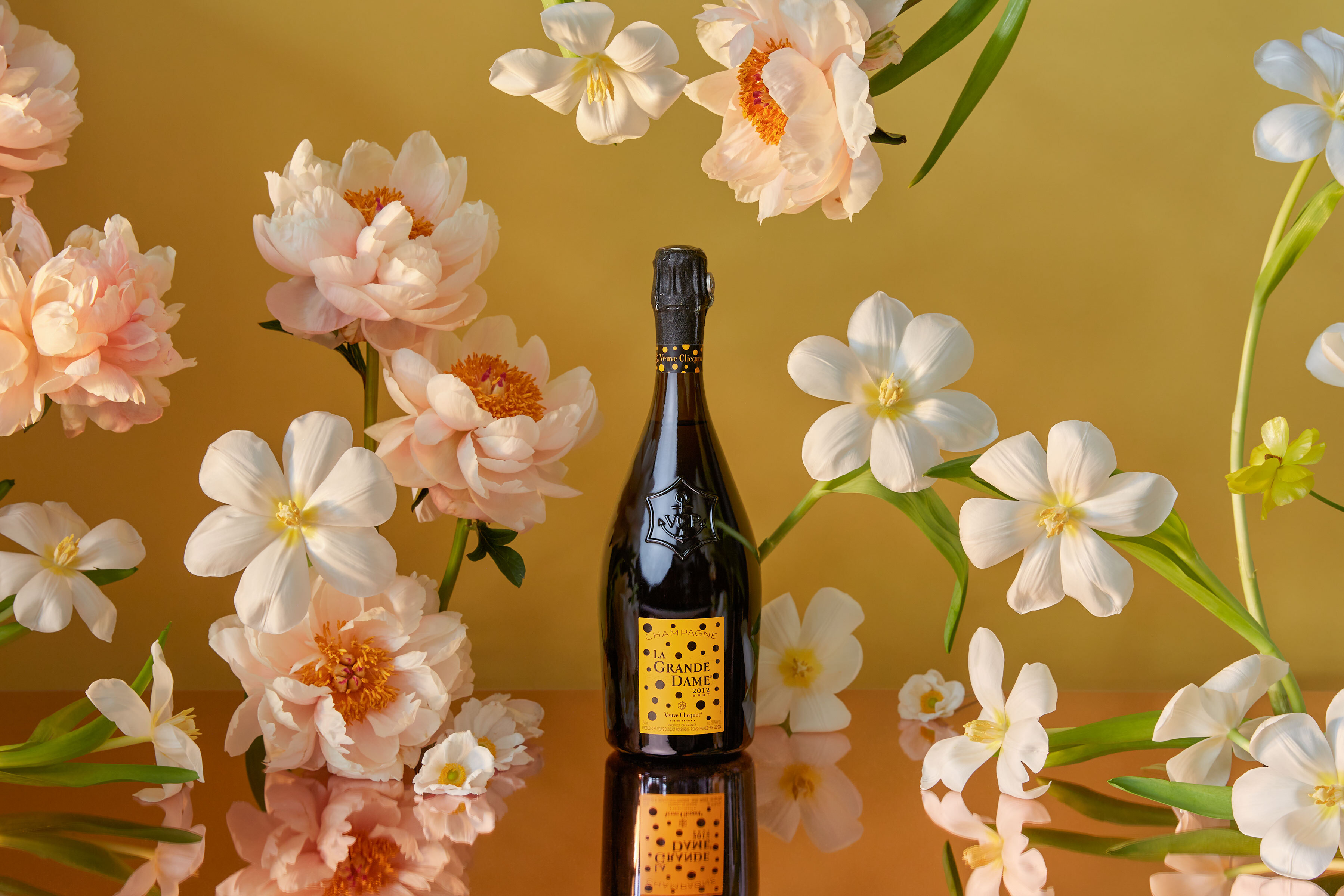 Doan Ly is a floral designer and photographer based in New York City. Her work with flowers began with a job at a friend's plant shop. In 2015, she opened her own design studio, called a.p. bio.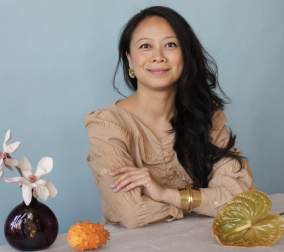 Photo by Paintbox Nails
ON WORKING WITH FLOWERS
Flowers may seem delicate, feminine. But they are surprisingly powerful and larger than life, and by using them for still life, they kind of transcend. So, how do you transcend flowers to a bigger narrative of power and existence and loneliness and relationship and love? They are not practical. They're purely for joy: I want to give beauty to something that is perishable and finite, just for the sake of conveying whatever ultimate essence is in that occasion. That's such a nugget of love, and reflective of optimism.
ON HER CREATIVE MENTALITY
I always want to keep exploring, saying, okay, "What else can a flower tell me?" Or "What else can this scene tell me? Where can it take me? What can it teach me? What can I share?" If I'm just by myself and I'm exploring and playing, I get really fun surprises. That's when the freak flag comes out, and that's when the images that people are most drawn to come out.
On the inspiration behind this piece
I tend to be a kind of maximalist, but to work in a more minimal way—to have constraints—is sometimes very freeing. I simplified the palette to just three tones: cream, gold, and a little green. Then it was selecting flowers that I felt would kind of capture openness and flight and movement—a sense of your spirit lifting and flying, the way optimism makes your heart swell with hope.
— Lenne Chai —
"
In a reimagination of the Roaring Twenties, set in the year 2021, I look to the past as a way of looking to the future and pay tribute to my optimism for when gatherings will be back (safely) in full swing.
Click to enlarge Lenne's artwork.
⤢
×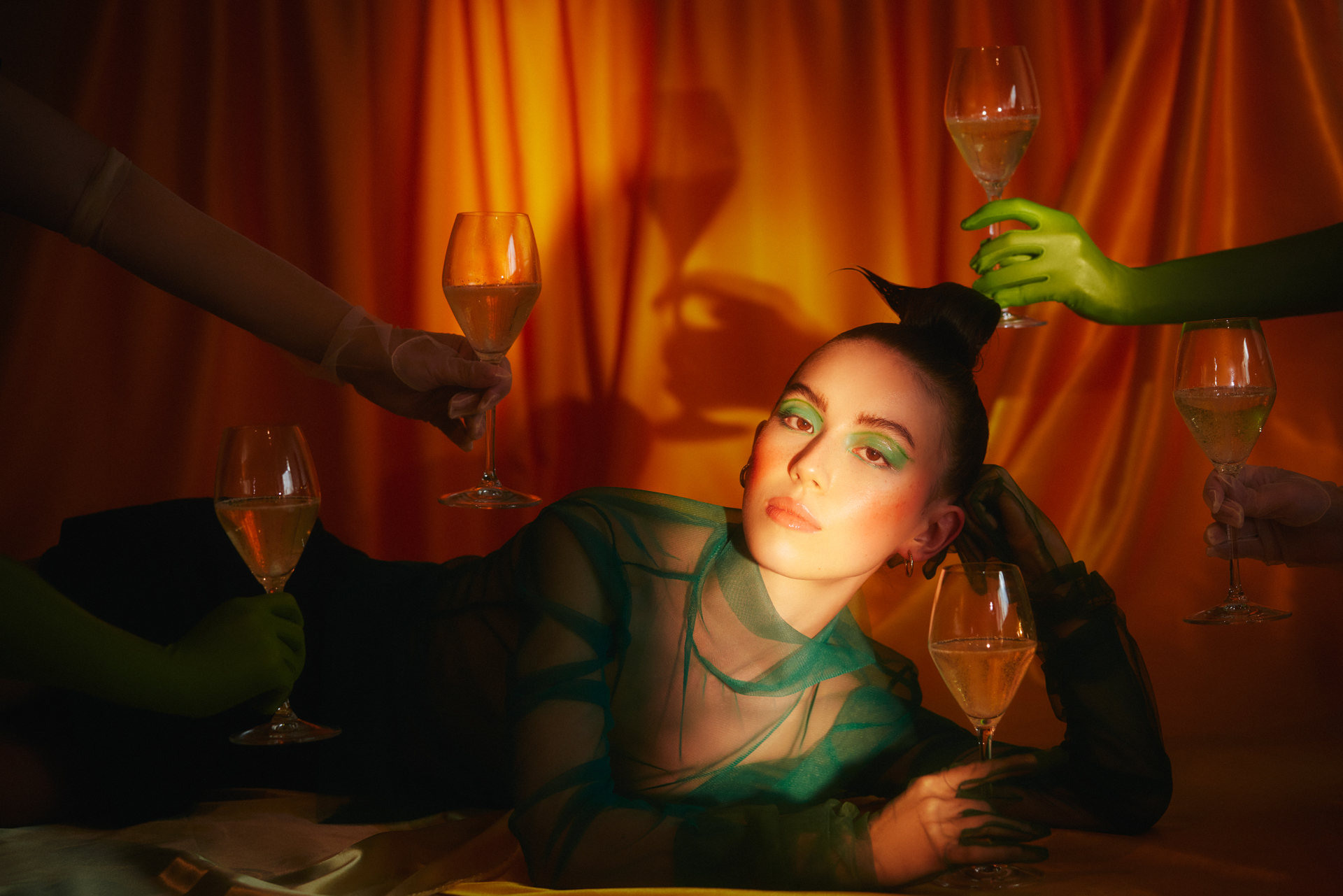 ×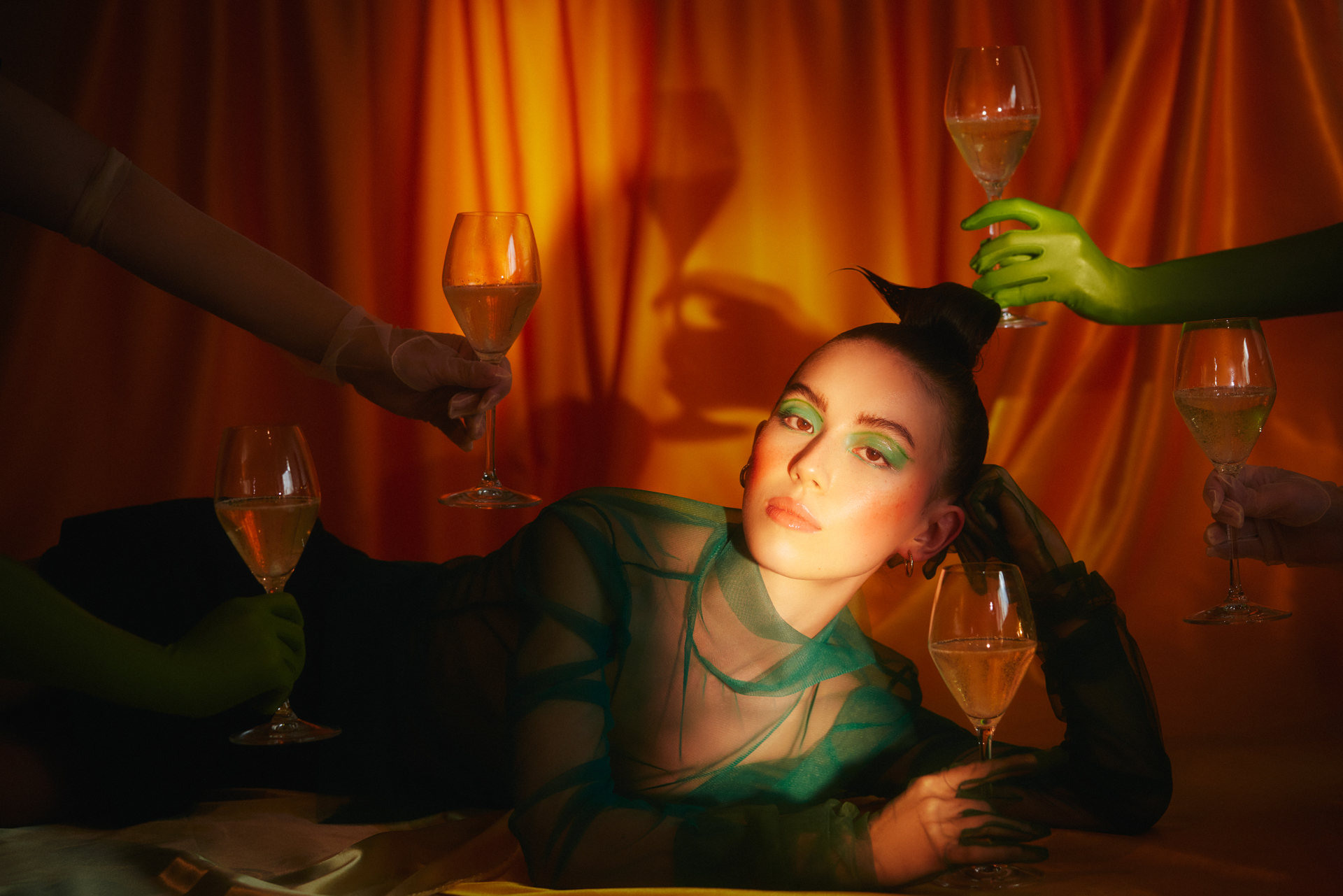 Lenne Chai is a photographer and director based in New York. She was raised in Singapore and began shooting for magazines at the age of 19. She enjoys creating sociopolitical, personal work inspired by her homeland.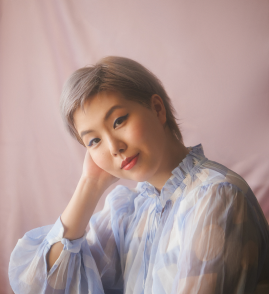 ON CHANNELING HER ROOTS
I come from Singapore, and my work has definitely been a tool for me to discuss social issues in a nonthreatening way. I think sometimes when we discuss social issues or when we want to take a stand or express an opinion, it can be very uncomfortable for the public. So I use fantasy as a way of imagining or being hopeful—or even desperate, sometimes—for a different present or a different future.
ON NAVIGATING A CHALLENGING TIME
Over the past two years or so, it's not been easy to create new work or create something that is aesthetic for aesthetic reasons. The pandemic is going to influence how I create. It has forced me to slow down and think about why we do what we do and how we do it, if it's sustainable, and if it's with intention.
On the inspiration behind this piece
My work was inspired by looking at the past as a way of trying to figure out where the future is going. History is so cyclical—there was the Spanish Flu in the 1910s, and after that there was the Roaring Twenties, right? I'm so curious to see what our version of the Roaring Twenties will look like. How are we going to celebrate?
MORE ON THE PROJECT
Madame Clicquot was ahead of her time. Dubbed La Grande Dame du Champagne, or "The Great Lady of Champagne," she rebuffed gender norms at the start of the 19th century, when, at age 27, she was widowed and made the bold decision to take over her late husband's business. At the time, women didn't own property in France, much less lead companies—but that didn't stop Clicquot. She went on to helm what became Veuve Clicquot for nearly six decades, and during her tenure, transformed champagne production with her forward-looking vision—which included creating the first-ever vintage and developing a technique to clarify the then-cloudy substance into the clear, sparkling liquid we know today.
More than a century and a half after Clicquot made her mark, another creator carved a similarly pioneering path in the arts: Yayoi Kusama. At first blush, these two women may seem unalike, but they're connected by their audacious creativity. Kusama, a contemporary Japanese artist famed for her playful, bespotted creations—and a key figure in the '60s avant-garde movement—has long rejected convention. She creates unexpected, life-affirming art, be it an installation that seemingly expands into infinity or a polka-dotted tree.
In an embrace of this imaginative approach, Veuve Clicquot joined forces with Kusama in 2020 to honor Madame Clicquot. Kusama designed the brand's new vintage, La Grande Dame 2012, as a celebration of life. After more than a year of collective reimagination and regrowth, this interpretation of Clicquot's legacy, which draws a thread from one groundbreaking creator to the next, begs the question: Who are the next grande dames? And how are they maintaining a sense of joie de vivre?
Cleo Wade, Doan Ly, and Lenne Chai answer that creative call by echoing the joy and imagination of Madame Clicquot and Kusama, connecting visionaries past and present as they chart their own bold path forward.