The Glenrothes
DISTILLED IN:
Rothes, Scotland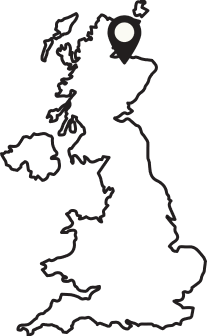 The Glenrothes
DISTILLED IN: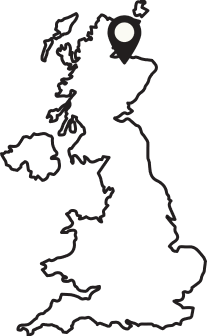 Rothes, Scotland
It takes a certain kind of boldness to innovate within a time-honored field.
Tradition and legacy make a solid foundation, but the true artisan wants to leave a mark; alter the landscape.
It takes patience to learn meticulousness, to hone skills with an eye toward future innovation. It all amounts to joyful obsession: to go beyond mastering the established standards and begin to prowl the edges, curious about the limits of individual techniques, ingredients, even simple everyday objects long forgotten by the majority of the world.
For nearly 150 years, this curiosity has been at the core of crafting The Glenrothes award-winning single malts. It also propelled a global search for artisans with a kindred, singular vision: From the wild deserts of New Mexico to the to the sun-soaked industry of Los Angeles to pastoral quiet of Devon, England, we discovered creatives with unparalleled takes on established forms that made us feel as if we were among friends.
Each artisan's philosophy mirrors The Glenrothes' ethos: an esteem for the integrity of nature, for legacy and origin, for thoughtful design that will transcend passing eras and fleeting moments in time. They are quiet pioneers in their respective fields. They work with a reverence for traditions they know intimately, yet they actively court the edge of exploration, of radical discovery. They're at home in the sweet spot between the unexpected and the timeless. It's a tension we understand well.
We're overjoyed to bring you three pioneers of like mind.
All The World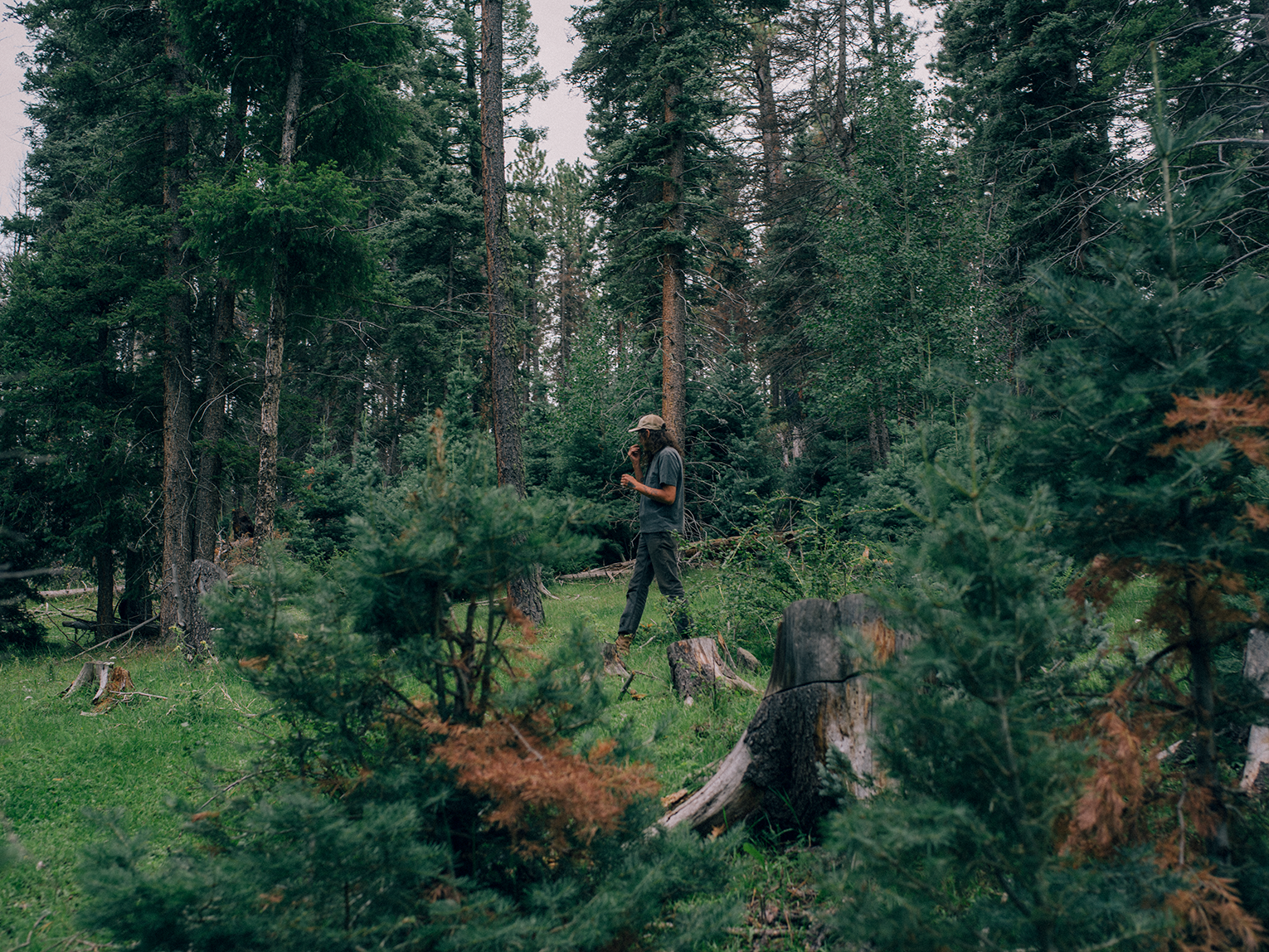 Johnny Ortiz-Concha is always foraging. Down valleys and up mountains, across rivers and deserts by his home in northern New Mexico, he hunts for wild ingredients.
On A Plate
Johnny Ortiz-Concha
PHOTOGRAPHY BY:

ON LOCATION IN:
Northern New Mexico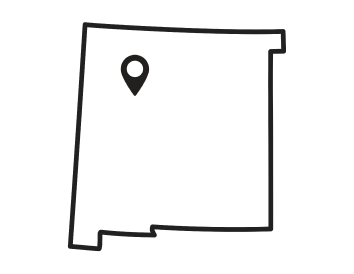 Johnny Ortiz-Concha
PHOTOGRAPHY BY:

Coley Brown is is a photographer, designer, and book publisher based in Los Angeles, CA.
ON LOCATION IN: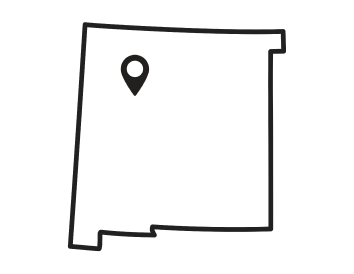 Northern New Mexico
A
skate punk by temperament
with a gentle way of speaking and a shy smile, Johnny Ortiz-Concha is a skilled and inventive chef, versed in brigade lines and haute cuisine from some of the United States' best kitchens, where's worked since he was a teenager.
On his hunts, Ortiz-Concha opens himself to the earth's rawness, to the discovery of flora and fauna in their most feral stages. Rose fruit, red-cap bolete, a wild elk or two. They form together in the back of his mind, then materialize onto a clay plate atop a redwood table, served to guests who travel through the mountains and nearby villages to join him for a private, expertly curated dinner. His philosophy on materials is foundational. There is an affinity for the immediate, the local, the usefully at hand.
"Go to a typical restaurant, you'll get, like, a pickle plate, something that's been really salted," says Ortiz-Concha. "We don't do that. We can't." A salted plate is wildly unsuitable to a high desert. Here in New Mexico, says the chef, "we don't even have enough salt to make prosciutto. What we do have is the lowest relative humidity. We live in a dehydrator, essentially. Food can be dried for the winter." Winter, like all seasons in this New Mexican microclimate, is a raw material.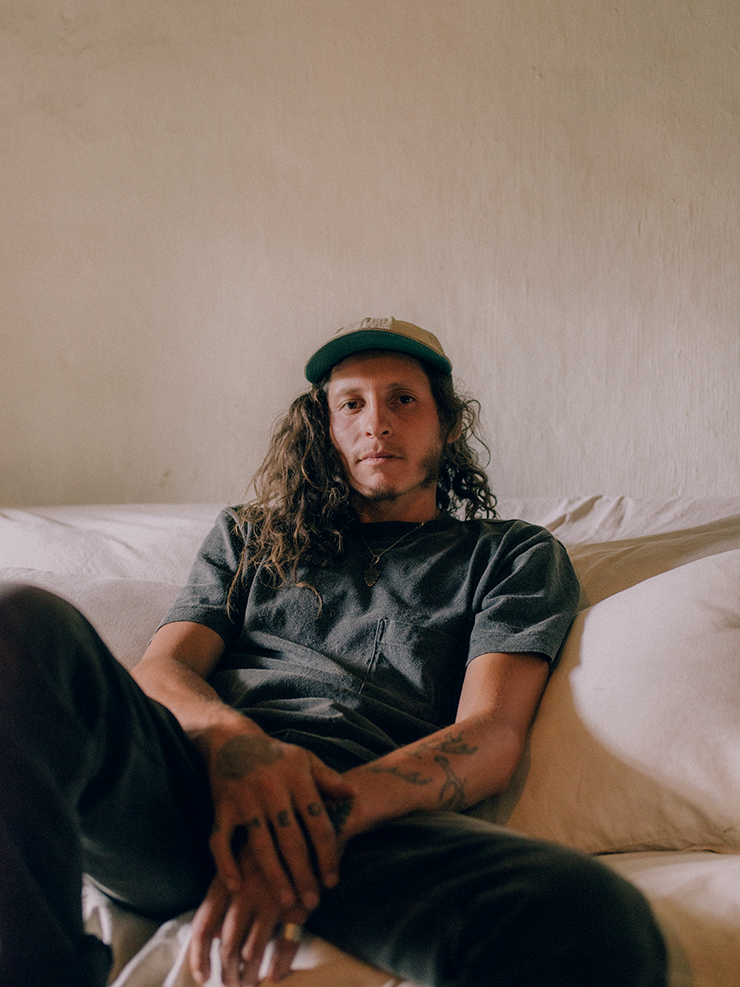 "
Go to a typical restaurant, you'll get like, a pickle plate, something that's been really salted, we don't do that. We can't.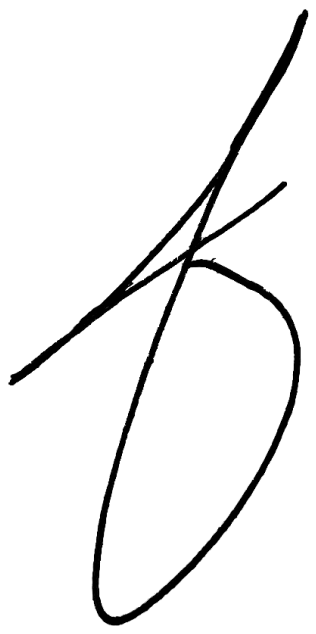 For Ortiz-Concha, too many restaurants deflect the crucial questions of availability and sustainability posed by the materials at hand. We're all guilty of forgetting: Things are ripe or they are not; in season, or not. Nature is abundant but not efficient. For his own place, Ortiz-Concha would know what was available and how to use it all—the seasons, the terrain, earth's tempo. Something natural both to him and to the wild, varying region he calls home—a philosophy and an intimate subscriber-only dining experience he dubbed /shed.
/shed is Ortiz-Concha's terrain-based approach to elevated eating. The backslash is important: It wants you to stir, to startle. Here, the collective of chefs, farmers, artists, and craftspeople wants guests to undergo an experience more akin to ceremony (recolección) than meal.
Committing to the /shed way,
Ortiz-Concha believes we become "more
ourselves"
through what we take in,
who we surround
ourselves with.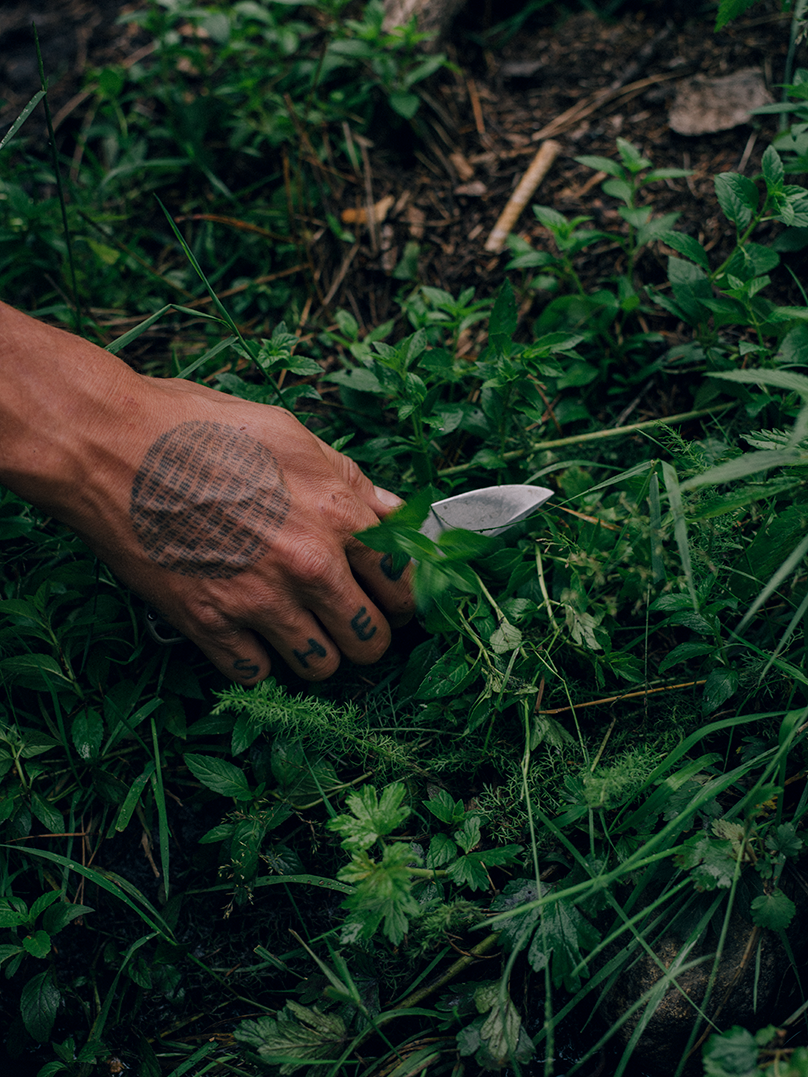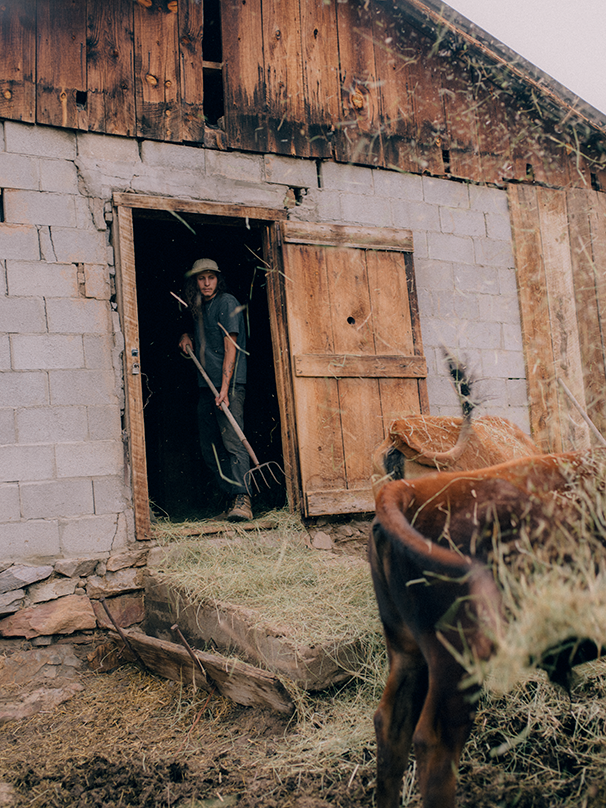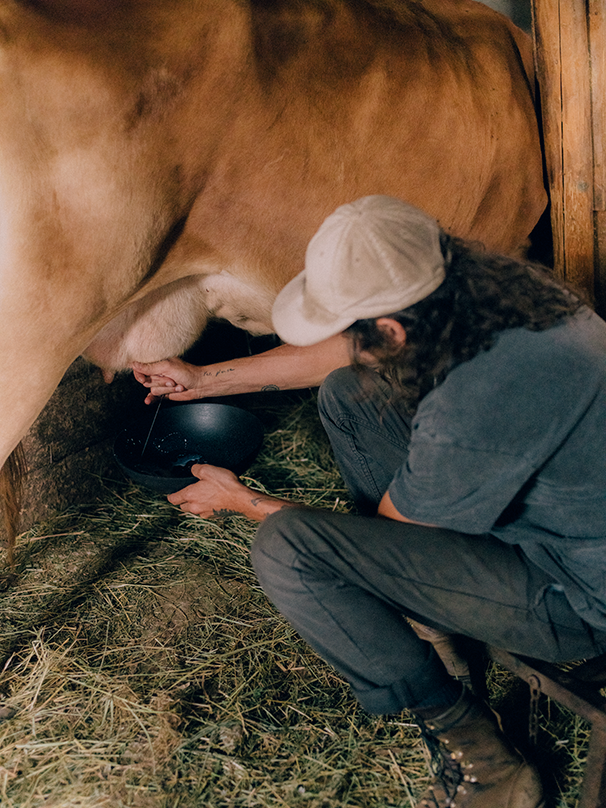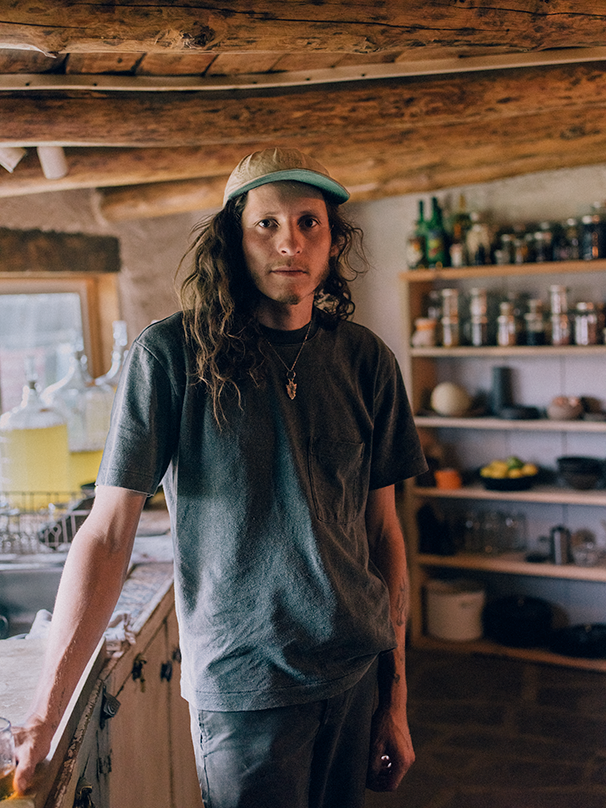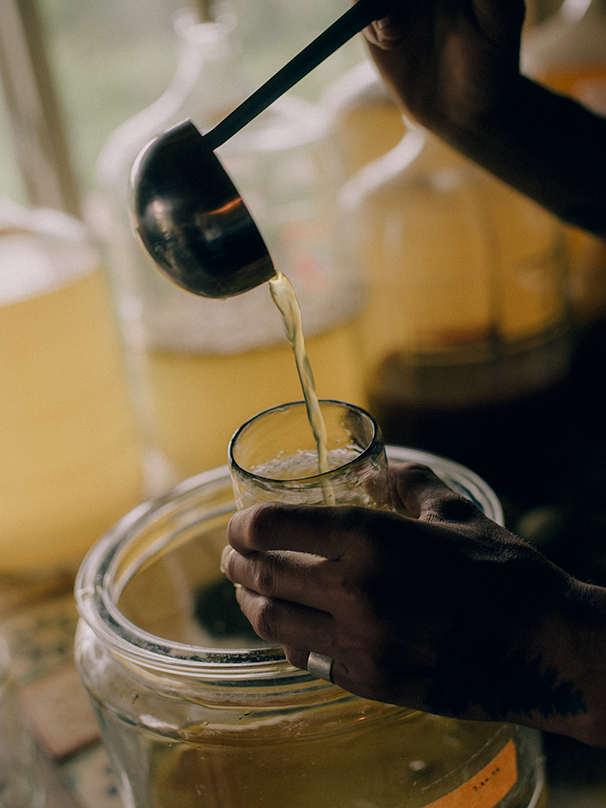 After running his project as a pop-up, Ortiz-Concha is now hosting dinners from nearby Taos while he works on preparing the project's permanent home: a literal shed at the far end of his 22 acres of self-sustaining land. It's a setting that means more to him and, hopefully, to his guests than the high-end restaurants both parties are used to. (Ortiz-Concha honed his craft at the Michelin-awarded Alinea in Chicago and Saison in San Francisco, among others.)
What began as punkish improvisation is morphing, with deep intentionality, into an ecosystem, and subscribers to /shed are materials in that ecosystem, too.Parciantes—participant-members who get first access to everything the project does, grows, creates, and cooks up on the acreage. "I like the idea of adapting," the chef says. "And I also like to branch out. Our members change the way I cook."
"
It's when we participate that abundance tends to follow.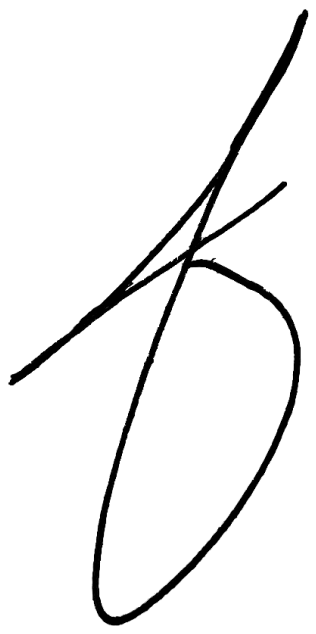 Often sold out, each dining experience at /shed is a multicourse meal "built and destroyed" on a common table "using primarily wild or feral endemic plants," foraged bits of nature, trees, as well as local animals. Milk and butter come from Dolores, the chef's dairy cow. Wax for table candles is culled from bees kept on the property, as is the honey in the golden honey soda that brews on the kitchen counter. Hot broth is made from piñon branches. Lake-bed salt is used to make carne seca, dried meat. River mint decorates wild trout. Fresh corn, beans, and squash is grown within arm's reach. Everything is served on charcoal-colored clay that Ortiz-Concha makes from the same micaceous variety of adobe that composed the walls of his grandfather's home in the ancient village of Taos Pueblo, where Ortiz-Concha grew up.
"Over that house we had cactus and grass growing up on the roof," he recalls. "When it rained, we put buckets on the roof to catch all that water." He picked corn as a child, and wild flowers for brewing tea. A river ran through the village center for both washing clothes and drinking. There was an orchard. A feeling took root, and permeates /shed now: "There was just this abundance," he says. "It's when we participate that abundance tends to follow."
"We have no control over any of this," he goes on, gesturing to the outside world. "Other than participation and reverence."
NEXT:
Joshua Shapiro
Keep Scrolling
↓
Holding Legacy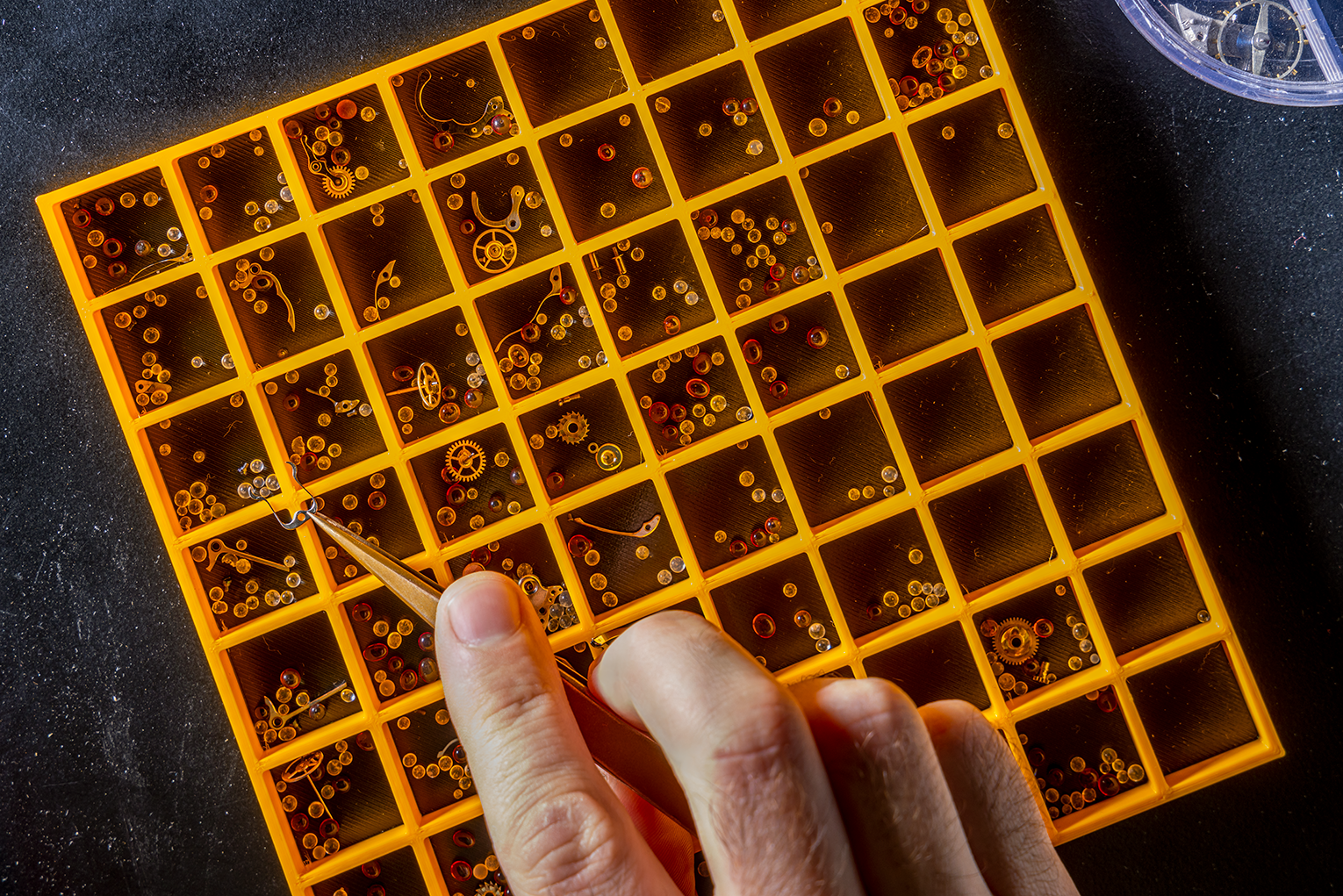 For Josh Shapiro, history is intimate. Great leaders, movements, eras—it's all personal, a gift to make use of.
In Your Hands
Joshua Shapiro
PHOTOGRAPHY BY:
ON LOCATION IN:
Los Angeles, California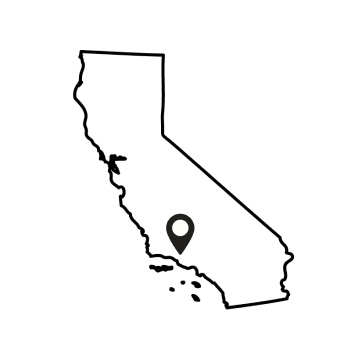 Joshua Shapiro
PHOTOGRAPHY BY:
Christie Hemm Klok is a west coast based photographer who combines technical prowess with a strong editorial point of view.
ON LOCATION IN: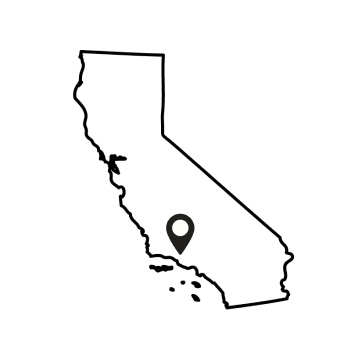 Los Angeles, California
J
osh Shapiro was learning from his grandfather, a machinist, at six years old:
how to pry and melt gold out of junked computers, buried in the crucibles of motherboards. Or they'd go turquoise-mining across the border in Mexico, where Josh plundered the hauls from his grandfather's buckets to craft his own jewelry. As a kid, he knew machine shops and smelting before he knew how to read.
Though later in life he acquired a master's degree in history and became a teacher at a yeshiva, memories of that magical old man taking the world apart with two hands never left him. So he returned to that tactile world of destruction and discovery: skeletonizing wrist watches, removing the layers one by one to study both artistry and engineering.
What started as a hobby grew infinitely more serious—and expensive. Shapiro sold his prized 1967 Mustang Fastback to finance his first serious purchase as a budding designer of watches: a vintage guilloché hulk he needed in order to learn the age-old art of intricately decorating flat metal. ("Completely worth it," he says.) By chance, an established watchmaker spotted a few original Shapiro designs made with the machine and commissioned him to start decorating dials for custom-made watches.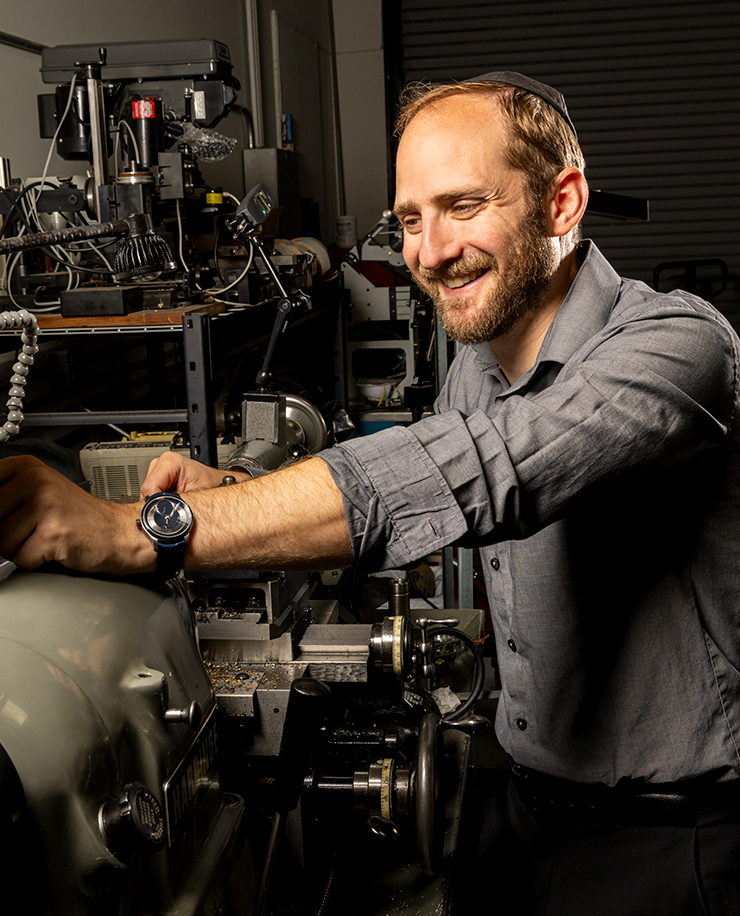 "
Watches were at the forefront of technology right up until the invention of automobiles.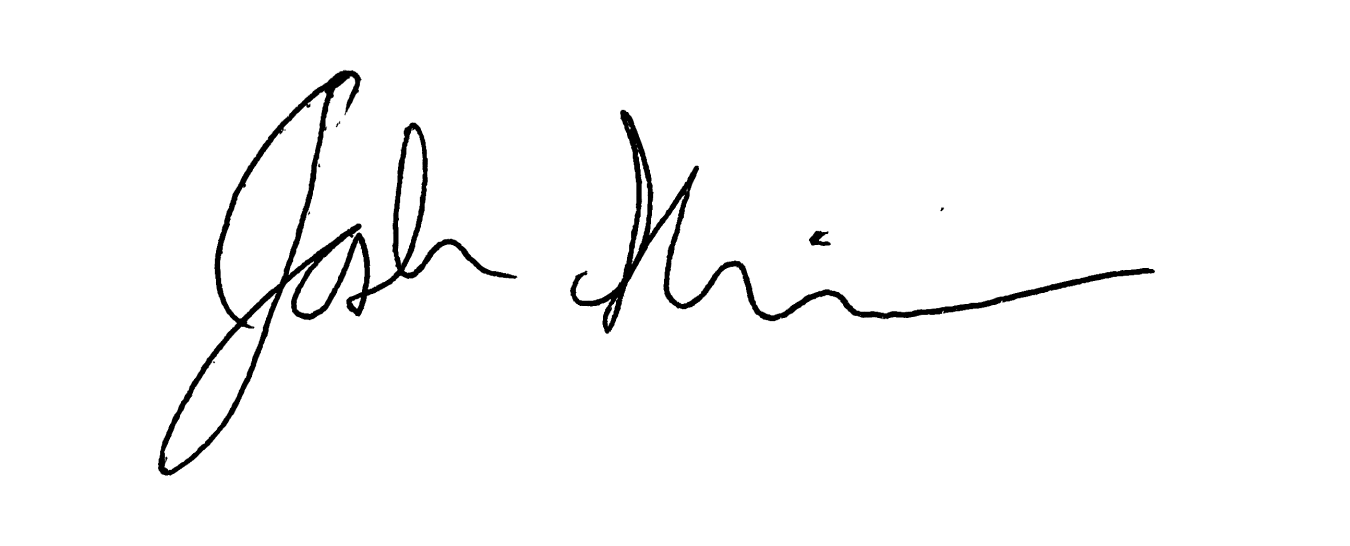 Six years later, Shapiro is the founder and chief horologist behind J.N. Shapiro, the luxury, L.A.-based watch brand. To pursue an original J.N. Shapiro timepiece is to fully commit: Each comes with personalized knowledge about every precision-crafted element of its multilayered insides, painstakingly tended with careful hands.
"Watches were at the forefront of technology right up until the invention of automobiles," Shapiro says, forever a teacher at heart. He goes on: Marine chronometers spurred the first sea voyages. Train engines were built out of the same principles found in a typical pocket watch. Even Henry Ford, when he needed to study assembly lines, took notes at the Waltham watch factory.
Shapiro regards horology as a prize legacy, a relic of history that continues to animate the now and will have a place well into the future. His truest ambition is to be among the generation that does the impossible: resuscitates American watchmaking. He yearns to out-do the famed Swiss—specifically the overly mechanical, computer-directed creations made by committee.
To pursue an original J.N. Shapiro
timepiece is to fully commit.
Each one comes with personalized
knowledge about every precision-
crafted element.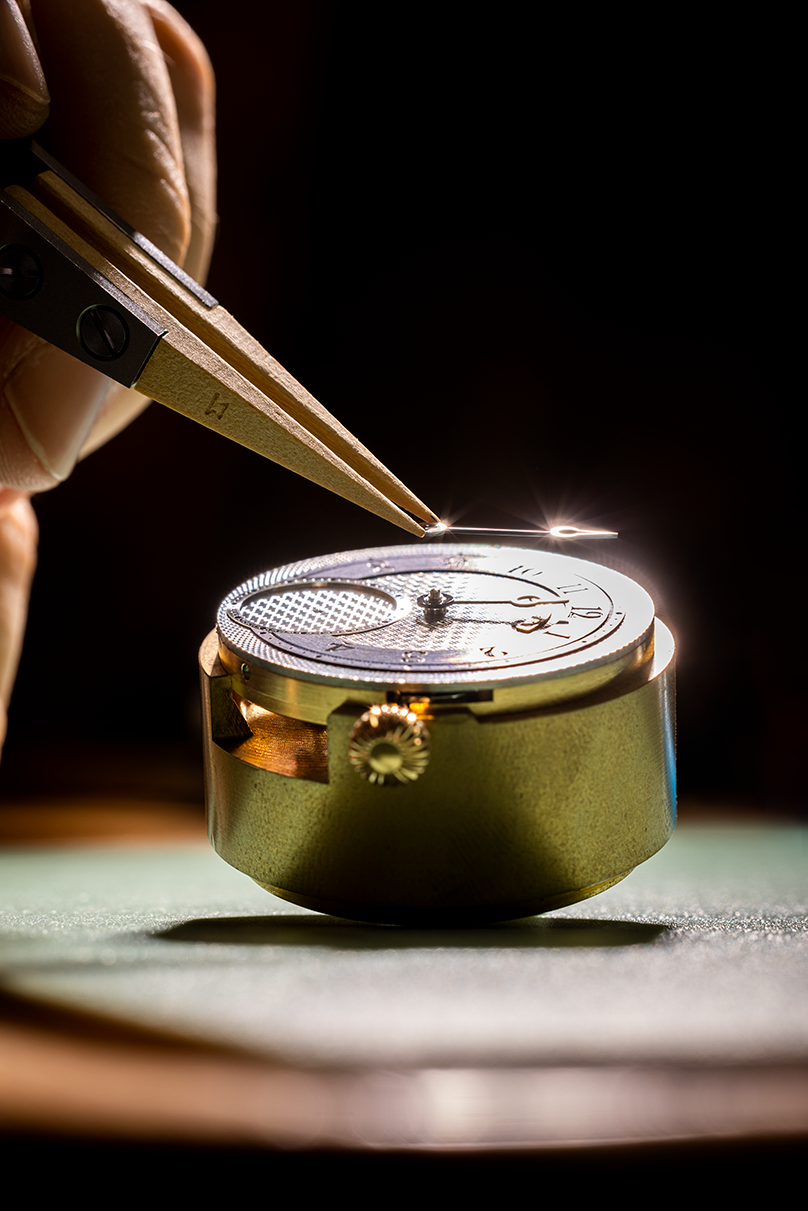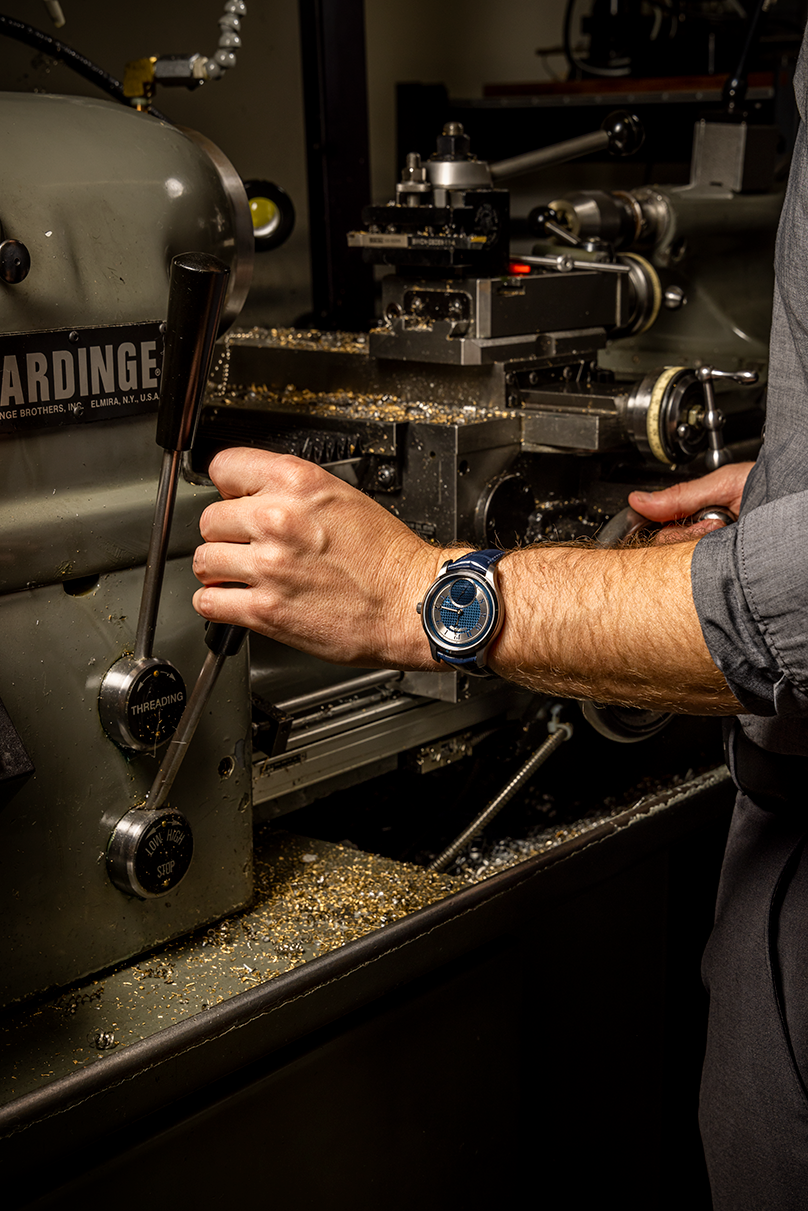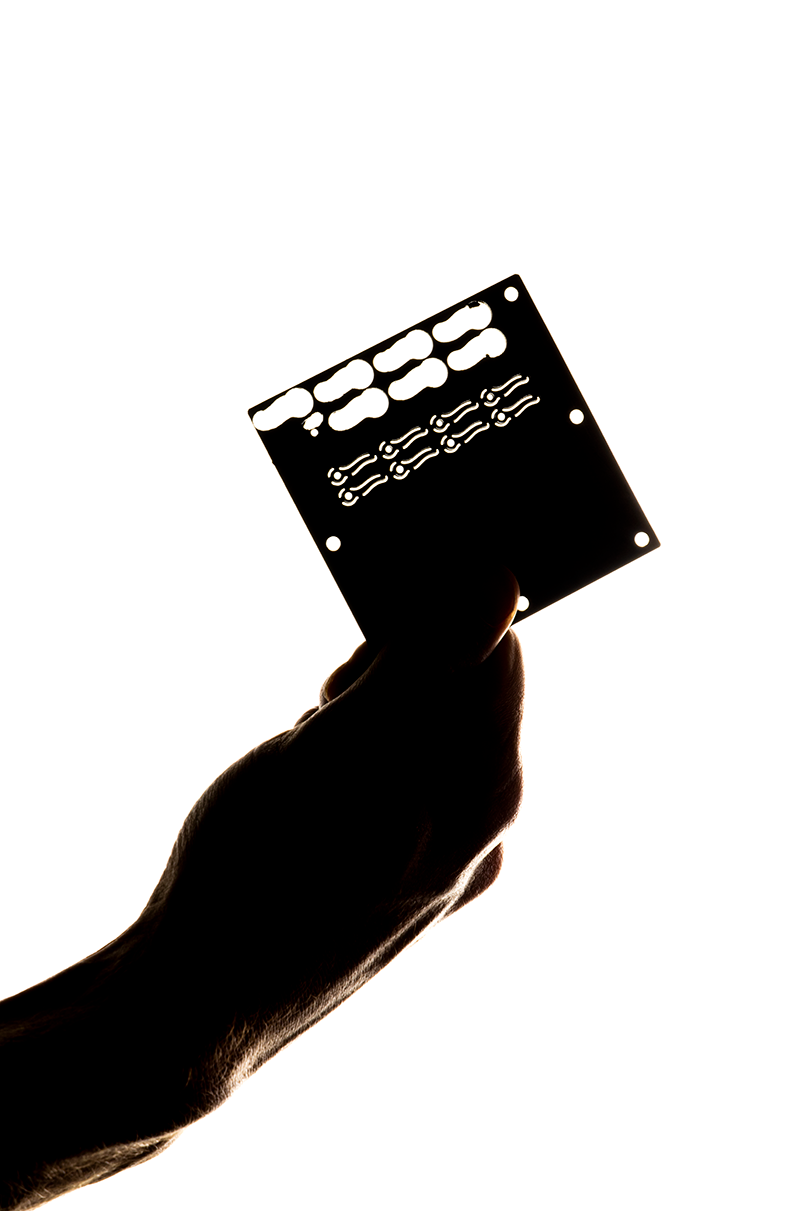 The first fruits of that ambition are startling. J.N. Shapiro watches are true legacy objects, as fitted for the wrist of a Gilded Age baron as for that of a 21st-century tech entrepreneur, finished with the Shapiro touch of guilloché so fine it seduces the eye with light. Horological art has to grow, after all; a legacy is meant for the living to use—meant, in effect, to become alive again, not sit in a museum. "I want every one of these to be not only functional but aesthetically beautiful," he says.
"
Classical and creative while still being tasteful. Like, our watches look good now, but they'll also look good in two hundred years.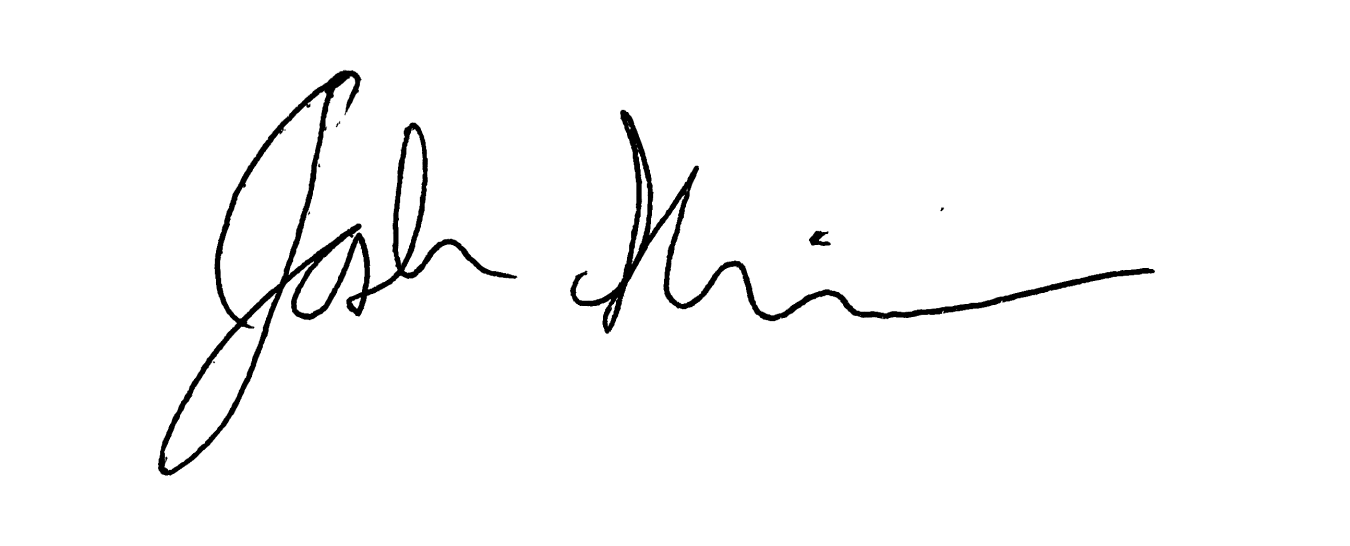 A loyal and growing customer base seems to agree: J.N. Shapiro's most recent Infinity Series, devised in 2018, sold out almost instantly. Since J.N. Shapiro creates everything both in-house and by hand, his workshop rarely makes more than 50 distinct timepieces per year.
"Very few brands put the same attention and time into this," Shapiro says. "When you buy a Rolex, you're dealing with a salesperson. With me, you're meeting the guy who made the watch."
It's that intimacy that makes all the work worth it: reverence for an ancient art, swirling with childlike awe, achieving wins at a scale that is impossibly grand and incredibly miniscule, all at once. He longs to inspire that same awe in his customers. Intonating someone holding a J.N. Shapiro creation, the craftsman sounds, delightfully, like that six-year-old Josh again: "Human beings actually made this? Wow, what can I do?"
NEXT:
The Browns
Keep Scrolling
↓
FASHIONING OBJECTS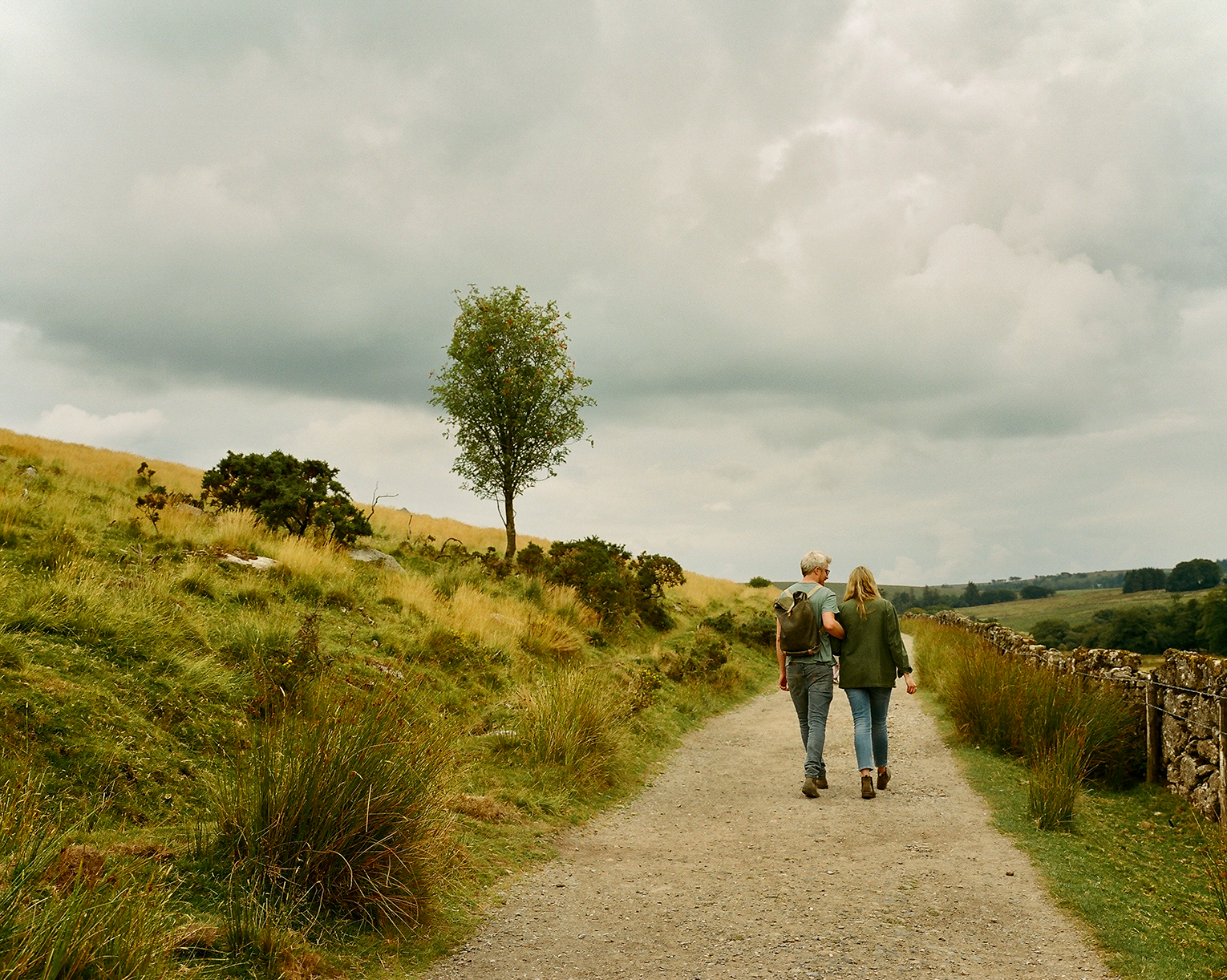 Cath and Jeremy Brown are joyfully obsessed—with the intricacy of a teapot, the luxury of a well-designed pasta plate, the playful possibilities of a whirlwind jaunt to the woods…
FOR LIFE
Cath & Jeremy Brown
PHOTOGRAPHY BY:
ON LOCATION IN:
Exeter, United Kingdom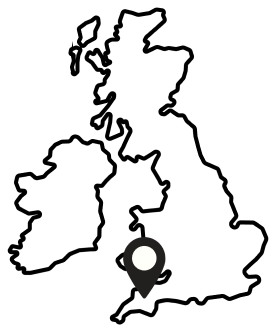 Cath & Jeremy Brown
PHOTOGRAPHY BY:
Emma Hardy is a London-based photographer, she catches subtle, in-between moments with grace and spontaneity
ON LOCATION IN: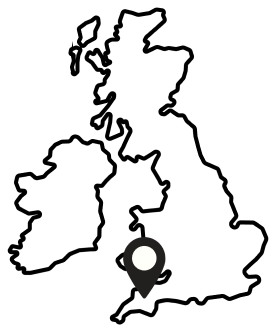 Exeter, United Kingdom
C
ath Brown fetches a tea mug to demonstrate a subtle aspect of human anatomy:
Cupped hands are not cylinders. She returns with a lovely object, roughly nine centimeters of dazzling white slip-cast ceramic, in durable bone china. Under a beam of sunlight leaking in from a window in her and Jeremy's rustic Devon workshop—which doubles as a working farm—the teacup's delicate walls reveal tiny shadows.
"See the profile," she says. "Dimpled gently, all around, which means when you grip, the thumb sort of rests inside the dimples. A cylindrical mug would be easier to make, but this is actually really hard." She hugs the mug closer. "It feels amazing."
Table objects are, by nature, humble. Functionality is perhaps why mass production hasn't pushed typical coffee cups too far in the direction of bespoke design. But when Cath, a former architect, and her husband, Jeremy, a former supply chain expert at the United Nations, decamped from London in 2016 to Devon's contemplative countryside—winding country roads, prehistoric stone structures, ancient mossy woods neighbored by sheep grazing on bright-green quilts of farmland—they found themselves reconsidering the humblest of everyday objects.
After throwing pottery on a wheel one Christmas to make a complete dinner set for visiting family, the Browns plunged into ceramics full-time and set up their own studio, Feldspar, product of a long-simmering dream to be their own bosses and control the integrity of production from start to finish. In short order, they were designing a host of objects for the home: objects for life.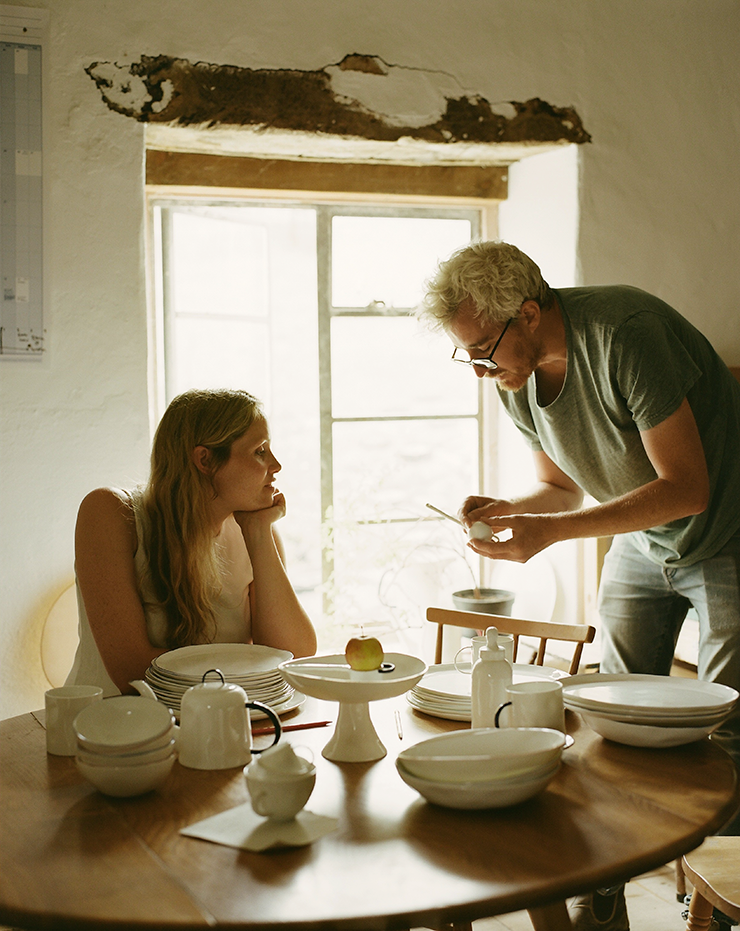 "
See the profile? A cylindrical mug would be easier to make, but this is actually really hard.

In common use since
the Middle Ages, ordinary
objects are transformed
into things
of subtle beauty
AND DURABLE GRACE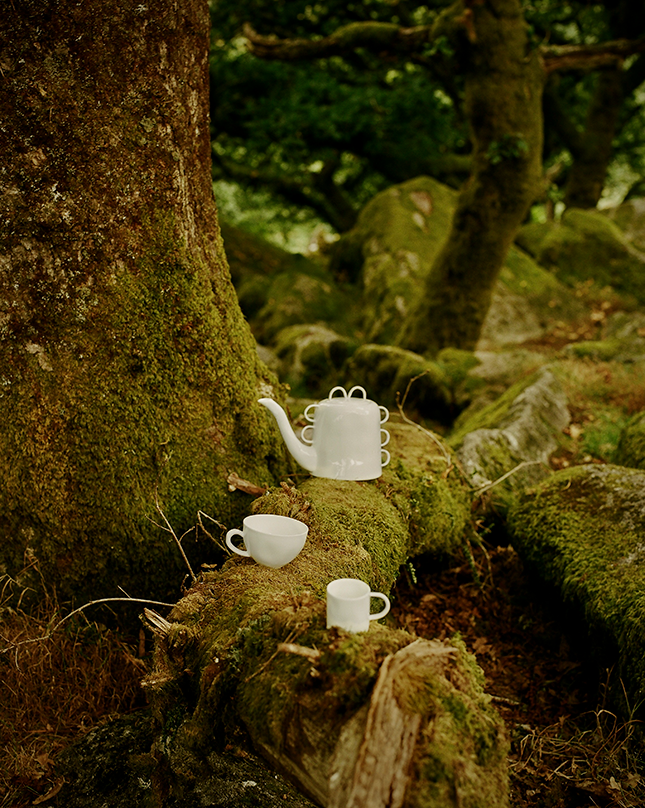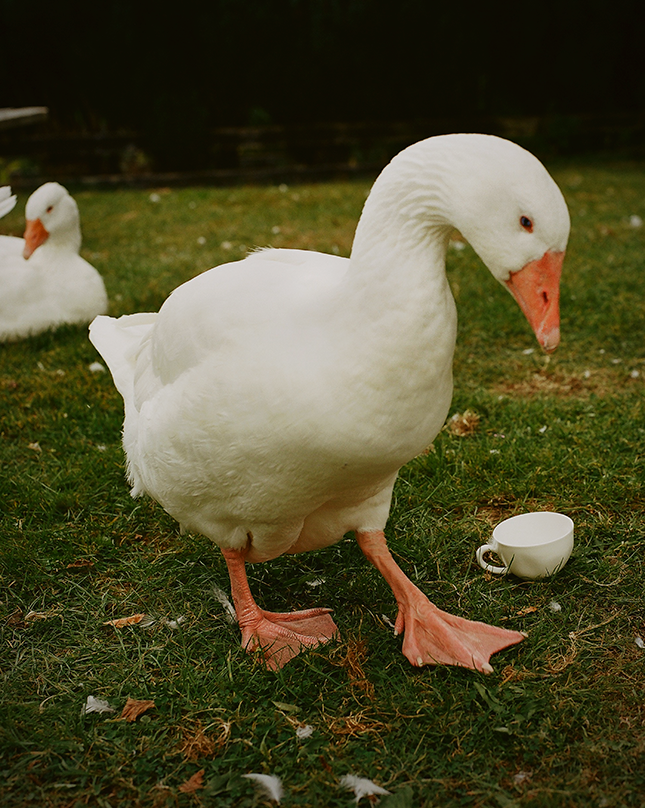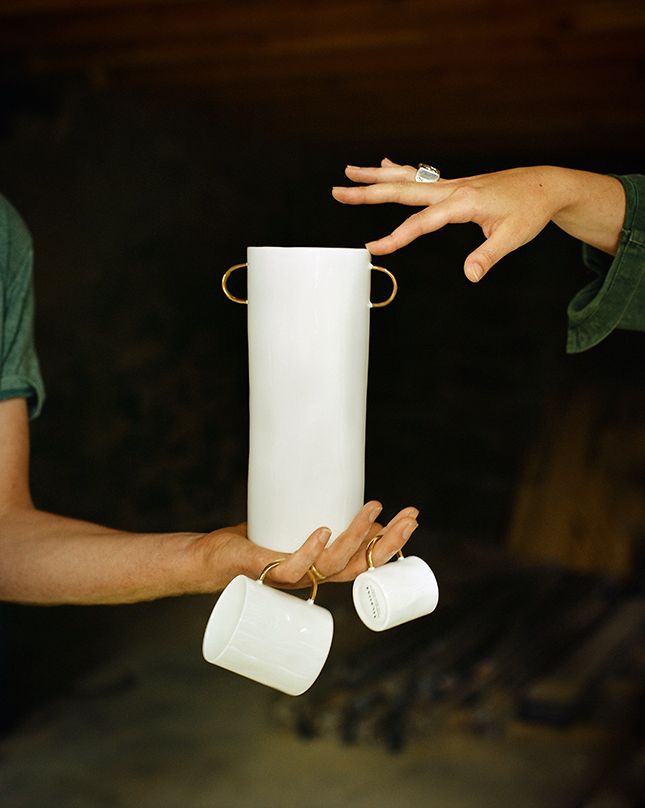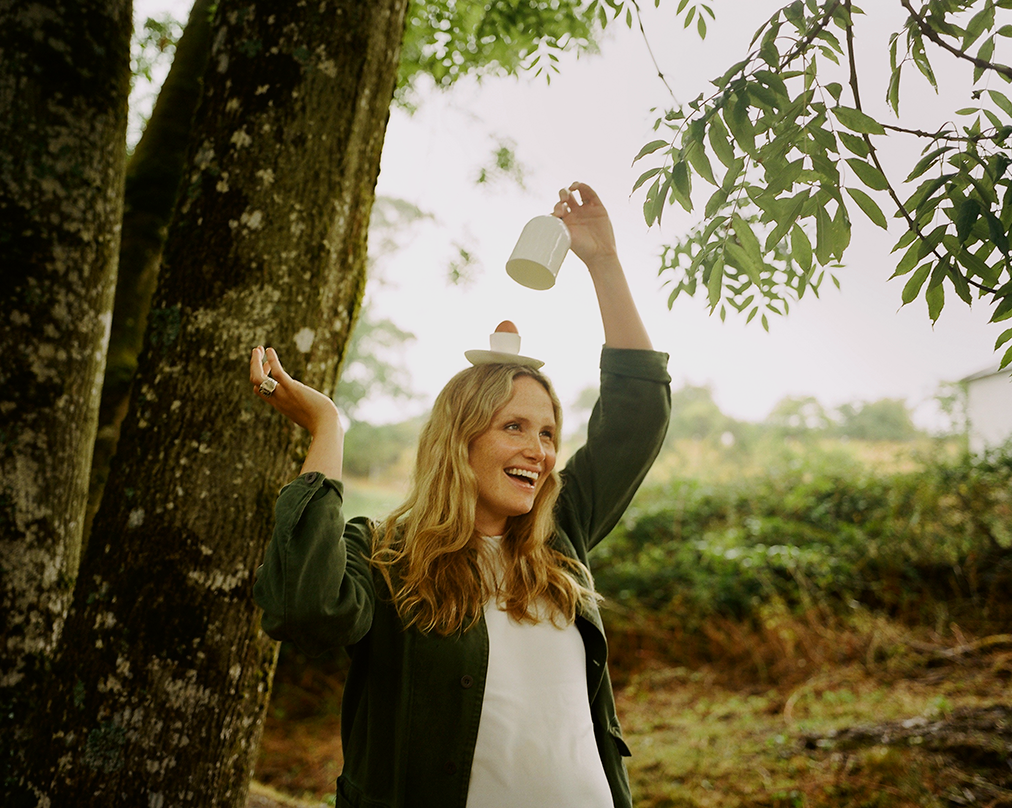 While it may elude the daily drinker of Irish Breakfast tea or café au lait, the physical manner in which a tea mug (or espresso cup, or cake plate, or salt pig, or teaspoon) works in tandem with the human body tends to make a profound difference in the dining experience. Ordinary table objects, in common use since the Middle Ages, are transformed by the Browns into things of subtle beauty and durable grace.
For example, the Browns are obsessed with the pour. The central purpose of so many of these objects, says Cath, is just a simple decanting from one object into another. But a home's average teapot is designed so poorly, the spout a mere "token," a purely functional cylinder. The Browns' obsession with the physics of the pour led them to experiment with spout elongation and create a narrower channel that makes the flow far more precise and silky smooth; the spout extends from a base widened just enough to provide the ideal surface area for keeping the pot warm on the Aga. Put simply, it's a joy to use.
The same can be said about Feldspar's dimpled pasta bowl, comfortable to carry from room to room with sure hands, as are the candle holders, the vases, the dog and cat bowls. Even Feldspar's take on the soap dish—which, compared to the average edition, has thinner, slightly taller ridges around the edge of the dish that permit air to freely circulate around the bar of soap—radiates the same pure pleasure, that whisper of luxury.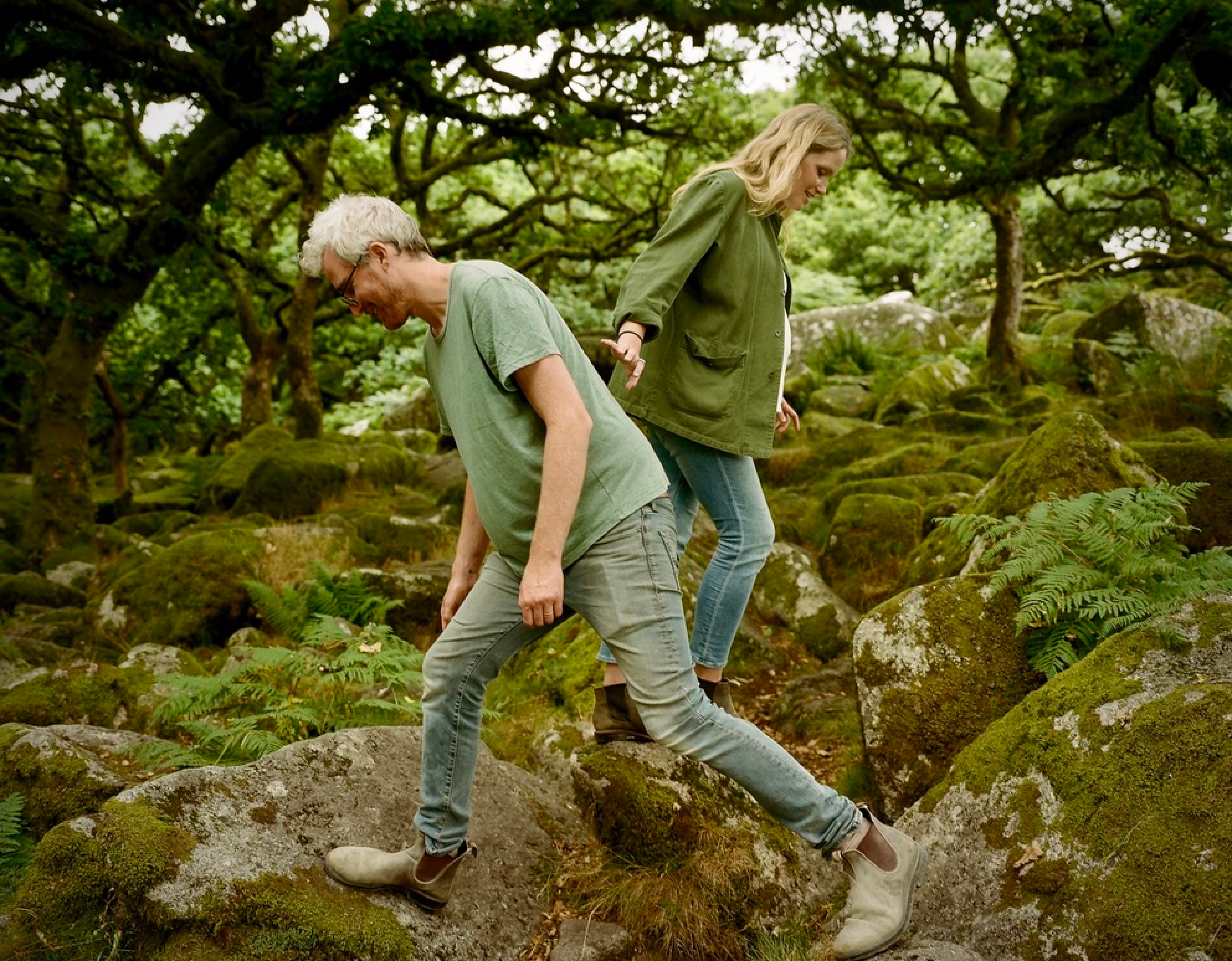 "
We want something beautifully made out of the finest materials we can find. And then we want them to last.

Feldspar's creations are "considered," as Jeremy puts it—meant to be used for a lifetime and beyond, passed to the next generation. "In London, every shop you go into, there's the same version of the same stuff," he laments. "There's so much stuff as well. It's quite overwhelming." At Feldspar, each object is designed to be perfect for the job at hand and to serve as a vehicle for taking pause, for contemplation. When you feel the dimples on the tea mug, you feel the hand that made them.
"Everything we design has meaning to it," Cath says. "I suppose we have a philosophy of longevity. We wanted—we still want—something beautifully made out of the finest materials we can find. And then we want them to last." Simple, minimal, with no patterns, hand-painted and perfectly functional. It's part and parcel of the Browns' ambition, to forge a sense of connection in the home, at the table, with design as the medium between user and craftsperson.
The Browns' hopes for Feldspar include keeping the moribund tradition of bone china alive in England. They aim to maintain a dying trade by teaching the essential skills—soon enough, perhaps, by hosting fairs around the English countryside of Devon that restore not only craft to its original good name but also people's faith in durable, beautiful, handmade creations for the home.
These artists share a common approach that The Glenrothes has long embraced as philosophy: Don't do things because they're quick and easy; do them because they're right.
Register at The Spirit of Rothes to see how a passion for materials, respect for design, and reverence for legacy make virtues of like minds.
EXPLORE NOW ➝