THE HISTORIC CIVIL RIGHTS organization is using cloud technology to drive record turnout in key states.
Da'Quan Love did not like the numbers he was seeing. It was July 2021, and Love, the executive director of the Virginia State Conference of the National Association for the Advancement of Colored People (NAACP), was looking at data from a campaign designed to recruit volunteers to help turn out the Black vote in Virginia's general election in November. To be successful, the organization needed to enlist between 10,000 and 12,000 volunteers, but just five months before Election Day, the numbers were off track. What exactly was going on?
In years past, leaders at the NAACP would have had to wait weeks to figure out the answer while analysts worked to manually collect and crunch campaign data from a variety of sources. But the Virginia State Conference's recent move to a centralized, cloud-based data management system meant it could now see its campaign data all in one place and monitor automatic updates in real-time. Looking at the results of texts and phone calls to potential volunteers, Love and his team quickly determined the problem. "We'd been using some of the same messaging from the Georgia special election, and it just was not resonating in Virginia," Love says. "Had we not been able to look at that data on a weekly or daily basis, we probably would not have been able to see that trend until it was too late."
With that knowledge, Love and his team were able to swiftly retool their communication strategy. The volunteer numbers, as a result, started rising, and soon the organization sailed 33 percent past the upper end of its recruitment goal: 16,000 people signed up to help get out the vote in Virginia. For the NAACP, it was the kind of victory that it expects will be a common occurrence in the organization's new, modern approach to electoral organizing.
Going forward, the NAACP's electoral campaigns will look a lot like the one it conducted in Virginia. "This is the most high-tech voter engagement and civic engagement program we've ever had," Love says. Just two years ago, such a campaign would have been unimaginable—the organization, founded in 1909, was still relying on fax machines and the postal system for some essential communications.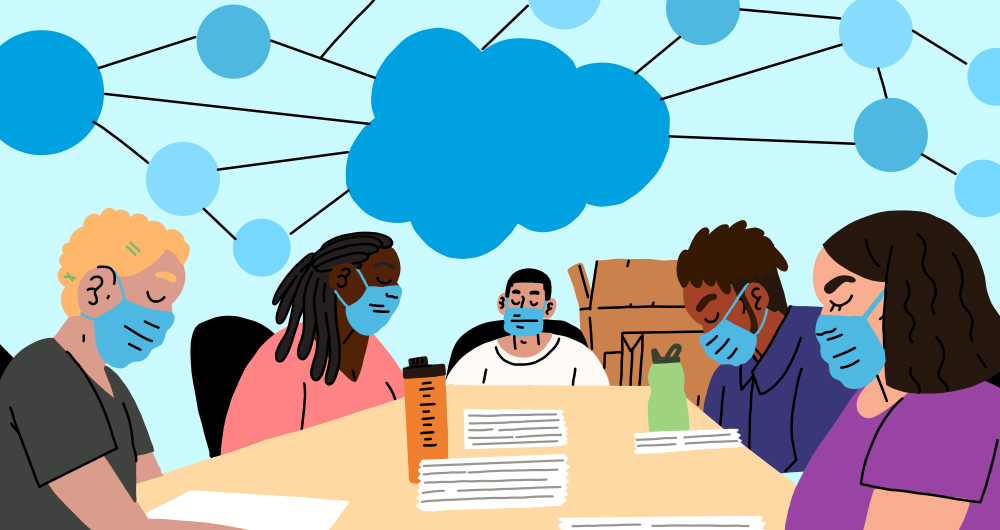 Since then, the NAACP has been steadily migrating its local chapters and branches to Salesforce.org's Nonprofit Cloud. Those efforts took on even greater urgency during the coronavirus pandemic, when social-distancing restrictions required organizers to move much of their work online. In the lead-up to the 2020 presidential election, the organization vastly increased its capacity to track the effectiveness of its email and social media messaging, store and analyze member data, and coordinate efforts between the national office and local chapters. Ultimately, the NAACP was able to recruit nearly 200,000 volunteers for its get-out-the-vote operation, a force strong enough to reach nearly 12 million registered Black voters. "The pandemic forced our hand to use technology more robustly than we had previously. It was the push I think all organizations needed," says Trovon Williams, the NAACP's senior vice president of marketing and communications.
The Virginia election, Love knew, was a critical test of the organization's new tools and systems, and the stakes could not have been higher. Earlier this year, the NAACP helped pass the Virginia Voting Rights Act, a landmark piece of state legislation designed to protect and expand access to the ballot box. But to codify those voter protections into the state constitution through Senate Joint Resolution 272, the organization needed to ensure its support in the general assembly and in the governor's mansion. "It really is all up for grabs, and it could go backward within a millisecond," Love says. "While the NAACP is nonpartisan, we're not blind. We know that in order for our agenda to move forward, we need allies."
For the NAACP, the key to victory for allies of voting rights was the mobilization of Black voters. And while those voters turned out in high numbers in the 2017 election, the NAACP wanted turnout to be even greater in 2021—ideally, in the ballpark of 430,000 registered Black voters. The best way to reach that target, NAACP leadership knew, was through a program that would get Black volunteers talking to as many other Black voters throughout the state as possible—a tactic the organization calls "indirect relational voter turnout."
In elections past, that program was largely managed through the mail, which made it difficult to measure results and make modifications. But for the 2021 election in Virginia, the NAACP's digital team had the technology it needed to track the program's progress in real-time and quickly make adjustments, such as changing the volunteer outreach script or sending an additional list of voters to volunteers. "In the middle of a program, we can turn on a dime and shift. Before this, we would have to wait sometimes weeks to get that data in a format that would allow us to actually aggregate it," Love says. "Now, our data is driving the decisions—our decisions are not driving the data."
Results from the November 2 election in Virginia won't be matched back to the voter rolls until 2022. But, according to Williams, early signs indicate an increase in Black voter turnout in several key districts that the NAACP targeted, and the organization "feels good about where Black voter turnout has materialized."
Still, major challenges lie ahead for the organization. The 2022 midterm elections are approaching at a time when many states are passing restrictive voter laws and federal legislation to protect the vote is stalled in Congress. "We need to see real reforms to protect the rights of people of color and working people in this country," says Dominik Whitehead, NAACP's vice president of campaigns. "We're going to use this moment to organize those communities and say, 'This is more of a reason why you should vote.'"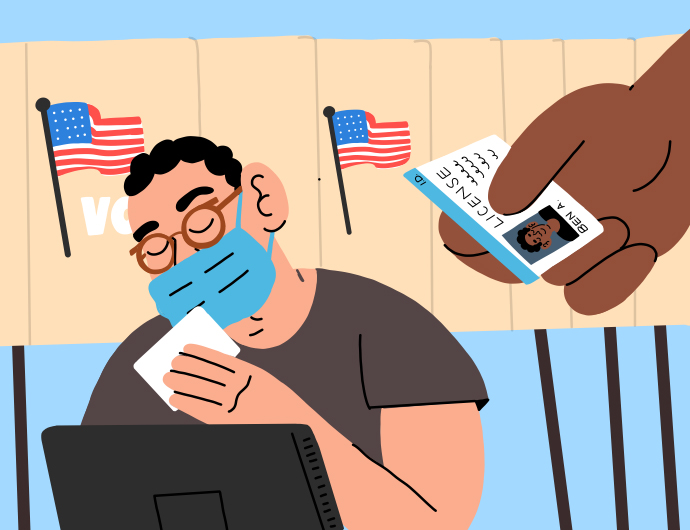 Midterms are typically low-turnout races, which means that the NAACP will need to do more heavy lifting—and, crucially, more data crunching—to reverse the trend. "If we go into 2022 with that kind of data analysis across, say, 13 battleground states, where there is a significant Black population, we have the opportunity to make a difference in people's lives," says Al Yates, a consultant with the data firm GSSA, which advises the NAACP.
That's a tall task for the organization. Love is confident that the NAACP now has the tools it needs to do some of its most effective work yet, powered by technology that would likely be all but unfathomable to his predecessors. "We have the ability to reach out to these voters where they are and get them to the polls. That is what we've done at the NAACP since February 12, 1909," he says. "Now we are maximizing that power."
This film is part of Our Own Hands, a partnership between Salesforce.org and The Atlantic's in-house creative studio, Atlantic Re:think, illuminating stories of Black individuals, organizations, and communities committed to solving systemic problems, one win at a time.