Bill Patterson, EVP CRM Applications, Salesforce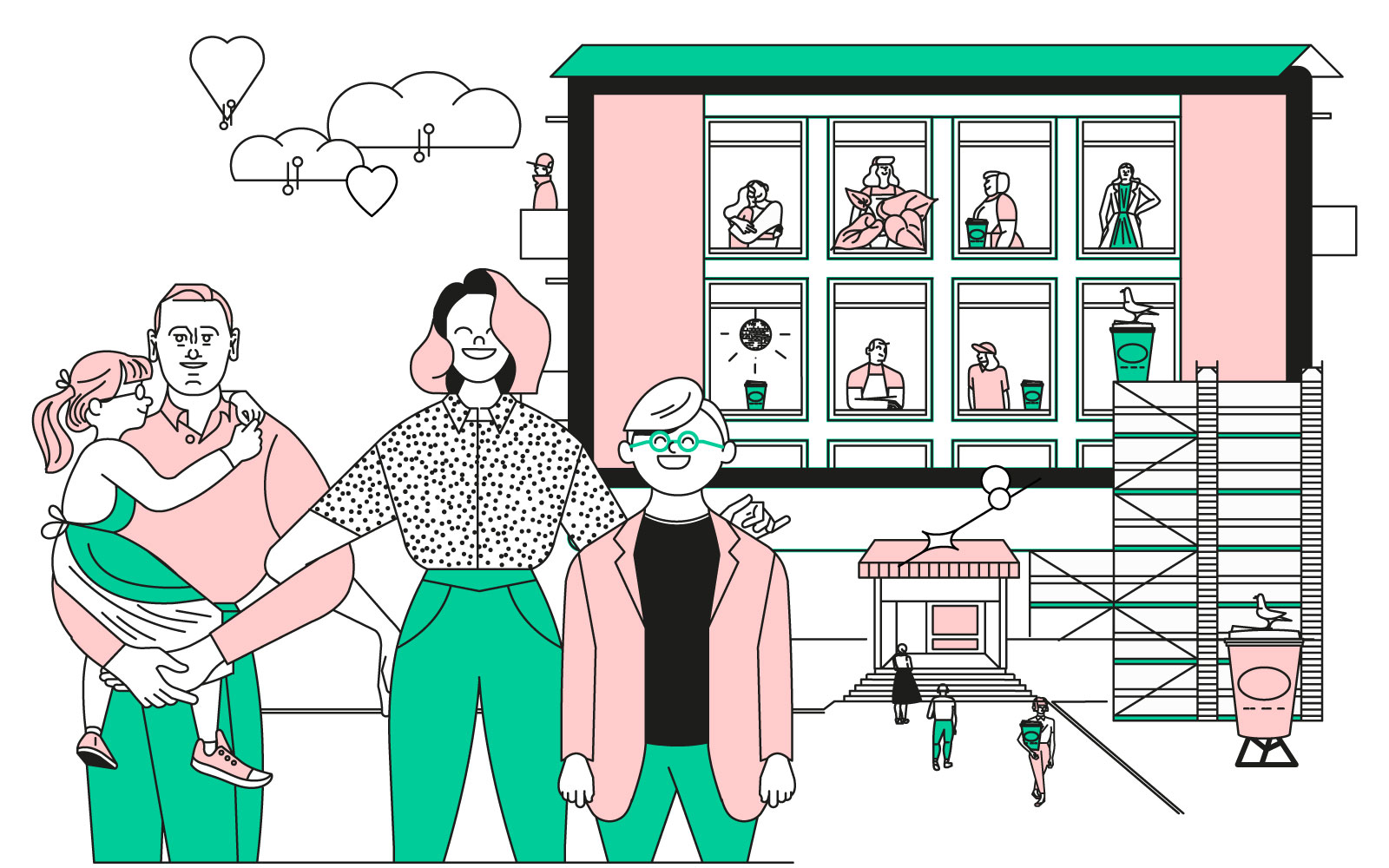 For many organizations, the COVID-19 epidemic has halted business in its tracks. But there are companies and groups big and small that have found ways to keep going—to keep their workforces employed and engaged, and keep their customers equipped with what they need. In Rising to the Occasion, we're taking a look at how organizations can make big pivots quickly, and the tools that help them pull it off.
From day one, Bitty & Beau's Coffee received a great response from the community.
"We had a line out the door," said Amy Wright, co-founder of Bitty & Beau's Coffee. "But we were going to open that business whether people showed up or not. It meant that much to us." Named for their two youngest children, who have Down syndrome, Amy and Ben Wright's small business Bitty & Beau's Coffee is run by employees with intellectual and developmental disabilities. It's a small business dedicated to a larger problem: Of an estimated 200 million people worldwide with intellectual and developmental disabilities, roughly 80 percent are unemployed.
"Our mission started off as creating jobs for people with disabilities in our community, but now it has really evolved into more of a human rights movement," said Amy. But when COVID-19 hit the U.S., those lines out the door turned into doors closed indefinitely. Five locations shuttered. 120 employees furloughed.
"For the majority of our employees, working at Bitty and Beau's Coffee is their first job ever," said Amy. "To have the excitement and the ability to start saving and planning for their futures and then have to put all that on hold has been a scary time for everybody."
Not least because Bitty & Beau's Coffee thrives on human connection. It's the handshakes, the high-fives, and the hugs that make it more than just a coffee shop. Somehow, Amy and Ben had to pivot their business model in the span of a week and replicate the magic of that in-store experience online. They had to maintain their connection with their community so that no matter how challenging this crisis might be, their customers knew that they would come back.
As soon as Amy and Ben received their Paycheck Protection Program loan from Live Oak Bank, they sent out a survey to their staff to find out how they would like to work from home. Staff could choose between responsibilities such as doing hand-written thank-you notes or participating in coffee conversation interviews for social media, all designed to keep the staff connected to their community of supporters.
Thankfully, Amy and Ben were prepared for this massive shift.
"I think the whole world is going through this time of figuring it out, but it's very much what we do on a daily basis," said Ben. "When our kids were born with Down syndrome, we couldn't drop everything and go get PhDs in special education. We just had to figure it out. And when we started the coffee shop, we just had to figure it out."
For Amy and Ben, part of "figuring it out" meant having the right technology in place. Salesforce Service Cloud and Community Cloud allowed Bitty and Beau's Coffee to quickly set up a Help Center so that customers could get instant access to information, answers, FAQs, sales, and order tracking. Instead of buckling under the weight of an overflowing email inbox, the Help Center and a custom Salesforce Einstein Chat Bot called "Bitty Bot" helped Amy, Ben, and the staff respond to customers immediately rather than eight weeks later. Now Bitty and Beau's Coffee is planning to use Salesforce Pardot to execute email and social campaigns to drive customers to their website.
"The best decision we ever made was teaming up with Salesforce to have all our ducks in a row," said Amy. "Little did we know we'd find ourselves in this situation right now, but working with Salesforce allowed us to streamline our website and handle incoming communication, which we're getting a lot of. I feel like we were really prepped for this moment."
Above all else, Bitty & Beau's Coffee has a business purpose that transcends their business model. It's a business purpose that is too big to fail. And it's why they're thinking far bigger than just their stores or their website. Amy and Ben are now developing a free module on the Salesforce Trailhead online learning platform that would guide other employers on hiring people with disabilities.
"We're incorporating our employees in that planning process because they're the best advocates for themselves," said Amy. "Why not have someone with autism help design that so that employers better understand them?"
"If business is about anything, it's about innovation," added Ben. "It's coming up with solutions."
At Salesforce, taking care of one another is our first priority. We developed Salesforce Care, a set of free rapid response solutions, to help companies stay connected to their employees, customers, and partners right now. Since launching, more than 3,700 companies from 47 countries have signed up. Visit salesforce.com to learn more.