By Andy Schmeltz, Global President & General Manager of Pfizer Oncology
While we're all eager to turn the corner and put the coronavirus pandemic behind us, we shouldn't forget everything that's happened over the past 20 months. As difficult as it's been, we've learned some valuable lessons.
For me, one of the biggest lessons is the power of collaboration. The health-care system came together to bring multiple COVID-19 vaccines to market in a matter of months. This would not have been possible without remarkable and rapid collaboration between biopharma companies, regulators, academic institutions, governments, and a host of other players.
Now that we've seen what we can accomplish with a shared goal, vision, and even loosely aligned incentives, I've been asking myself, can we use that same collaboration model to improve other areas of health care, such as access and health equity? In short, yes. In thinking about my own role within Pfizer, I see several opportunities in which stronger collaboration could make a big difference for people living with cancer.
Opportunity #1: Public-Private Coming Together to Get Medicines in Patients' Hands Faster
One positive we can take from the pandemic is the unprecedented collaboration between the public and private sectors to speed up vaccine development and treatments. Maintaining that spirit of collaboration in the future could yield more breakthroughs in other areas of medicine.
One promising example of a novel public-private partnership is the HARMONY Alliance in Europe, which aims to harness big data to speed the development of new blood cancer medicines. As a member of the alliance, Pfizer is working with the United Kingdom's National Institute for Health and Care Excellence (NICE) to see if we can use real-world data to create a synthetic control arm for multiple myeloma clinical trials. It sounds complicated, but the goal behind it is simple: accelerating clinical trials to bring new medicines to patients faster. Traditional randomized controlled trials can take six to seven years to complete. By reducing or eliminating the need to enroll control participants (who usually receive the standard of care), a synthetic control arm can cut down timelines, lower trial costs, and speed potentially lifesaving therapies to market. If successful, the Pfizer and NICE partnership could set the foundation for quicker treatment approvals in the future.
Opportunity #2: Accelerating the Shift to Value-Based Care
Another area where better partnership could really move the needle is value-based care. Right now, the incentives in our health-care system are all about more—more physician visits, more tests, more pills. That kind of volume orientation leads to entrenched behaviors that can make it harder to work together. We need a mindset shift that incentivizes value over volume, quality over quantity. We've been talking about this for years, but it's time for more action.
One thing Pfizer has done is create a warranty program for one of our lung cancer medications. With this program, patients who stop treatment before their regimen is completed, due to a clinical reason, can be refunded for their out-of-pocket costs for the treatment. While this pilot program is still in its infancy, it's a model for the ways in which we can partner with payers to ensure our medicines have their intended effect. And if they don't, patients won't have to pay for them. Simple as that.
Opportunity #3: Tackling Disparities in Care
While disparities in health care have long existed, the pandemic further exposed the inequities in the health-care system and put them in the spotlight. We read about it all the time: Too many people can't afford their treatments or lack access to quality care due to their age, race, or where they live. For example, Black Americans have the highest overall cancer mortality rates compared to all other racial or ethnic groups in the United States. This needs to change.
We've seen success in partnering with patient advocacy groups and community organizations to tackle disparities in care faced by historically underserved communities, such as racial and ethnic minorities. Pfizer recently partnered with Anthem, the National Urban League, and other organizations to create Take Action for Health, a community engagement program that provides health education and information on low- and no-cost health services, encourages cancer screenings, and allows participants to share screening information with their doctors. This initiative, and others like it, are effective because they meet patients where they are and help connect them with resources in their own communities. To address disparities and close gaps in care, we need more partnerships like this one, and we're committed to doing our part.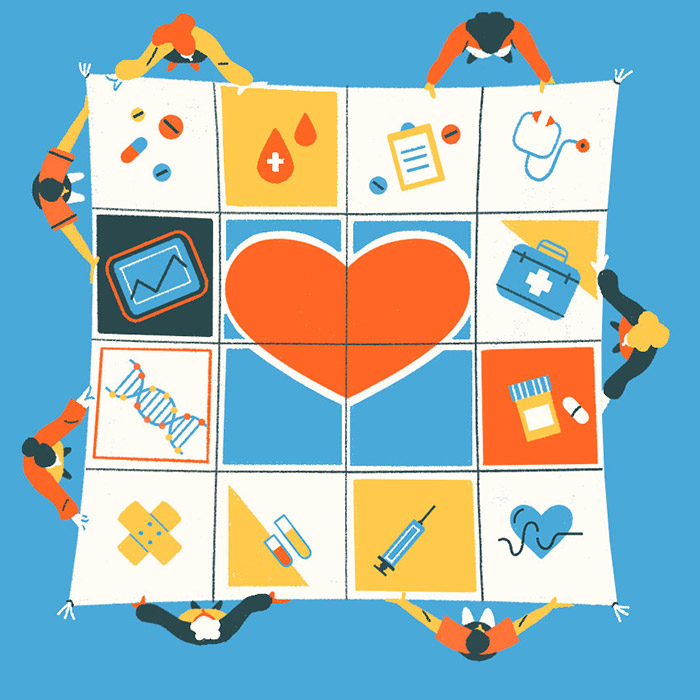 A Catalyst for Change
My hope is this global pandemic will be a catalyst for change that is long overdue. One in five people will be diagnosed with cancer in their lifetime. It's a disease that touches all of our lives. If we can work together as we've done throughout the pandemic, there are real opportunities to improve care, lower costs, and create a system that works for everybody. Let's not lose sight of what we've learned over the past 20 months; instead, let's take it with us as we transform future care models.