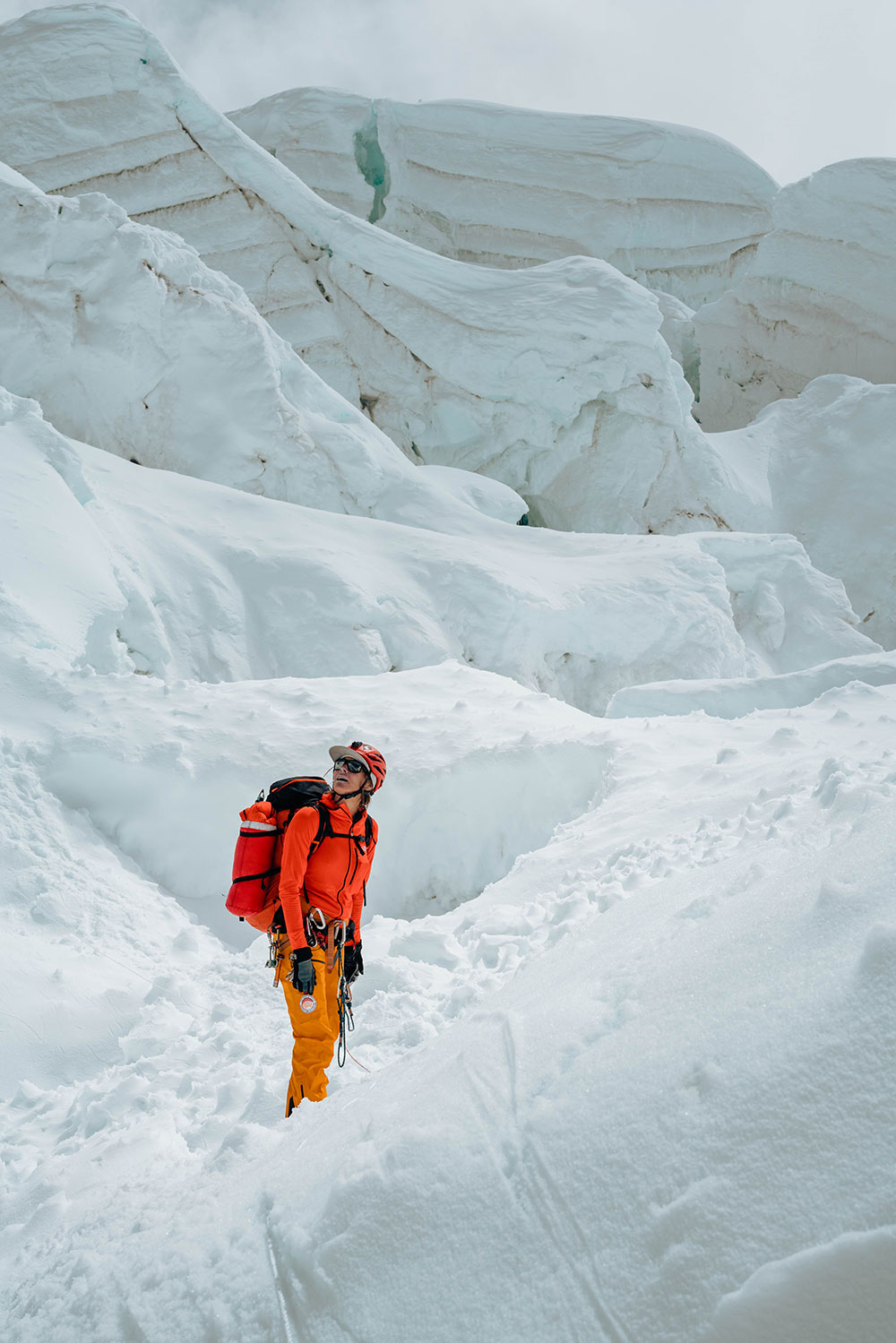 This Revolutionary Fabric Will Affect Everyone. Literally.
Athletes are pushing themselves harder and farther than ever, and they needed gear that could take them there. That new material is here—and it's also engineered to be good for the planet.
Scott Mellin, Global General Manager of Performance Sports at The North Face, was on a skiing mission in Colorado with Andres Marin, a professional ice climber and TNF athlete. The weather kept changing—from sunny and warm to rainy and cold—so the two skiers had to do the same. As they fumbled with their packs and jackets for the umpteenth time, Marin said something relatively innocent: "It would have been so great if we could've kept our shells on. We would have been way faster and a lot safer."
Mellin realized that the arduous and sometimes dangerous process of stopping to change in and out of shells—lightweight outer jackets built to be water- and wind-proof, but notorious for trapping moisture—was typical for everyone from athletes in extreme environments to families going on day hikes. But maybe it didn't have to be. If Marin had this complaint, surely everyone else who spends time outdoors did, too. "I remember thinking, my god, we've spent 40 years adapting to our clothes instead of building adaptive apparel," he says. "We'd been in shell technology for so long, we stopped asking ourselves: Can we make it better?"
There was only one way to find out. Mellin took this question back to the engineering team at The North Face, where he realized that answering it would require them to start from scratch.
"We built an entirely new supply chain to build a new fabric," Mellin recalls. "It started with a company that was creating polymer mesh at the nanofiber level." Those nanofibers are miniscule, essentially imperceptible to the naked eye, and woven together so tightly that water can't pass through the resulting mesh from the outside. It can, however, let air out—a solution to the most commonly heard complaint about waterproof materials that don't breathe.
But that mesh, which is typically used to protect internal cell phone hardware, was being made on a micro scale, in swathes the size of smartphones.
So Mellin's team got to work. New machinery that could produce it on a much larger scale had to be built, a lamination partner had to be found, and glue printing techniques had to be finessed. The application that Mellin had in mind for the material was unprecedented, meaning many of the manufacturing steps had to be built from the ground up. After all that, the fabric itself had to be perfected—which ultimately resulted in 54 prototypes that were narrowed down to five viable options. And the only real way to test those prototypes was to send them out into the field, into the most extreme conditions that anyone could face.
Fortunately, The North Face had a whole team of perfect candidates in their global athlete team, a coalition of dozens of climbers, skiers, snowboarders, and runners who thrive in the most spectacular—and dangerous—environments in the world.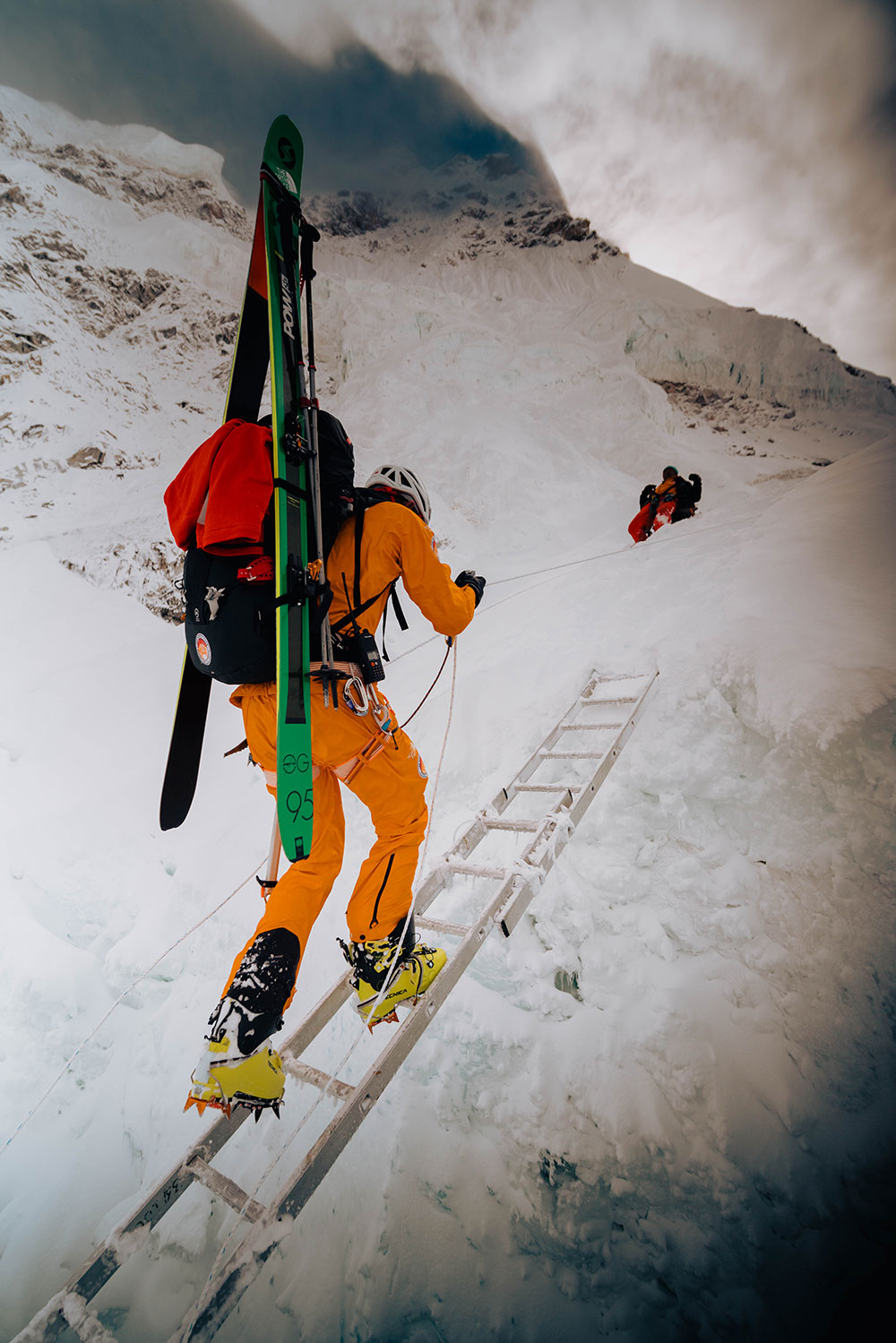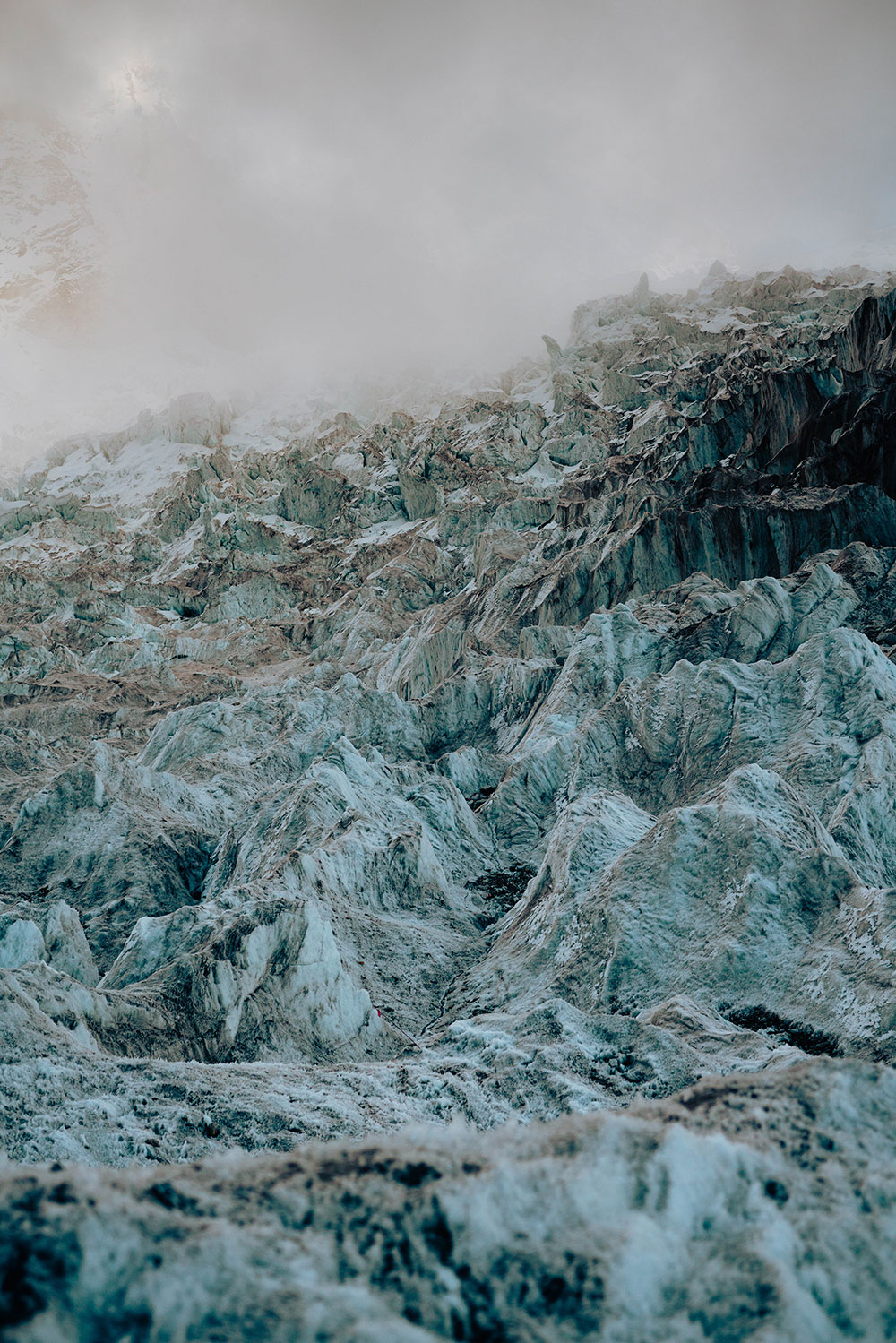 Photos: Nick Kalisz
That coalition includes Hilaree Nelson and Jim Morrison, alpine skiers who had been eyeing an unprecedented ski descent of Lhotse, the fourth-highest mountain in the world. So Mellin brought the duo in to the project now called FUTURELIGHT.
"We were able to give input on our layering system, abandon the old, and start with the new," Morrison recalls. "We dialed in the kit that we took to Lhotse; I went on that trip with no extra equipment and just the things that I wanted. I had a system that I knew worked."
What arose between Mellin and the athletes was a continuous loop of information that helped perfect everything from FUTURELIGHT's durability to zipper placements, making end users a crucial part of product development. "I'm tinkering on my side, and Jim and Hilaree are tinkering in the mountains," Mellin says. "That combination works because you can see the actual effective usage in the most extreme situations. We know if it meets the needs of the athletes, it's far superior than the standard."
"We could take Jim and Hilaree's input into our Fall '19 Summit Series, all of which is based in FUTURELIGHT," Mellin says. "We could architect the commercial program around true athlete needs." If he could ensure that the fabric held up in the conditions faced by adventurers like Nelson and Morrison, Mellin knew that its performance for everyday users, no matter where they were or what they were doing, would be guaranteed.
Mellin knew that this upheaval would be worth it. "We recognized it was an industrial opportunity to reinvent something," he says. "The athlete today versus 10 years ago is moving so much faster in the mountains, based on physical capability and more rigorous training methodologies. Before, they'd be plodding around for months."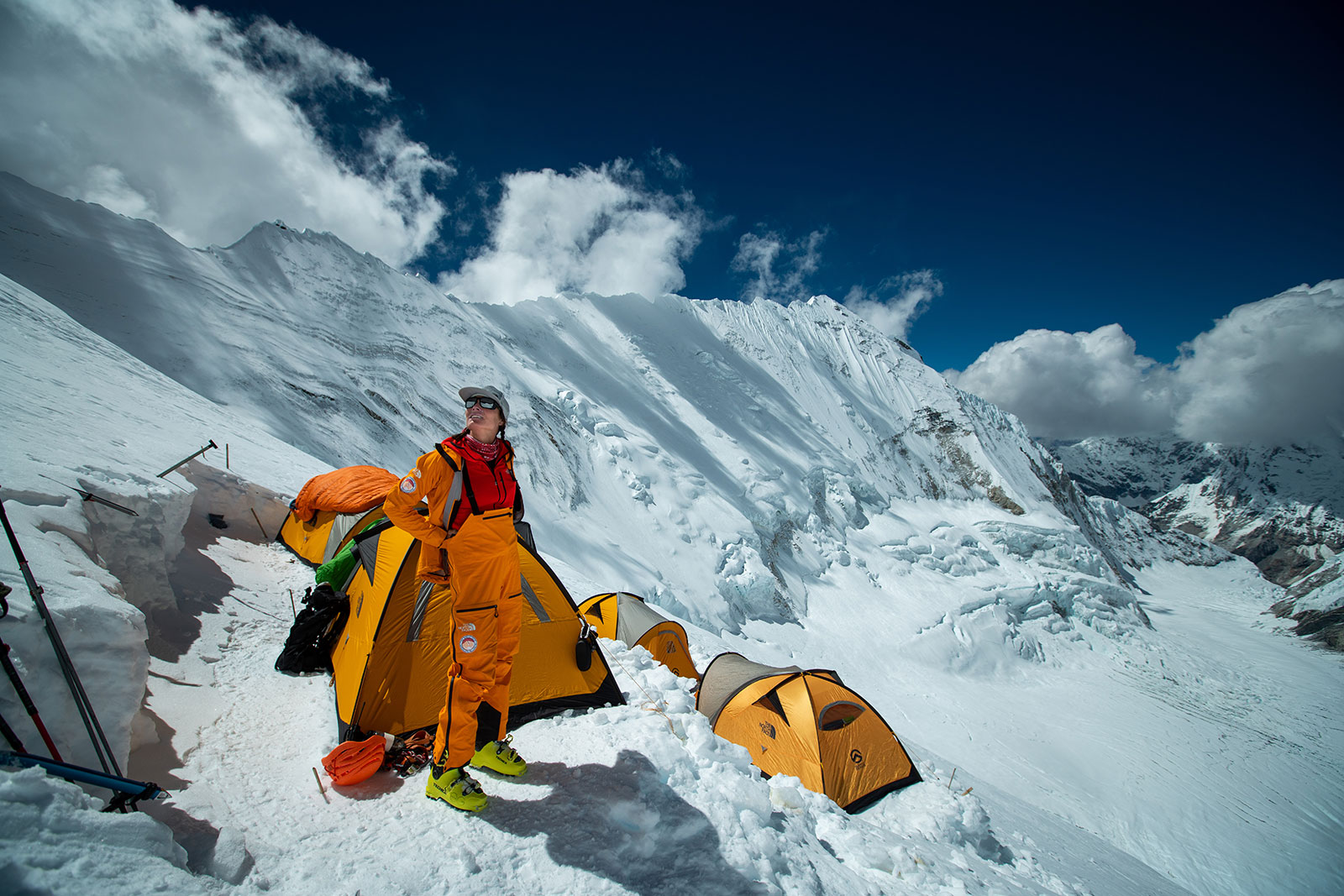 Mellin realized that FUTURELIGHT could reset the standard not only for what gear could do for athletes, but for what it could do for the world. Waterproof materials are typically created using chemical treatments, and those chemicals don't break down naturally, posing serious toxic hazards to the environment and to human bodies.
FUTURELIGHT's waterproof nature is by design, rendering those chemicals unnecessary. It's also composed of 90 percent recycled polyester and nylon, treated and dyed with an energy-efficient plasma gas process, and manufactured in a factory powered by solar energy. The North Face has been making a dedicated push to bring this mentality to all its products: It was using recycled content for 7 percent of its product in 2017; that number is now 49 percent, and is on track to be 64 percent in 2020.
"Sustainability is directly tied to my livelihood and passion," Nelson says. "The North Face is on the right path. I've been with them for almost 20 years and to see the company moving in this direction makes me really proud to be part of the team."
That's why it's so important for The North Face to make FUTURELIGHT available to all its users, not just to its most elite athletes: to completely change the narrative around user experience with their gear, and to set a new standard for sustainable manufacturing.
"Innovation has to come from a truthful place," Mellin says. And the best kind of innovation solves multiple problems that are true at once: like the need for better, more versatile gear for all athletes and the need to protect the environment it's meant for.
Nelson would say the same. For her and Morrison, the same conditions apply to picking the next descent to complete or expedition to take. "I look for places I haven't been that draw me in from an environmental standpoint and a cultural standpoint," she says. "If I can combine that with something that's never been done, that's the best combination."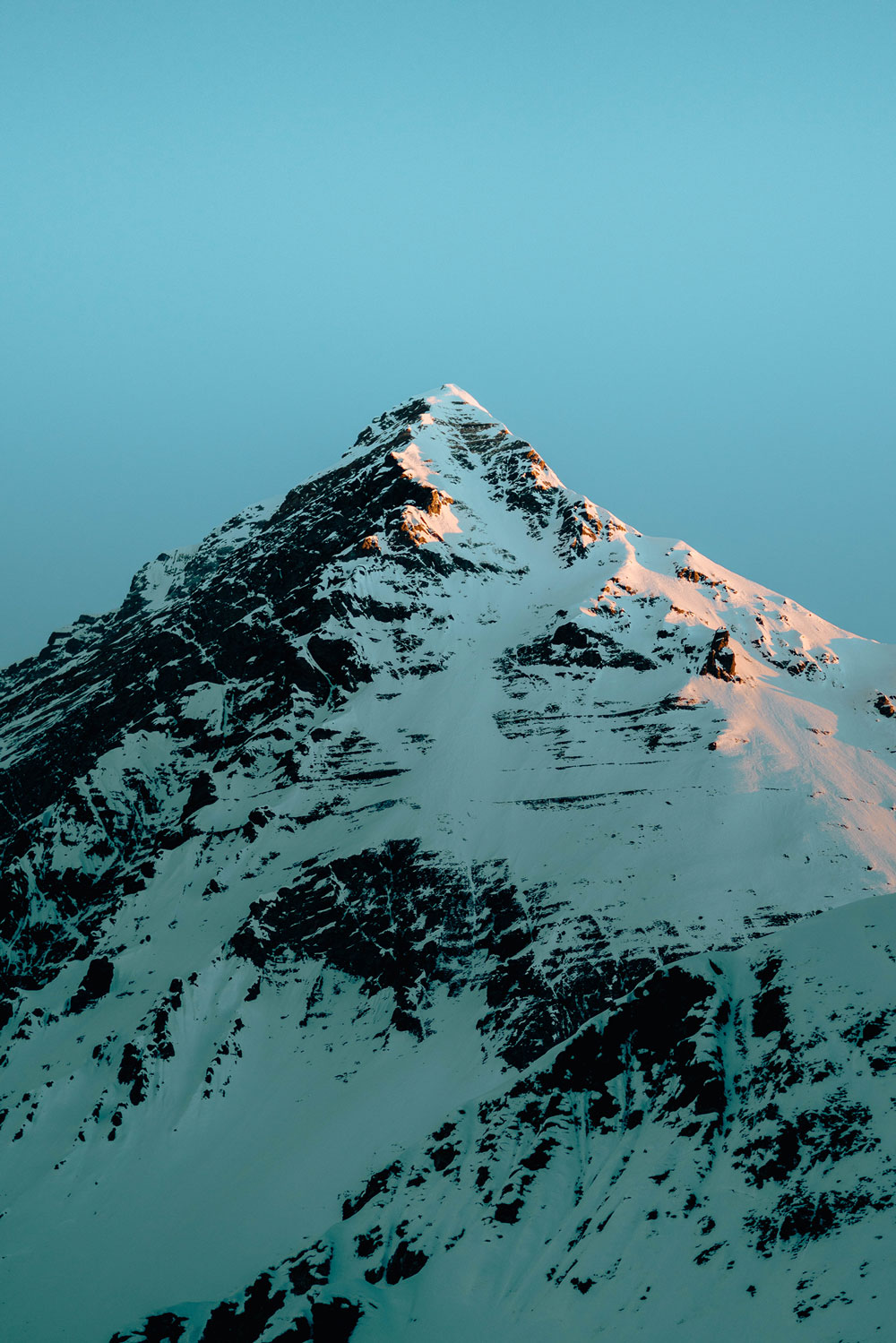 More from The North Face
ALL DOWNHILL FROM HERE
Two world-class mountain skiers set out to do the impossible. And to do it, they would need a material that was unprecedented.
Read Now