"I'd usually charge you $1,000 for that photo, but today I'll give you a $999 discount," the street performer said as he looked up from his saxophone to find Joe McNally taking his portrait.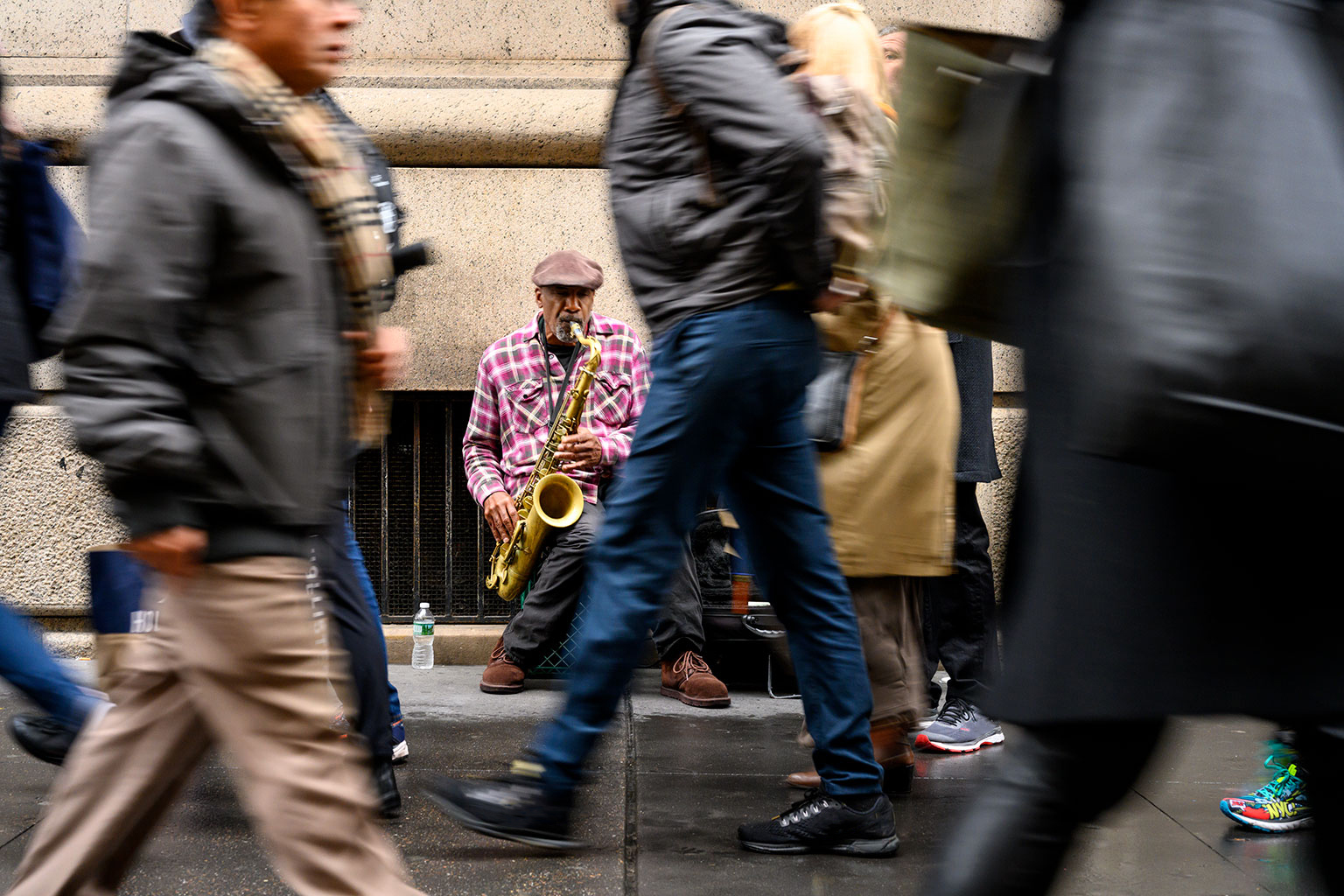 Midtown Manhattan
McNally, had first spotted Les' hands through the crowd on 54th Street and Fifth Avenue. "They're really expressive, nimble, and attuned," McNally said. McNally had started wide before moving mid-range and finally on top of Les as he finished up the last verse of "Take Five." The two got to talking. "There's two types of photographers out here on the streets," Les told McNally. "There are the people who kind of sneak a picture of you from a distance, and then move on. And then there's the 'documentarian'—the one who will really get in your space." McNally laughed. He's the documentarian. But this time was different: McNally was using a street shooting camera, a soundless and discreet instrument that doesn't disrupt the moment.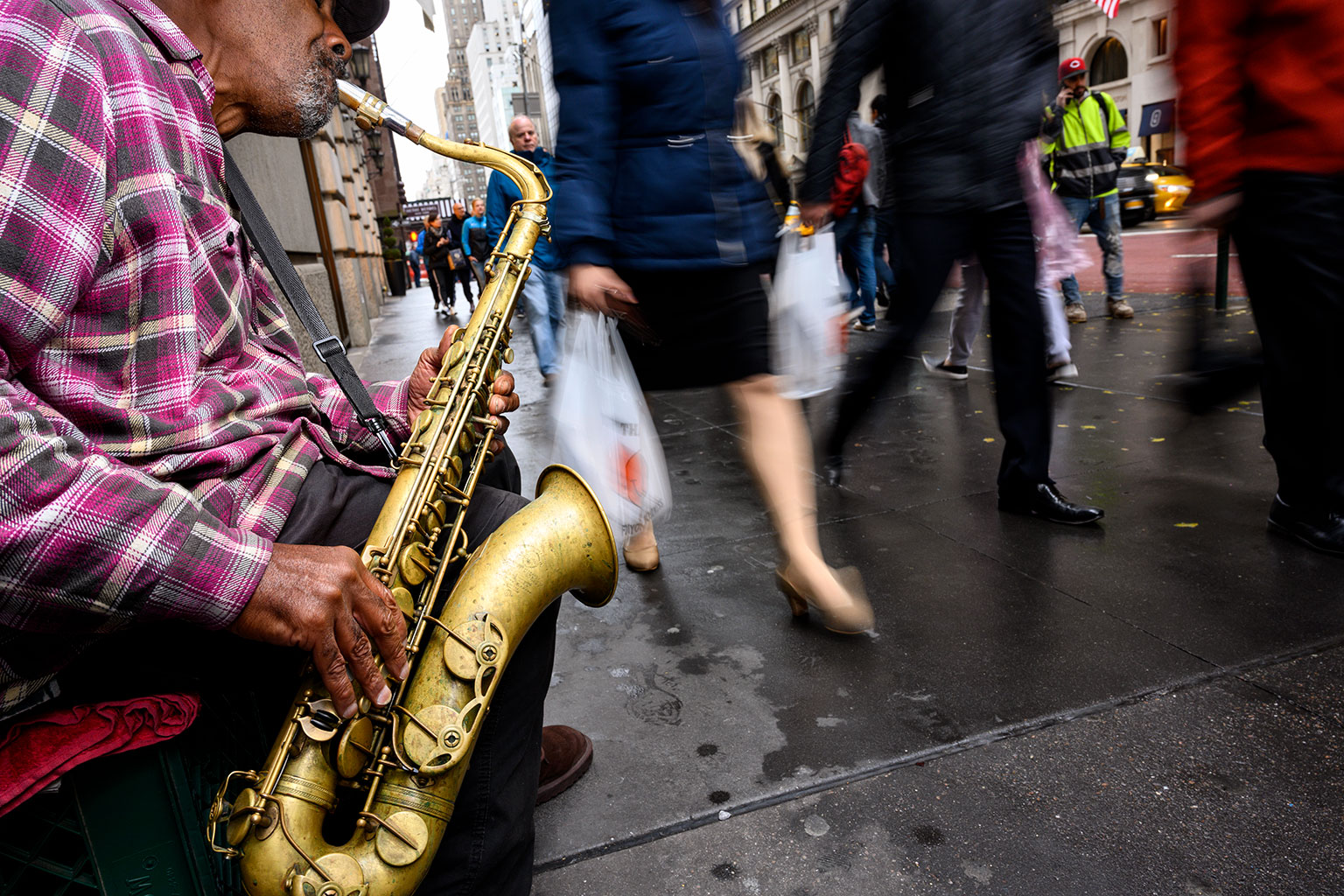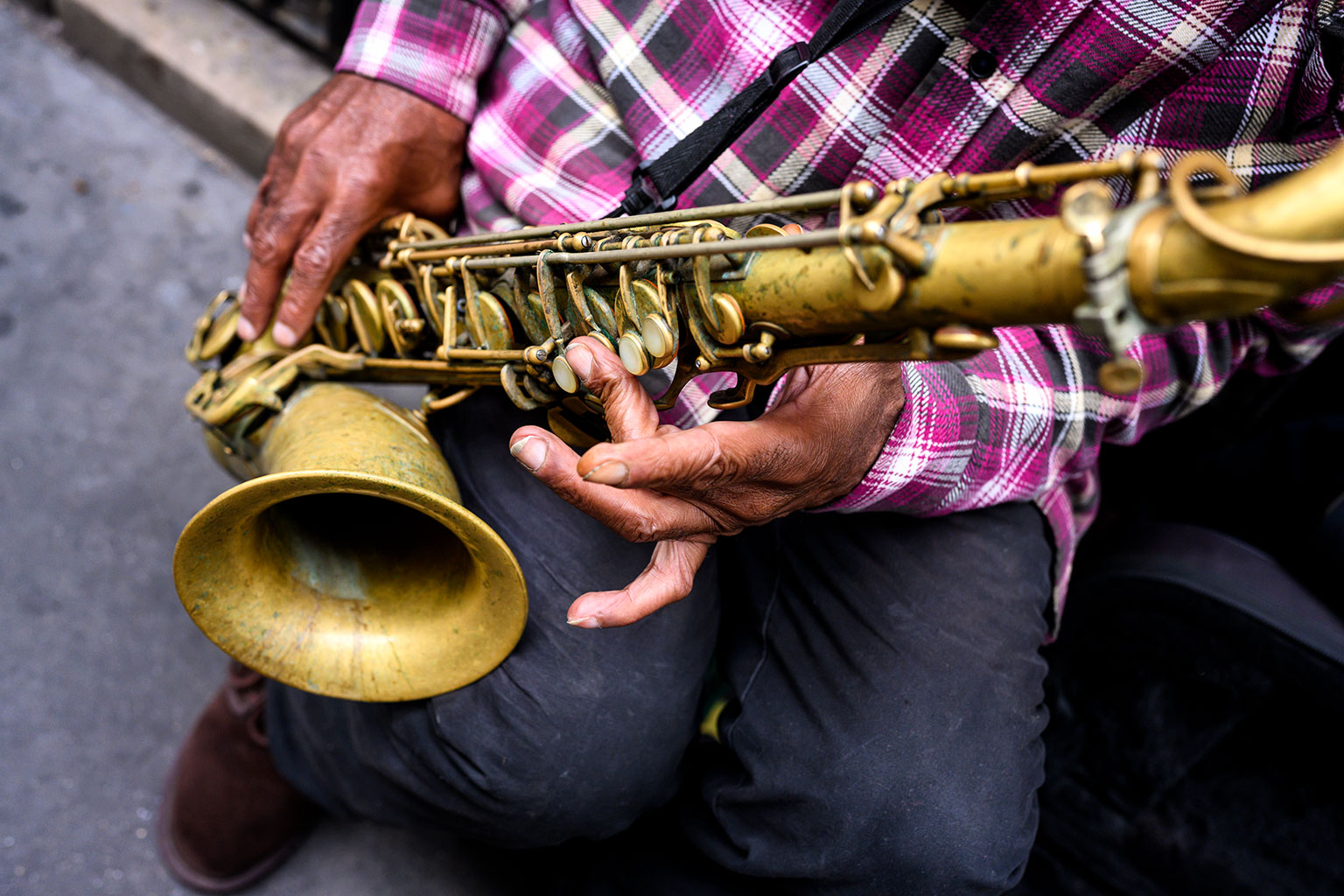 "The Z 7 is just more adaptable to the street," McNally said. "It's light, fast, and quiet." Feeling energized by the first shoot, Joe was eager to see the saxophonist in his element, playing in a space where people from the five boroughs rub elbows in front of a smoke-filled stage: the Paris Blues Jazz Club in Harlem. Les wouldn't know this until he spotted McNally in the crowd the next day.
On to the Paris Jazz Club ↓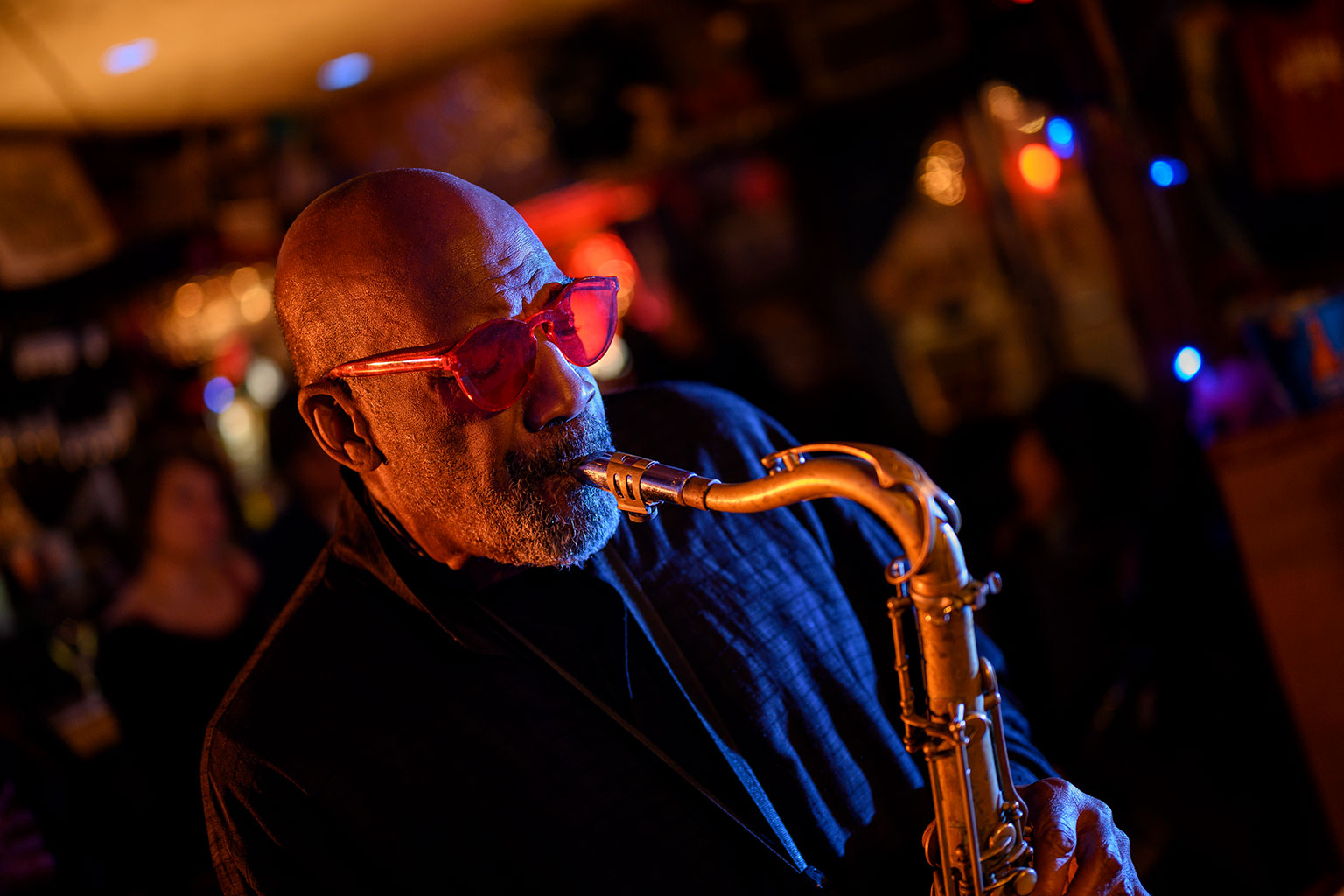 Paris Blues Jazz Club
When McNally drifted into the jazz club on Halloween night, Les was already playing, his back turned away from the small audience. It was dark, influencing McNally's approach for the night. When he asked Les to turn around for a shot, the saxophonist refused. "You're looking for the light, right?" he asked. "Well, I'm looking for the sound. So when I turn away from the position that I'm in, I don't pick up the reflected sounds." McNally, smiling to himself, accepted the challenge. He lifted the Z 7 to his eye and kept it there for the rest of the evening, seeing through the viewfinder the adjustments he would make to focus and exposure. "I just feel like it's a new way to see," he said. "And I'm absolutely frickin' diggin' it."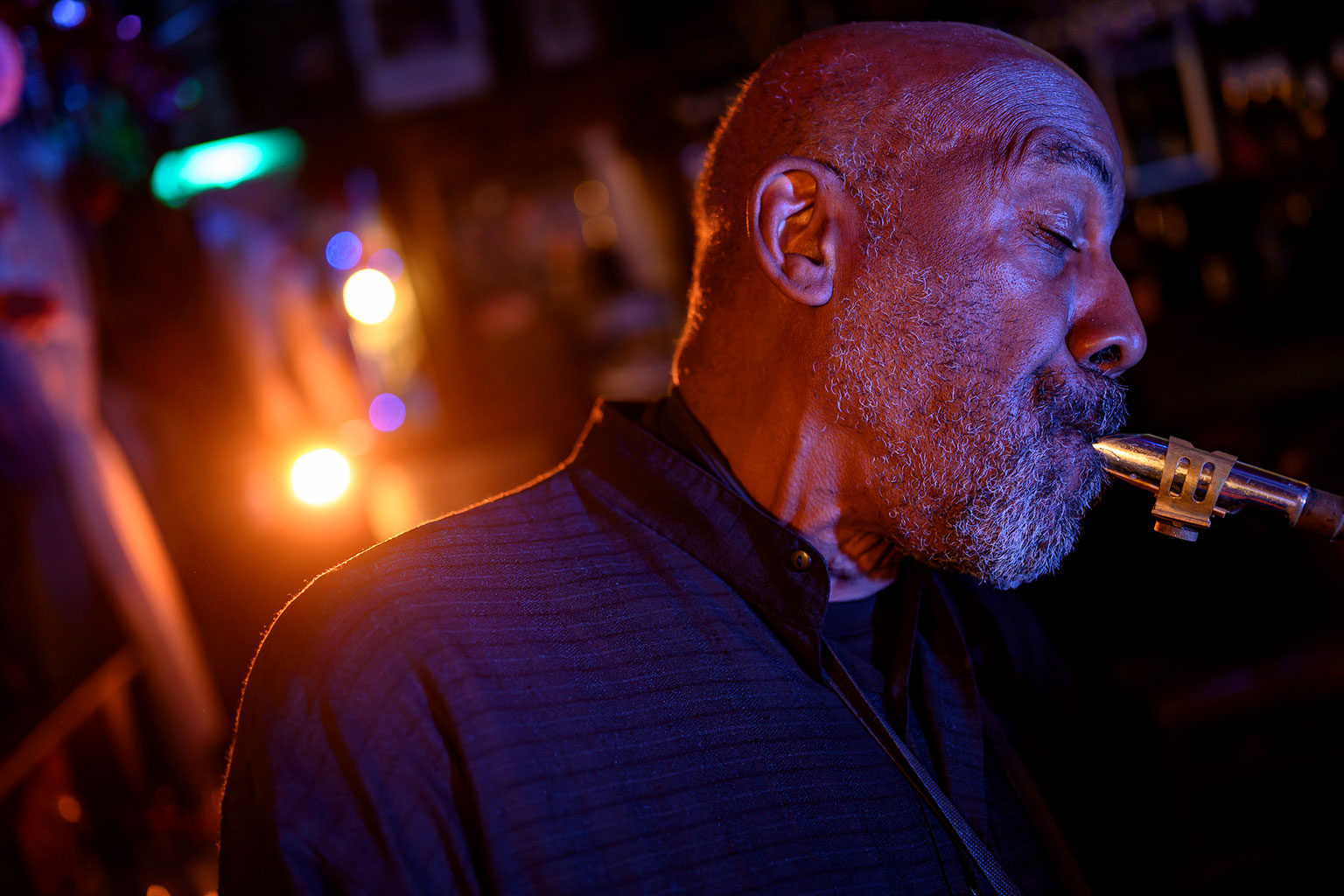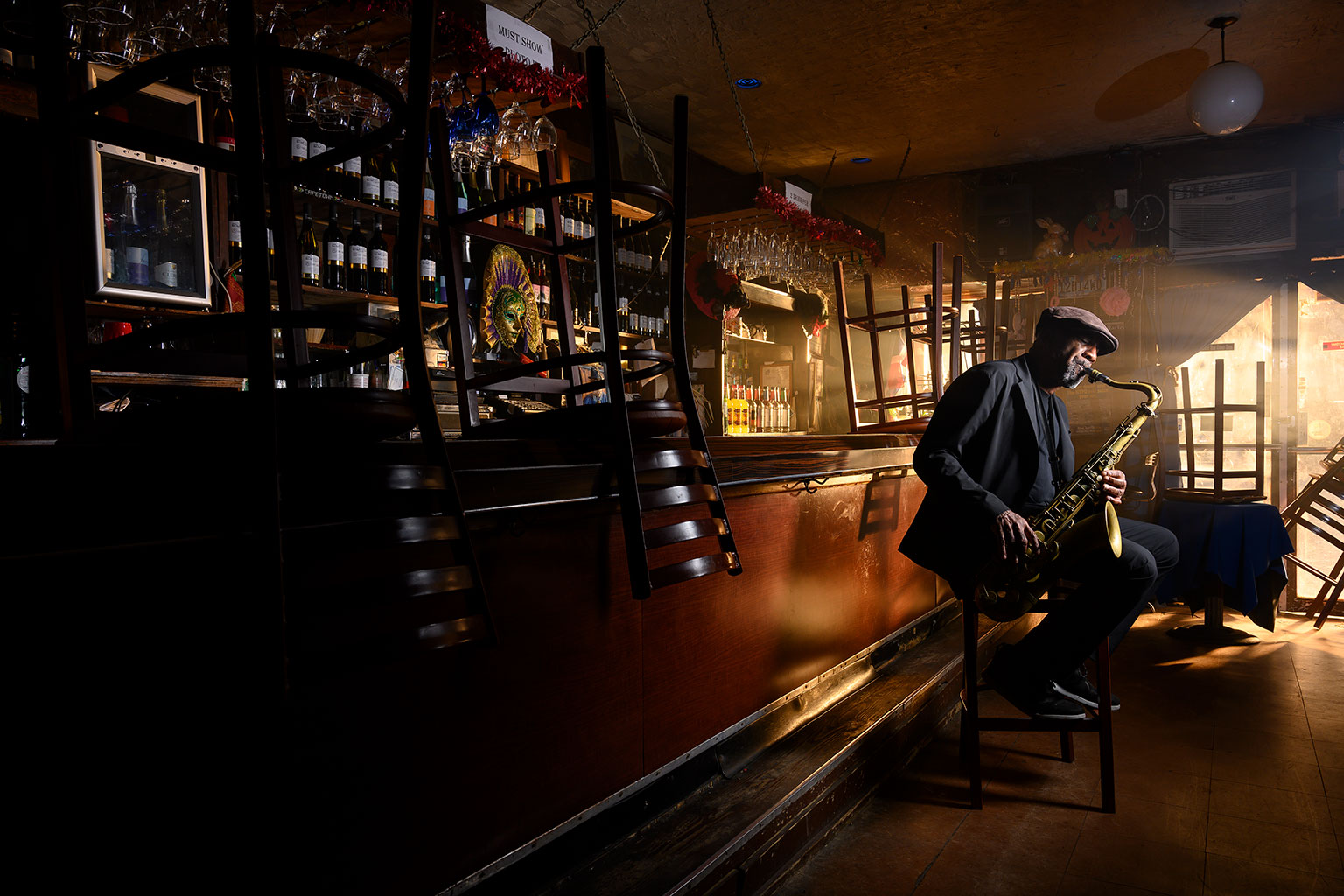 Later that week, McNally moved downtown to the Manhattan Cricket Club on West 79th Street, to further test the Z 7's portability, along with its high ISO capacity.
On to the Manhattan Cricket Club ↓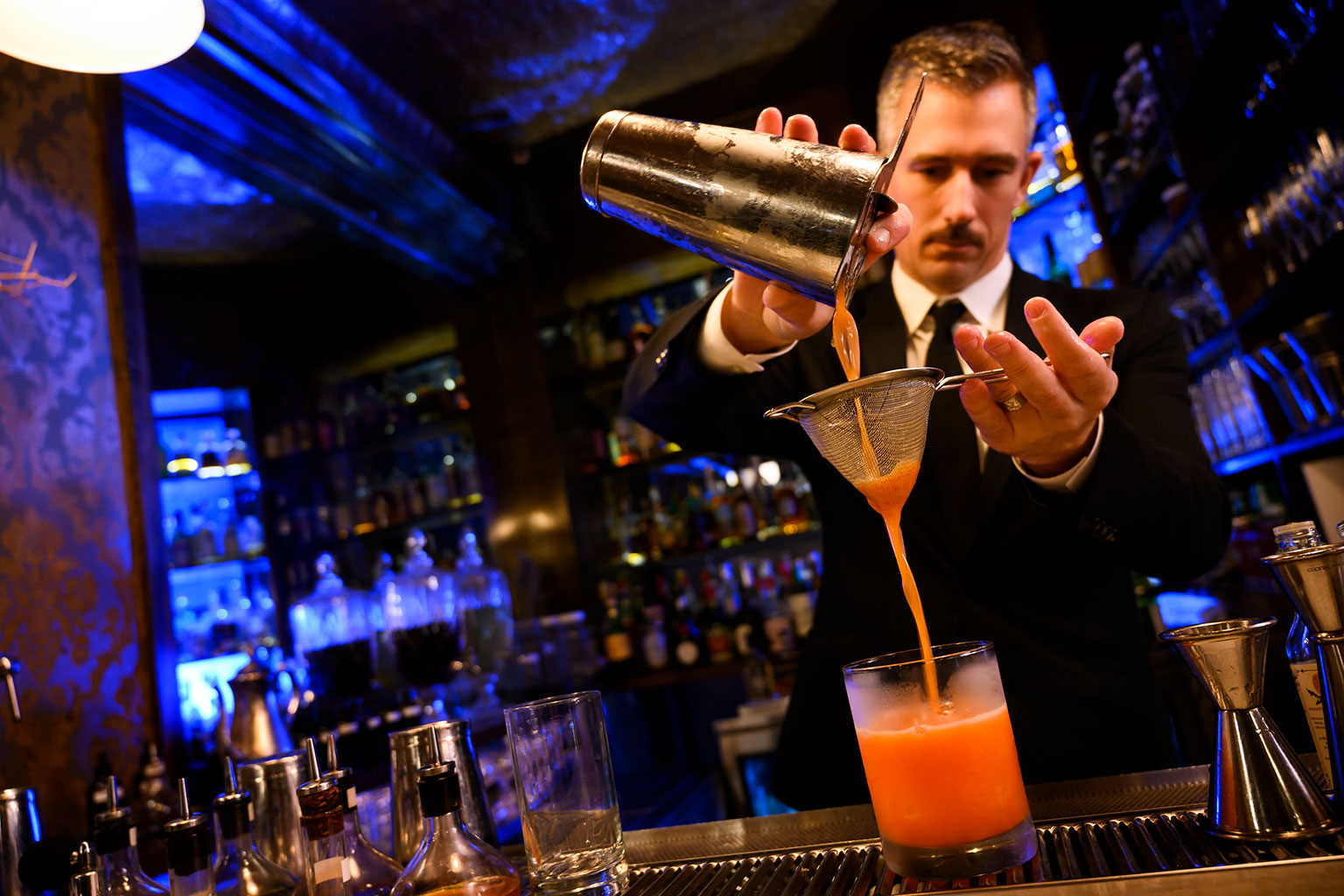 Manhattan Cricket Club
The Cricket Club, candlelit and cozy, is an intimate hideaway where guests share a love for cocktails, creative and classic alike. The Z 7 allowed McNally to work the dimly lit speakeasy to his advantage, playing with the guests' reflections and the shadows that draped across the walls. He took shots of close conversations and celebratory toasts, those normally lost in the gloom or washed out by a flash, all while using the Z 7's three automatic white balance settings to capture the highlights and shadows as they actually appeared in real life. "To explain the white balance settings in a word? Smart. There was a real orange glow to the place," McNally said. "I used tungsten in my white balance to decrease the warm tones and keep the scene true to itself."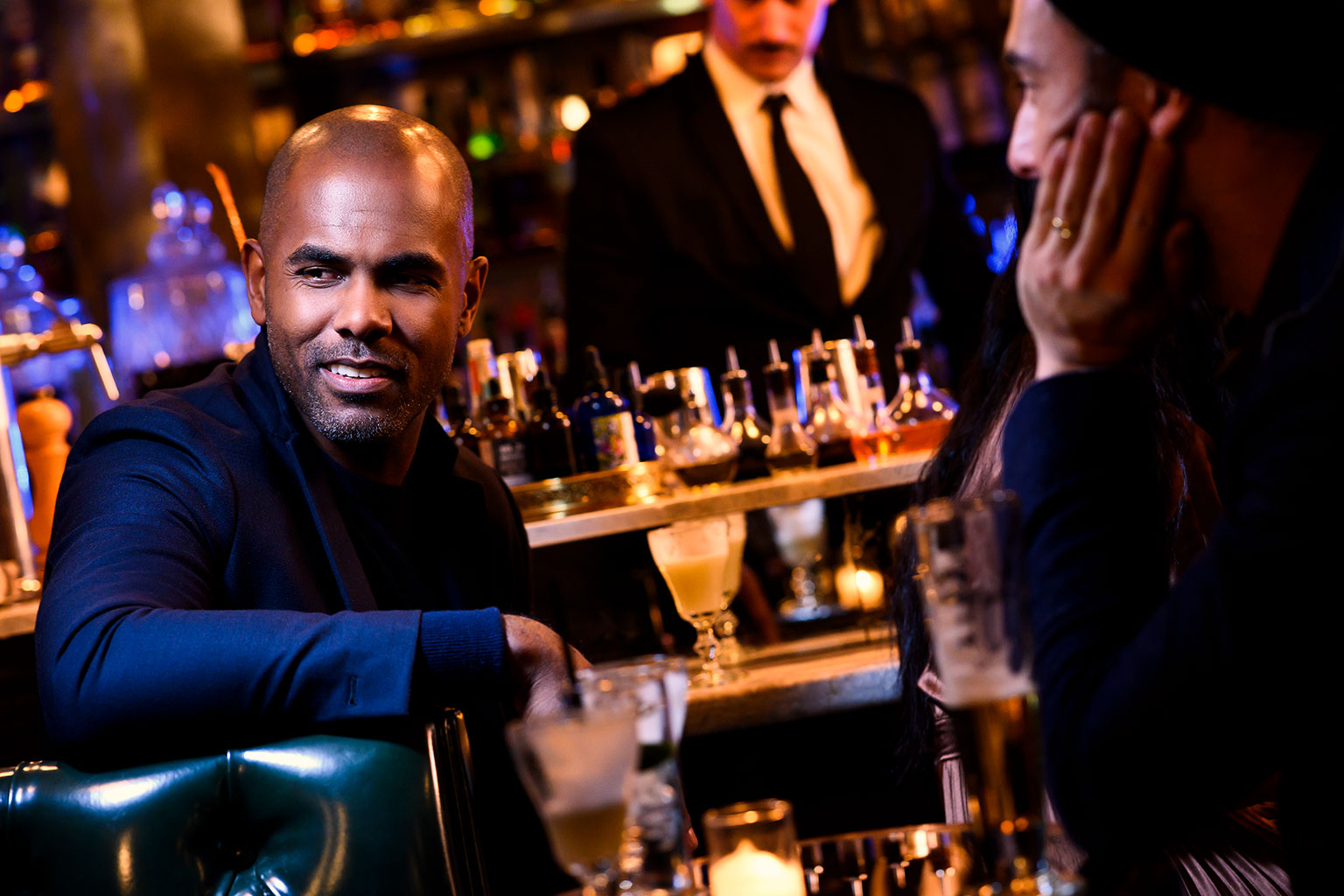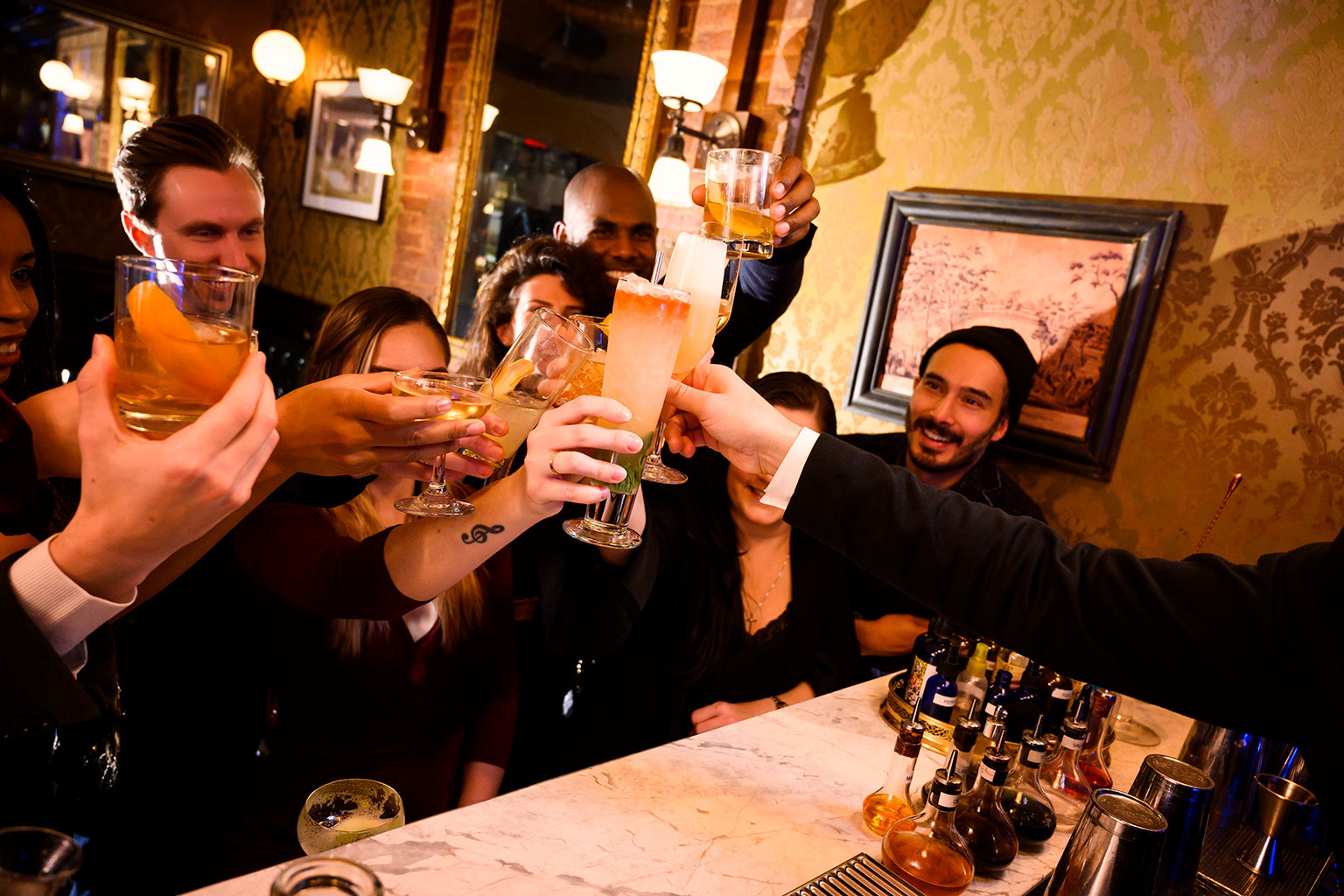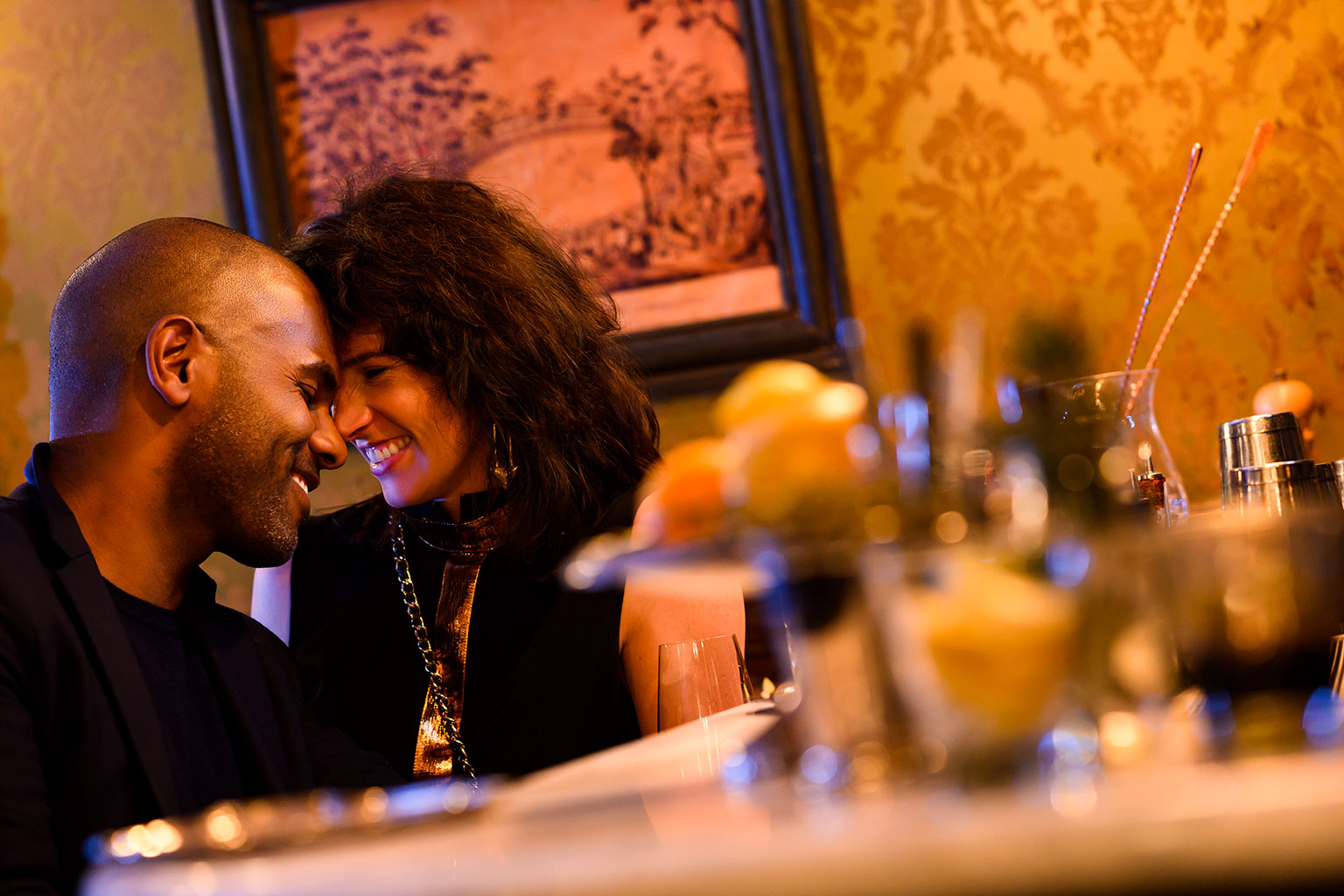 The morning after, McNally paid a visit to Les at his home in Harlem to get a peek at his morning routine.
On to Harlem ↓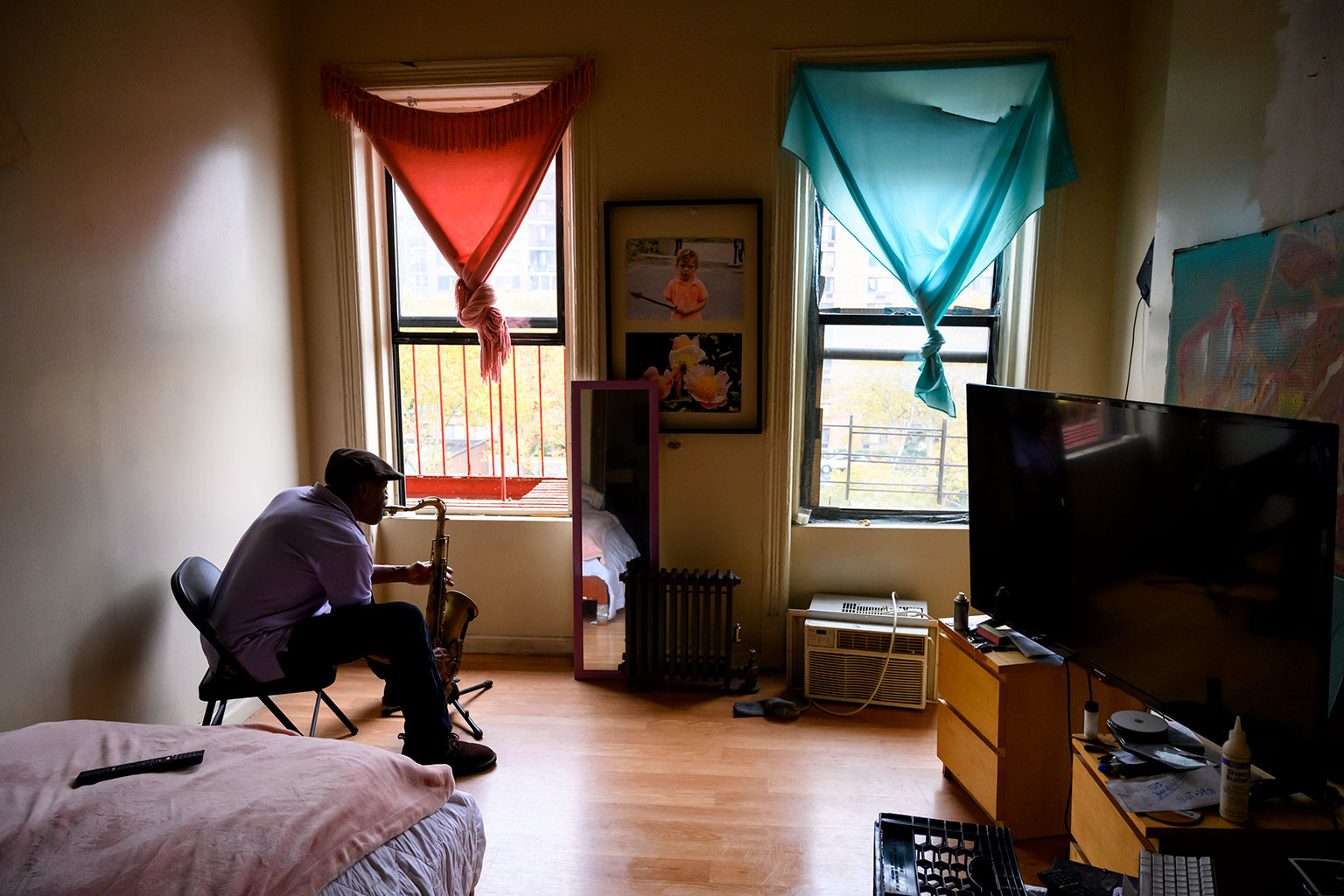 East Harlem
On a clear day, you can see for miles from the window of Les' Lexington Avenue aparment, straight down to the high-rises of Midtown. Unfortunately for McNally, it wasn't one of those days, forcing him to rethink the shot he had originally planned in his head. "I was disappointed by the light, but then something happened," McNally explained. The width of the glass allowed McNally to see something in the frame he hadn't anticipated: Les' reflection in the window as he sat on the fire escape and played his saxophone for the bustling city. "I knew then I had a photo." He had to tinker with it first, though. The exposure value in the sky was in contrast with Les, who was wearing all black. "A situation like that is hard to meter for," McNally said. "But I was able to still retain the details. The camera did well with dynamic range."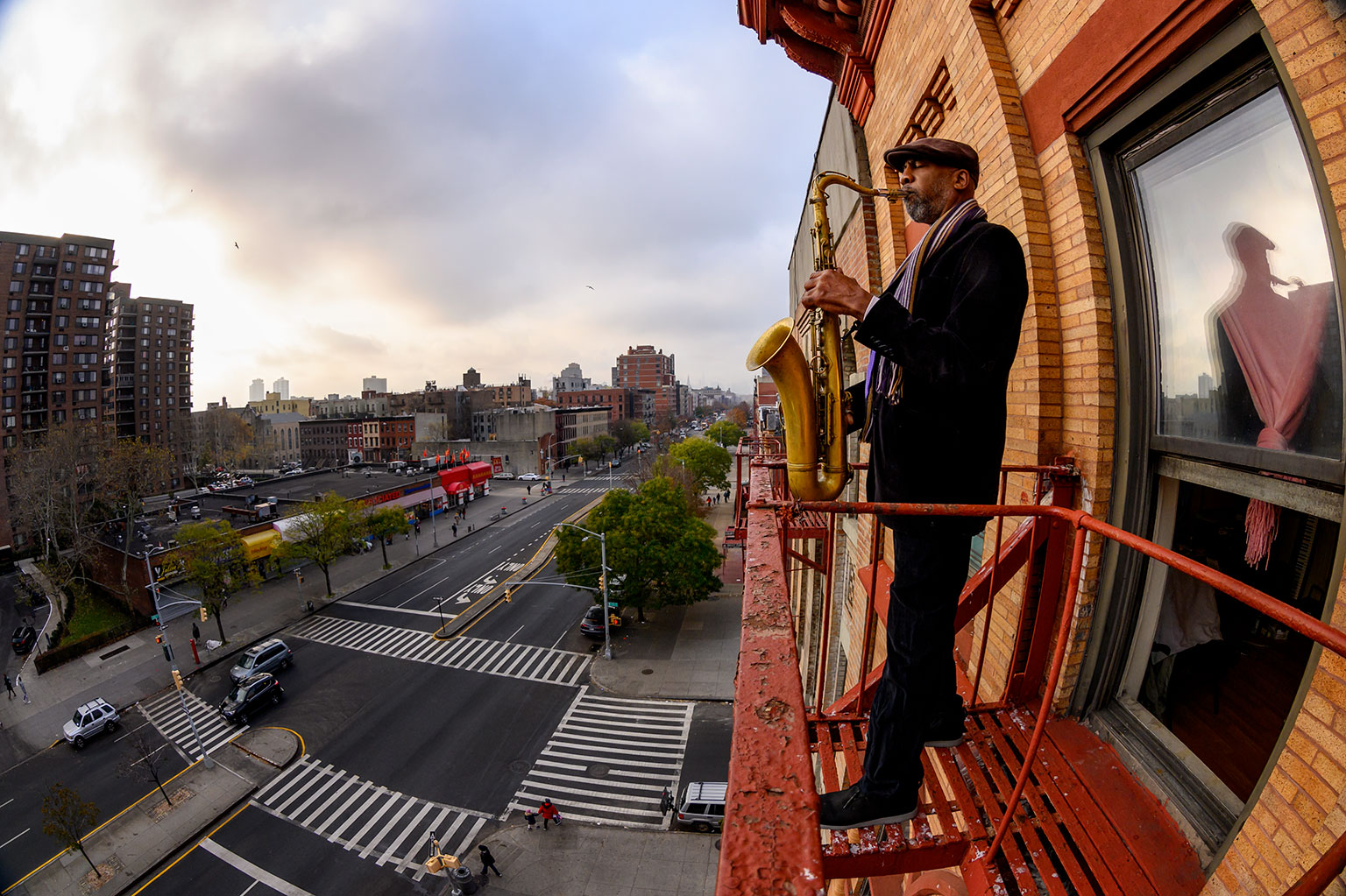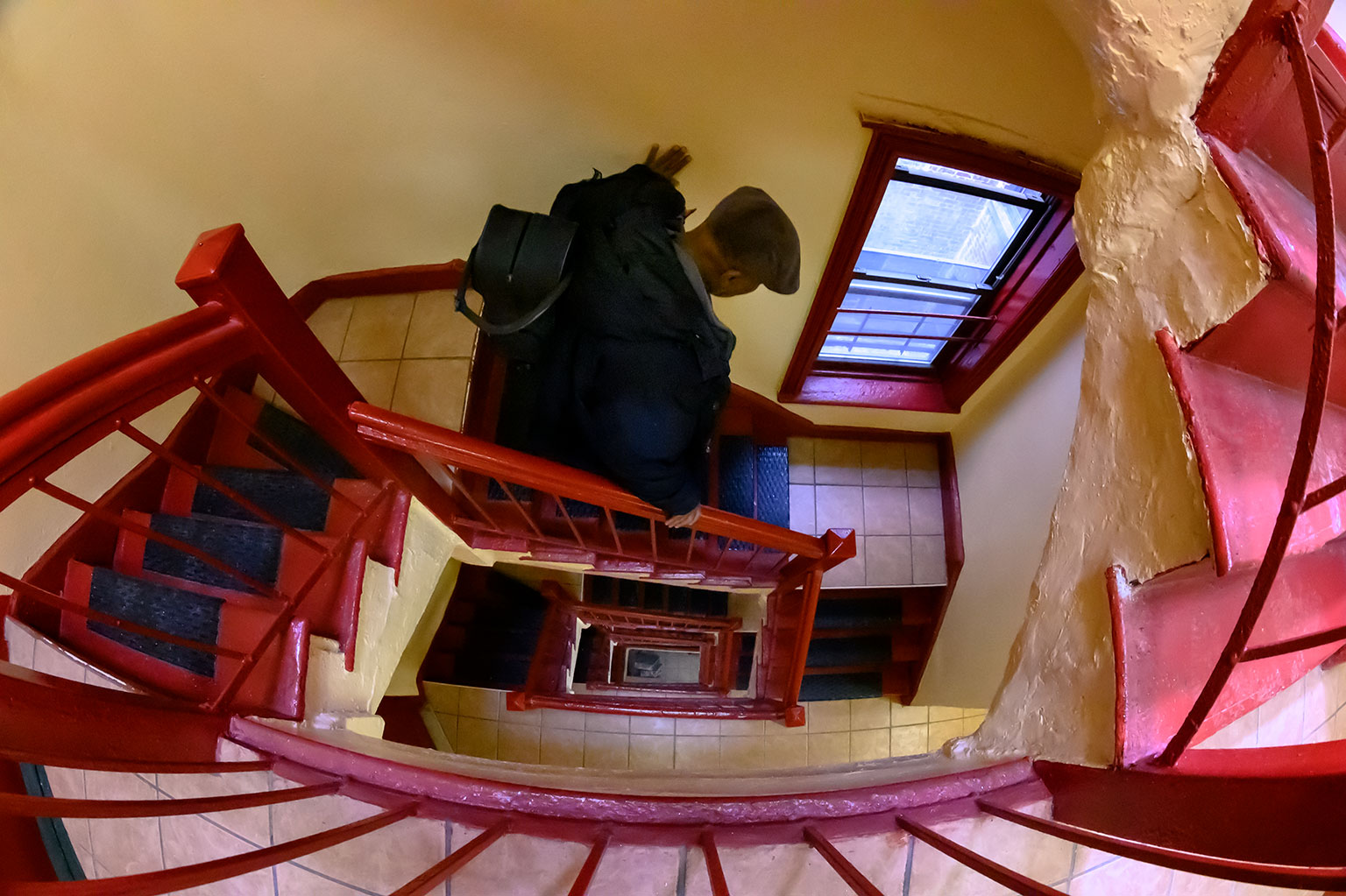 McNally had tested the future-facing camera, using its cutting-edge capabilities to bring out the best shots in dark clubs and bustling streets. And for the photographer, that's only the beginning. "I envision my road pack now being a mix of DSLR lenses, and a D850 with a Z 7," he said. "It's the best of both worlds, in the same camera bag." Learn More About the Nikon Z 7 Mirrorless Camera
About

JOE MCNALLY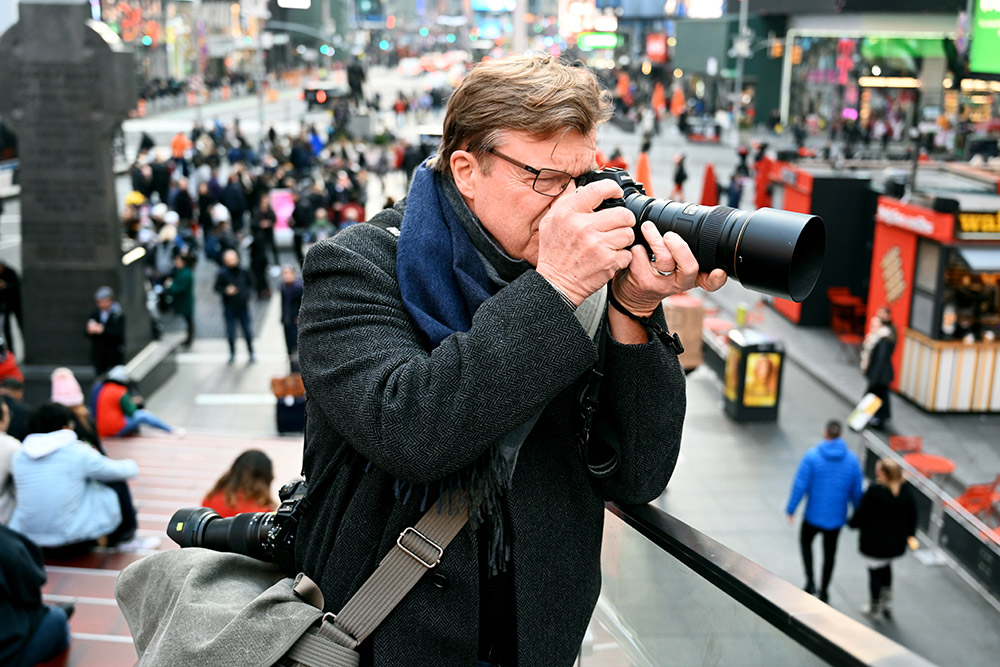 Joe McNally is the kind of photographer who makes a picture as opposed to taking one—the kind that feels a picture before seeing it. His works have appeared on the covers of Fortune, Life, and National Geographic. McNally began as a copy boy for the New York Daily News, processing film, cleaning prints, and running them to the newsroom. A newspaper strike in the late '70s led to his first staff job at a fly-by-night paper that cropped up after the Daily News temporarily closed shop. A spontaneous trip to Northern Ireland during the 1981 Irish Hunger Strike would eventually lead to his first big break: an ABC assignment to photograph journalist and anchor Peter Jennings in London. Around the same time, an attempted assassination of the pope took place in Vatican City, and before he knew it, McNally was in Rome alongside Jennings on an assignment for Newsweek. "Whenever you take a big job, you're always afraid to fail," McNally said. "It's what drives you as a freelancer because you're only really as good as your last job."
Since then, some of his most memorable work—from scaling high rises with Nepalese window washers in Dubai to lighting up entire city blocks—has been recognized multiple times. "When I'm on an assignment, I want to get under the hood," McNally said. "That, to me, is so important as a photographer: remaining very curious about the world." We asked McNally to reveal some insights that helped shape his career: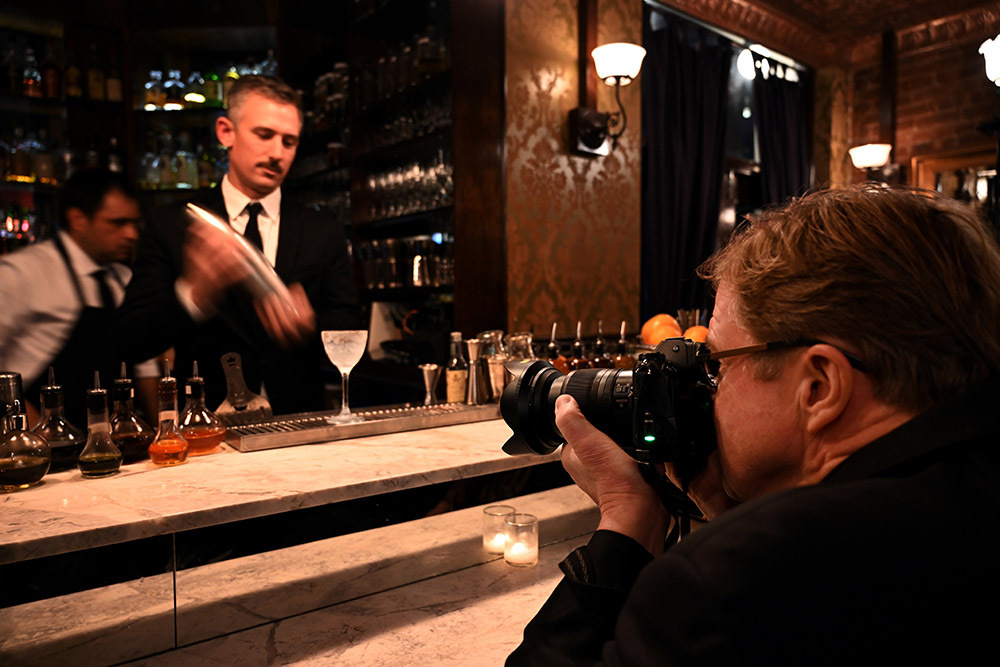 On buying your first professional camera:
"You have to think about how the camera fits into your workflow and your interests. If you're a jazz aficionado and you're constantly shooting pictures in incredibly low light, you'll have to get fast glass and a camera that has a really good, high ISO capacity. Overall, you want a system that you can grow with so that your lenses—whatever they may be—are still usable when you graduate from that camera."
On best practices in the field:
"You have to know your craft. There is a phenomenal amount of technology that's being packed into these cameras—they'll focus for you, expose for you, and that's fantastic, but it's not a get-out-of-jail-free card. No camera system in the world will solve all your problems for you. You have to be able to know how to drive the train, technologically speaking, when you're out in the field. You have to be aware of light, you have to know a picture when you see it. It's this melding of art and craft."
On when it's OK to lift the camera
"It's a challenge working in a culture that is apart from you—you'll need to work with locals most times to get a stamp of approval yourself. There are different ways of making that bridge happen. I think you just have to be intuitive and sensitive before capturing the image. It's best to be really, really straight with people. I don't pull a fast one on anybody. I tell them exactly what I'm doing, who's the sponsor, what the picture might be used for, whether it'll make the cover or not, or if it will even get published at all. I think people appreciate the transparency—it helps build a personal relationship."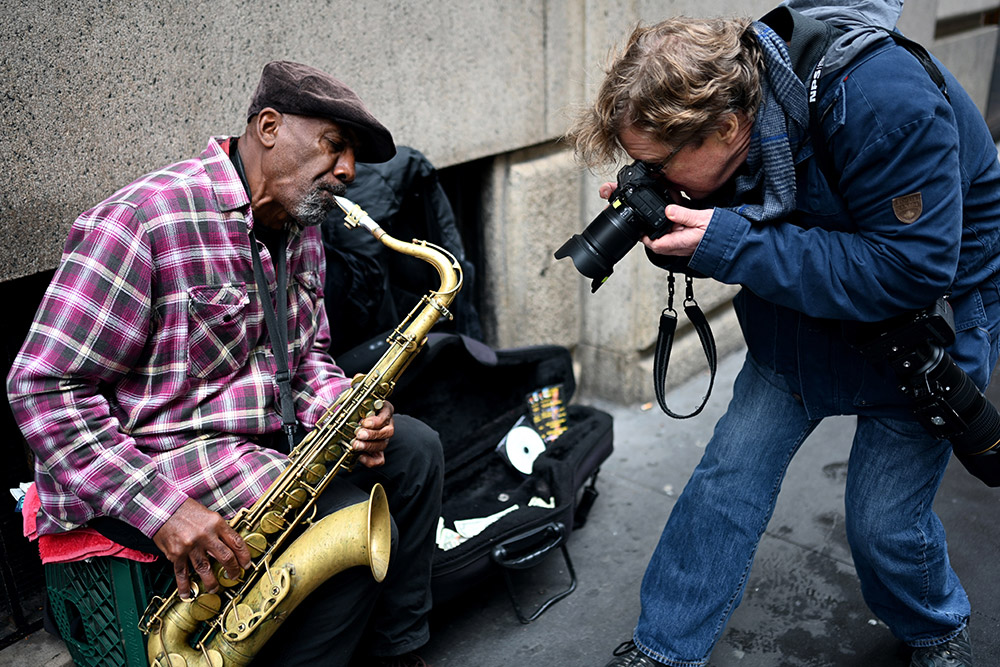 On his process
"When I'm doing a story, it helps me to cut it down to size. I'll work wide, then mid-range, and then I'll get right up in there, real close, to capture the details. You literally drill through something, peel back the layers of it until you get to what is hopefully the core of a good story."
On the Z 7
"I'm really enjoying the camera—it's light, unobtrusive. I'm loving the "i" button, which gives me all of my commands right there in the viewfinder. I can shoot five or six pictures, then release the shutter and have them all appear in front of me. Then I can just tap the multi-selector button and it's 100% magnification, so I can instantly tell whether I'm sharp or not. I have a shortcut programmed into my DOF button for my flash works. So I'm literally keeping my eye on the camera very faithfully now, because I've got all of those controls right there. I find that to be very handy in the field."