A few years ago, Jaelen Hernandez thought he might never graduate high school. But when the then 15-year-old found out that he was eligible for a free program that would allow him to earn his diploma online while continuing to work full-time at McDonald's, the inconceivable suddenly seemed possible.
Then came the pandemic. At the New Mexico restaurant where he works, Hernandez suddenly found himself responsible for the health of his customers and co-workers. And in a world dramatically reshaped by the outbreak, everything—including studying and completing his homework—became more complicated. But Hernandez, ultimately, was lucky. While many adult learners have had to prioritize earning over learning as family members and spouses have lost income during the coronavirus recession, he was able to continue with his studies in his off hours. In April, he completed the program. "I didn't want to be stuck without a diploma," he says.
Hernandez is one of nearly 60,000 people who've participated in McDonald's education program, Archways to Opportunity, since its launch in 2015. In addition to giving employees the chance to earn a high school diploma, the initiative provides upfront college tuition assistance, instruction in English as a second language, as well as free educational and career-advising services. "There's an education gap that exists in this country," says Lisa Schumacher, the director of education strategies at McDonald's. "Because 850,000 people work in McDonald's restaurants, we can use our size and scale to be part of the solution."
For many frontline employees, that leg up is vital. In the face of long-standing economic and social barriers to education, Archways presents a unique path to academic and professional advancement. (Archways participants are twice as likely to get promoted as nonparticipants.) "The program has been intentionally designed to meet people where they are and get them the step they need to move forward," says Haley Glover, a strategy director at Lumina Foundation, which focuses on making opportunities for learning beyond high school available to all.
Today adult education is more challenging than ever. According to one study, most adult education programming moved online during the pandemic, forcing many instructors to develop distance education techniques "more or less from scratch." Despite their best efforts to keep learners engaged through both digital and non-digital approaches, instructors have noted a decline in participation during the pandemic. That decline has been especially steep among those with unequal access to computers, home internet, quality remote instruction, and at-home support.
For restaurant workers pursuing education during this time, the difficulties of learning during a pandemic are colliding with new health and safety challenges at the workplace. Nonetheless, many McDonald's restaurant employees participating in Archways have found success thanks to the initiative's financial support and flexibility. As a result, during some of the most trying months in recent memory, they've marked high school and college graduations, promotions, and program completions.
For McDonald's, these achievements aren't just good for employee morale—they're good for business. According to a recent study on Archways, participation in the program has correlated with a 20 percent higher employee retention rate and increased sales at restaurants. "When a company focuses on learning, everybody wins," Glover says. "McDonald's has really done itself and, I think, the nation a service by providing this program."
Here, five McDonald's restaurant employees explain how they've navigated their education through a pandemic and articulate their hopes for the future.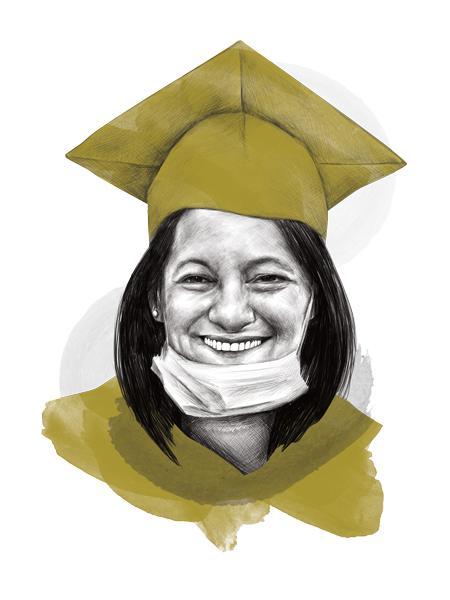 "The pandemic wasn't going to stop me."
Amanda Peterson
Massachusetts
Amanda Peterson left high school after becoming pregnant and began working at McDonald's to provide for her new family. She regretted the decision to pause her education, however, so she started going to night school. But balancing her education with work and parenting a young child proved too arduous, and she soon dropped out. "It was very tough opening the restaurant and then going to night school at the end of the day," she says. "I could never see my daughter."
With her educational dreams on hold once more, Peterson doubled down on work and eventually became a manager. Still, her desire to get her diploma never diminished. Then she learned about the free Career Online High School program offered through Archways. With her daughter now in her teens, Peterson figured she'd finally have the necessary eight to 10 hours per week to devote to her studies.
The pandemic altered that math. But even during a public health crisis, the flexibility of Peterson's program and work schedule allowed her to juggle a job, online classes, and caring for her daughter—who faced her own challenges learning at home during the pandemic. "It's been a tough time, obviously," she says. "But this was something I've wanted to do for a long time now. The pandemic wasn't going to stop me."
In July, Peterson donned a yellow cap and gown at a socially distant graduation ceremony and accepted her diploma in front of her co-workers, friends, and family. "I didn't even notice the social distance at that point. I was just so excited about everything that was happening," she says. "I couldn't believe I'd graduated."
Today three generations of Peterson's family work at McDonald's restaurants: Peterson, her mother, and her daughter. Now she hopes her plans to take college courses will continue to set a positive example for her daughter. "She's very supportive," Peterson says. "I do it for her."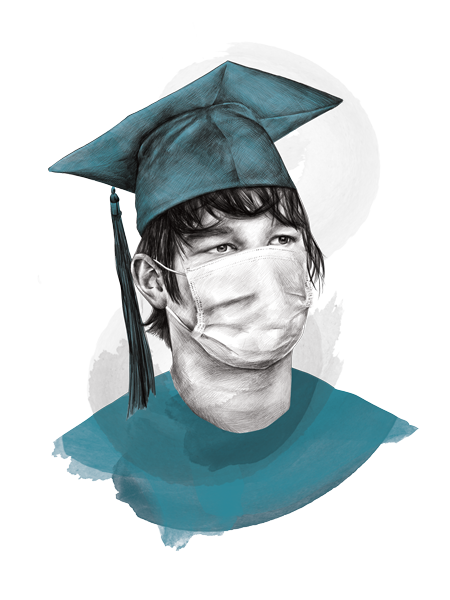 "It's worth the work."
Jaelen Hernandez
New Mexico
When Jaelen Hernandez was expelled from school at 15, he had no idea how he'd make enough money to survive. So when a McDonald's owner-operator, Clemy Garza, offered him a job through a program for expelled students, he jumped at the opportunity. "When Clemy first found me, I was in a pretty bad spot with my family," Hernandez says. "I couldn't afford anything I needed at the time. When she said I could get a job, I was more interested in that than anything. It was like, 'Oh, hey! I can get a paycheck and get myself out of this!'"
Although his education wasn't at the top of his to-do list at the time, Hernandez soon enrolled in the Career Online High School program. The next 18 months were difficult. He experienced health issues and the loss of his father. Then the pandemic turned everything upside down. But with Garza's support, Hernandez was able to finish the program in April, and in October he had a socially distant graduation ceremony. "I know what somebody can go through while they're trying to finish their program," he says. "It's worth the work."
Hernandez once had trouble envisioning a positive future for himself. But in just under two years, he's worked his way up to a managerial position at his restaurant, graduated high school, and started taking college classes in information technology. Going forward, he says, the possibilities are endless. "I didn't think I could do this much with myself or really be much. I want to have a decent house and a family and a good job," he says. "Now I have a good idea how I'm going to get there. I'm going to have what I want sooner or later."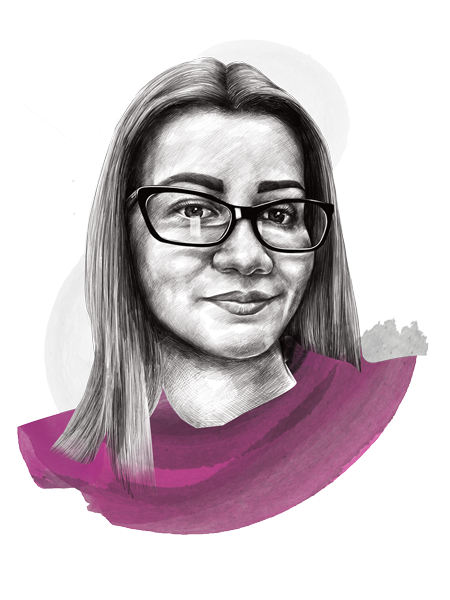 "If I can learn to speak english, I can learn anything."
Yenis Blanco
Maryland
When Yenis Blanco moved to the United States from El Salvador, she had one immediate goal: Make money. Learning English and earning her high school diploma, she figured, would have to come later. "When I would listen to other people talk, I wished that I could participate in the conversation or understand what they were saying," she says. "But it was a goal that I didn't think was realistic at the time."
Blanco began working in the kitchen at a Maryland McDonald's when she was 17 and began learning English shortly thereafter through Archways' English Under the Arches courses. Then she enrolled in the Career Online High School program. In just seven months, she received her diploma.
Now Blanco is a training manager at the Gavignano Organization where she oversees 19 McDonald's restaurants in the Washington metropolitan area. In 2019 she enrolled in Archways' college tuition assistance program and began taking business courses to help pave the way for a promotion. Working full-time means that progress toward her degree is slow, and the pandemic hasn't made things move any faster. But with McDonald's helping to cover her tuition, Blanco knows she'll be able to graduate one day. "It doesn't matter even if it's 10 years. Getting the degree is going to help me move up. I haven't touched the ceiling yet," she says. "Now I can see that any goal is possible. If I can learn to speak English, I can learn anything."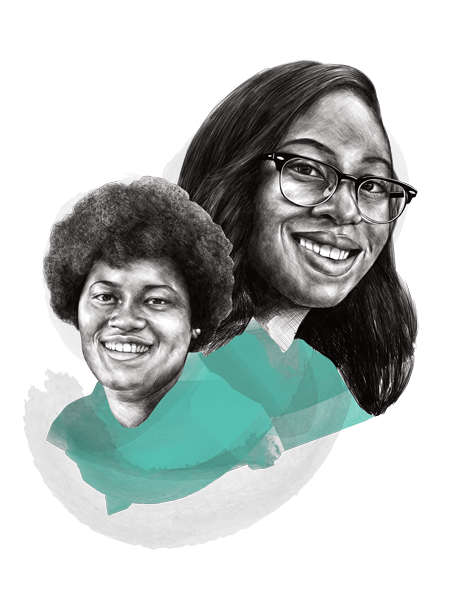 "I can't believe we made it this far."
Jaelyn and Jocelyn Fluker
Indiana
Jaelyn and Jocelyn Fluker have always done everything together. They started working at the same Indianapolis McDonald's as juniors in high school, and then they attended the same college in nearby Terre Haute. So when the sisters learned about the Archways tuition assistance program from their McDonald's owner-operators James and Pamela Poore, they enrolled in that together, too. As daughters of a single mother, earning their degrees would not have been possible without the financial support. "I can't believe we made it this far," Jaelyn says.
Their junior year in college wasn't what they'd been expecting. When the pandemic hit, the sisters were sent back to Indianapolis to complete their classes virtually. When they realized they desperately missed being around their co-workers, they decided they wanted to return to work at their local McDonald's. "It's meant a lot to us to be able to work during these past few months," Jocelyn says. "We've seen the stress and uncertainty our neighbors are going through. We're proud to be there for them."
A few months ago, the sisters didn't know what the future would hold for their education, their health, or their ability to work. But now, with one degree nearly under their belts, the sisters say they are looking forward to continuing their education after graduation—and sticking with McDonald's along the way.
Learn more about the commitment McDonald's has made to crew skills development, tuition assistance, and career advancement.