When Charles Walls was growing up on the South Side of Chicago, he witnessed the racial wealth gap firsthand. "Although I didn't have a personal financial struggle, I was surrounded by people who did," recalls Walls. Intent on lifting up his community, Walls embarked on a career as a financial planner, a path that ultimately led him to JPMorgan Chase. He hoped that by working in banking, he could help marginalized communities more easily access and benefit from wealth-building opportunities—the same opportunities from which they've historically been excluded.
America's wealth has long been unevenly distributed as a consequence of racist policy and structural inequality. The typical white family possesses eight times as much wealth as the typical Black family and five times as much as the typical Hispanic or Latino one, according to a 2019 study sponsored by the Federal Reserve. Redlining, job discrimination, and predatory lending have prevented Black, Hispanic, and Latino people from accumulating wealth at the rates of their white counterparts. The federal government outlawed housing discrimination more than half a century ago, but the homeownership gap between Black and white households is larger today than it was when housing discrimination was legal. The consequences of these kinds of policies have a widespread effect: The racial wealth gap is expected to cost the U.S. economy a stunning $1 to 1.5 trillion in consumption and investment between 2019 and 2028.
Learning about these systemic barriers made Walls less certain that working at a bank was the best way to make a difference. But then, in the fall of 2020, JPMorgan Chase made an announcement that reaffirmed his choice: The firm would commit an unprecedented $30 billion to help close the racial wealth gap and drive inclusive economic growth. At the time, Jamie Dimon, the company's chairman and chief executive officer, said, "We can do more and better to break down systems that have propagated racism and widespread economic inequality." Eager to be part of such an ambitious effort to tackle the problem, Walls took on a lead role on the community impact team at JPMorgan Chase, one of the groups responsible for helping the firm deliver its $30 billion commitment across the country. "It's going to take sweeping changes to get where we need to get," says Walls. "What I love about our commitment is that we're being bold."
This isn't JPMorgan Chase's first effort to address systemic inequality in the United States. Since 2014, the firm has invested $200 million in Detroit's economic recovery, part of which has gone toward helping the city's Black residents benefit from that comeback. In 2018, it also expanded Women on the Move, its global initiative focused on creating more economic opportunities for all women. And in 2019, the company rolled out Advancing Black Pathways, a program aimed at improving financial health and building wealth in Black communities. Meanwhile, for more than two decades, the firm has invested in supplier diversity by partnering with companies owned and operated by minorities, women, and others from marginalized groups; since 2015 it has spent more than $11 billion with this network of suppliers. Recently, the firm also announced a new center of excellence called Advancing Hispanics and Latinos, which, similarly to Advancing Black Pathways, is also aimed at improving financial health and economic growth. But the commitment to racial equity announced in 2020 is the largest to date for the firm and one of the biggest corporate efforts ever aimed at closing the racial wealth gap.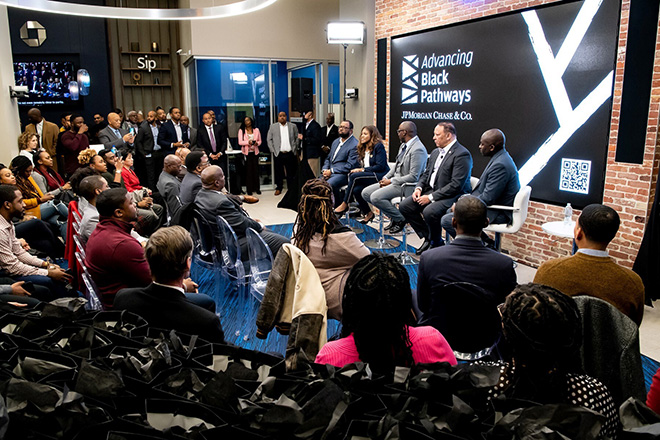 "This is about changing the way we do business here," says Tosh Ernest, who leads wealth creation at Advancing Black Pathways. Experts from the divisions that oversee consumer banking, home lending, business banking, corporate responsibility, and diversity, equity, and inclusion, among others, all do their part. These teams also collaborate whenever possible. Women on the Move, for example, works with Advancing Black Pathways to refer women and those of marginalized identities to companies looking to hire new board members. "Working with our colleagues to ensure our programs are reaching and advancing marginalized women is a main area of focus for us," says Lauren Serina, who leads business growth for Women on the Move.
One of the firm's top priorities is reducing disparities in lending. Of the $30 billion commitment, the firm will lend some $8 billion to homebuyers in the form of mortgages through 2025. JPMorgan Chase is also leading seminars on homebuying, producing an educational homebuyer podcast, and working with nonprofits that provide resources to potential homebuyers. "Our goal is not only to get people in a home but also to keep people in their home," says Carolina Jannicelli, head of strategy and implementation of the community impact team. Since safe, secure housing is a foundational step toward financial health for many families, JPMorgan Chase is also working to address the needs of renters by investing billions in affordable housing financing.
The firm's increase in lending also extends to small businesses: It has committed $2 billion to help grow enterprises in majority Black, Hispanic, and Latino communities. The investment also has a significant impact beyond individual recipients; lending to one business has a ripple effect, opening up economic possibilities in marginalized communities and spurring growth for the whole country. Citing an Association for Enterprise Opportunity report, Tosh Ernest notes that only 4 percent of Black-owned businesses employ a second person. "If we could scale that from 4 to 15 percent, we could potentially eradicate the joblessness numbers in Black America, and we would add $55 billion more to the American economy," she says. "Increasing hiring by Black-owned businesses is an opportunity to benefit all Americans and communities."
Burned by decades of policy that didn't center their best interests, members of Black, Hispanic, and Latino communities may lack trust in banking institutions. In an effort to repair and build relationships, JPMorgan Chase is increasing its physical presence in traditionally underserved communities. It has reimagined the role of the traditional bank branch and, since making its commitment, opened 10 Chase Community Center branches, where people can attend free financial health workshops on building credit or buying a home, among other topics. The firm has also hired 90 community managers whose job it is to build relationships with local partners and determine how each branch can help meet residents' needs. In addition, it's brought on about 100 employees who are responsible for educating potential homebuyers and even more who are focused on training and mentoring entrepreneurs. It's also working toward providing an end-to-end experience for customers in Spanish.
Walls has seen the Community Center branch model come to life in Chicago, where he's still based today. In early 2021, a Community Center branch opened in Woodlawn, a neighborhood on the South Side, and it now serves as a hub where deeper community ties can be built. "Slowly but surely, we want to get to a point where we're eliminating that trust deficit so that folks feel more comfortable banking with us, and not just us, but in the industry as a whole," says Walls.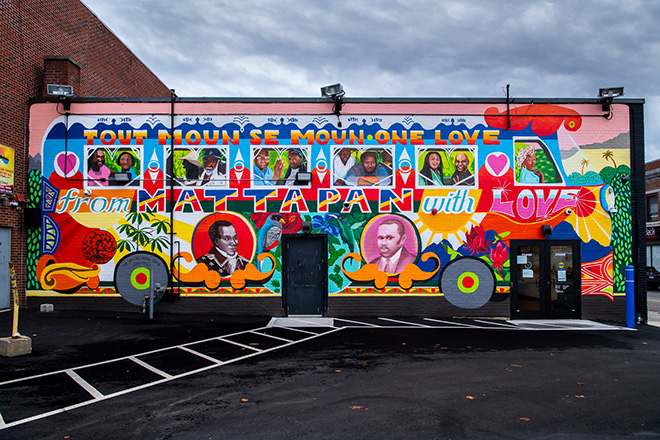 As Walls points out, the success of these efforts will largely depend on the firm's willingness to accept feedback and insights, some of it challenging, from people on the ground. "It's important for me to get out in the community and listen to the people we're looking to help," he says. At one point, Walls and his team flew down to Dallas to learn directly from locals about the issues they face, such as the lack of access to capital or banking resources in their community. The team walked from door to door through the neighborhood, talking to business owners who felt that the banking industry had failed them. "That same group has become like an ad hoc advisory council for us," he says. "I can pick up the phone and say, 'Hey, what are you hearing here? And what do we need to do?' We listen and make sure that we've got a pulse on the community at all times."
Walls and his colleagues hope that other businesses are taking notice. "I don't think we can go at it alone," says Caron Washington, who leads financial health and wealth creation at Advancing Black Pathways. "I think if there's a collective effort, we can make some of the structural changes that are needed." More than a moral imperative, narrowing the racial wealth gap is a path toward equitable economic growth for the country as a whole and ensures that America's promise as the land of opportunity extends to all. "Nobody is looking for a handout," says Walls. "We want to participate in a system that business owners and homeowners have participated in for years and that has helped them build wealth. We want to do that too."