Zephyrhills, Fla. – Ask Dan Cosby about his life and he doesn't shy away from just how hard things have been. He's experienced divorce, homelessness, a heart attack, broken ribs, diabetes and obesity, to name a few. Despite everything he's been through, the 63-year-old now embraces these challenges and enjoys sharing the lessons he's learned to help inspire others.
Faced with perhaps the biggest challenge of our time – COVID-19 – Cosby has channeled his relentless positivity and transformed his life with the help of friends, church and a strong healthcare support network. His favorite piece of technology of all time – a fitness smartwatch – has played a huge role too.
These days, Cosby is often out for a daily morning walk by 7:30 a.m. Then he's off to Zephyrhills Fellowship Bible or Tampa Bay Community Church, where he is among a tight-knit group of congregants who support a prison ministry and walk the streets of Tampa Bay, dispensing pre-made bags containing chips, a drink and a peanut butter and jelly sandwich to help feed the city's homeless.
His mission in life is harder these days amid the pandemic, but he says he always wears a mask while out to stay safe while remaining committed to helping those less fortunate. These complications are nothing compared to what Cosby has endured to reach this point in life.
Even a few years ago, this version of Cosby was hard to imagine. His journey from homelessness and obesity to community success was years in the making. He was living out of a car as recently as 2007, just 50 years old and weighing in at 315 pounds. Years earlier, he had separated from his wife and lost everything in the divorce. A hernia injury and subsequent surgeries sidelined Cosby and made work impossible.
So he sat. And ate. And sat some more. A local family took him in and provided him with temporary shelter. Yet he continued to gain weight and his blood pressure surged. He suffered a heart attack, and at one point, was hospitalized with two cracked ribs due he attributes to the extra pounds straining his frame.
"My activity level just ceased. I had suffered a hernia and I could not do any work," Cosby said.
This pattern of inactivity lingered until March, when he finally connected with a MarketPoint sales rep, who helped Cosby sign up for his Medicare Advantage benefits, and Skylar, a Humana health education facilitator who helped Cosby better understand how to use his benefits. That was a turning point in Cosby's trajectory.
For the first time in years, Cosby's Humana Medicare Advantage plan helped him finally had access to quality health care benefits. Another one of his benefits, and services like Humana's Over-the-Counter Health & Wellness Products catalog, which gives membershelped him get easily shop for access to hundreds of products such as vitamins, skin care products and home medical supplies.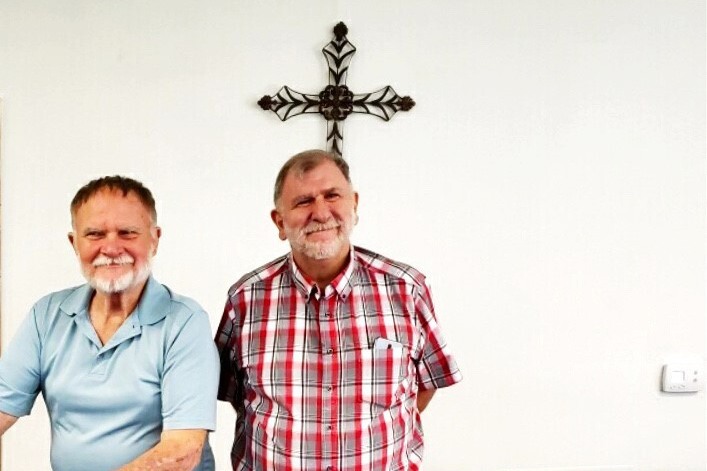 A Fitbit fitness tracker was listed in the catalog, and it was the first thing Cosby ordered through the program in March. Although it was a healthcare need he didn't even know he had, that Fitbit tracker changed Dan's life. From the moment he attached it to his wrist, his focus changed. Instead of counting the days, he was logging miles and watching the pounds drop.
The first day he wore it while walking the streets of downtown Tampa helping homeless, he couldn't believe the reading: He had already clocked four miles in one go. Within a few weeks, he reached 100 miles. So far this year, he's eclipsed 500 miles of walking.
The miles added up and the weight melted off. And something else inside Cosby changed: He was looking forward to his activities and tracking his daily intake of sugary drinks and foods instead of shrugging them off.
"Once I realized I could do 100 miles a month and friends started noticing that I had been losing weight, I started walking more," said Cosby, who is down to 240 pounds. "I started eating healthier and controlling my portions. Now I can set goals with my health and I feel like I can do anything."
Beyond the direct and personalized support from Skylar, Humana benefits have played a central role in Cosby's inspiring story. Through Humana, he receives telehealth appointments with his doctor to help manage his health and ongoing chronic conditions from the safety of his home. With a limited income, Cosby also can find cheaper prescription drug options using an Rx calculator tool. These tools have granted him easy access to the care he needs in order to achieve his best health.
His advice for others who are maybe on the sidelines or just getting started? Take it easy at first, stay positive, and don't make yourself miserable by sacrificing too many of the things in life that you love.
"For diet or exercise, don't push it too hard. It took me a little bit at a time to lose weight and become healthier," Cosby said. "I didn't just start walking four miles every day, and even now there are days where I just walk around the house to get some steps in. I would say just do what you can do. The same for eating; it's all about portion control for me – and maybe not drowning my breakfast biscuits in sausage gravy."
Cosby recalled the moment the extent of his journey to better health became crystal clear, just a few months ago, during one of his meal handout walks. "It's a funny but true story. I was walking on a sidewalk and tripped over a curb," he said. "But instead of calling flat on my face, I was able to stop myself and keep moving. That's not something I could have done even a year ago."
Even as Cosby works in a daily walk or two, a new fitness challenge has emerged: bicycling. He recently acquired a bike and plans to increase his riding soon.
"I think the story of my life is basically 'If I can do it, anyone can,'" Cosby said. "Throughout my life, despite the hardship, I've always felt I had angels with me every step of the way."