L ast december, Minneapolis approved a plan that allows duplexes and triplexes in every neighborhood by banning single-family zoning, an intrepid move that the city believes is a crucial part of addressing the housing crisis and confronting racial inequity. For housing advocates across the country who have spent years battling NIMBYs (Not in My Backyard residents) over even the smallest of zoning tweaks, passing the plan was an incredible feat. Though the growing disparity between rising housing costs and stagnant incomes has made the need for bold action increasingly clear, even modest efforts to expand access to housing are routinely obstructed in other cities.
"The number one problem in affordable housing today is supply. There are plenty of new homes being constructed—but not homes that are affordable for cooks, nurses, barbers, and other working families," says Jeffery R. Hayward, Fannie Mae's executive vice president and head of Multifamily. But how did Minneapolis do it? Though the civic and political landscape of the city may be unique, many of the approaches and techniques used to achieve change there are replicable elsewhere. Perhaps the most important lesson, say experts and those with firsthand experience in Minneapolis, is that we should think big.
According to Heather Worthington, Minneapolis's director of Long Range Planning, the city took an unconventional approach to developing its 10-year plan, of which the zoning change is a part. Some cities single out one particular issue—such as affordable housing, the environment, or economic development—and present a draft plan for residents to essentially rubber-stamp. Instead, Worthington's office first facilitated a wide-ranging, years-long, in-depth conversation about what residents want their city to be and the values they want it to reflect. Over the course of two years, she says, her office held about 200 meetings with residents and made a special effort to reach out to the most consistently marginalized groups. That process generated support across disparate communities for the comprehensive plan that was ultimately proposed: Minneapolis 2040. "I think if you start having a conversation about shared values, you end up in a much better place," says Worthington. "I wish we'd done more, and in the future, that will be how we do everything."
Minneapolis Zoning
Tap to toggle maps
John Edwards, an activist and member of the YIMBY (Yes in My Backyard) group Neighbors for More Neighbors, agrees that the sweeping nature of the plan was key to galvanizing support. "The city expanding the conversation and making it more than just, 'Do we like apartment buildings or do we not?' was really important," Edwards says. "What happened in Minneapolis was that the whole city was having these really complicated conversations."
According to Worthington, a lot of those conversations in Minneapolis returned to the deep and persistent racial disparities in the city. To illustrate the underlying issue, she points to recent research that reveals that white residents, with a median annual income of $65,000, can afford to live in many high-opportunity areas of the city, whereas black and Native American residents, with a median annual income of $20,871, are largely excluded from those areas and resources. Elizabeth Kneebone, research director at UC Berkeley's Terner Center for Housing Innovation, says "there's a growing understanding of the role that housing and zoning have played in creating segregation and the concentration of poverty over decades." Ultimately, Worthington says, promoting racial equity became the central focus of the housing debate, rather than the NIMBY concern of preserving neighborhood character.
Minneapolis's plan was, nevertheless, contentious. One of its riskiest aspects was a proposal to change zoning for the entire city as opposed to doing what cities traditionally do: carve out exemptions or overlays for certain areas. According to Solomon Greene, a senior fellow in the Research to Action Lab at the Urban Institute, that ended up being one of the plan's greatest strengths. "When you make these piecemeal decisions, that's when you really get homeowners and NIMBYs exerting outsize interest," he says. "[The city] did it across the board, and they did it fairly, reducing the ability of local neighborhood groups to say, 'You're singling us out.'"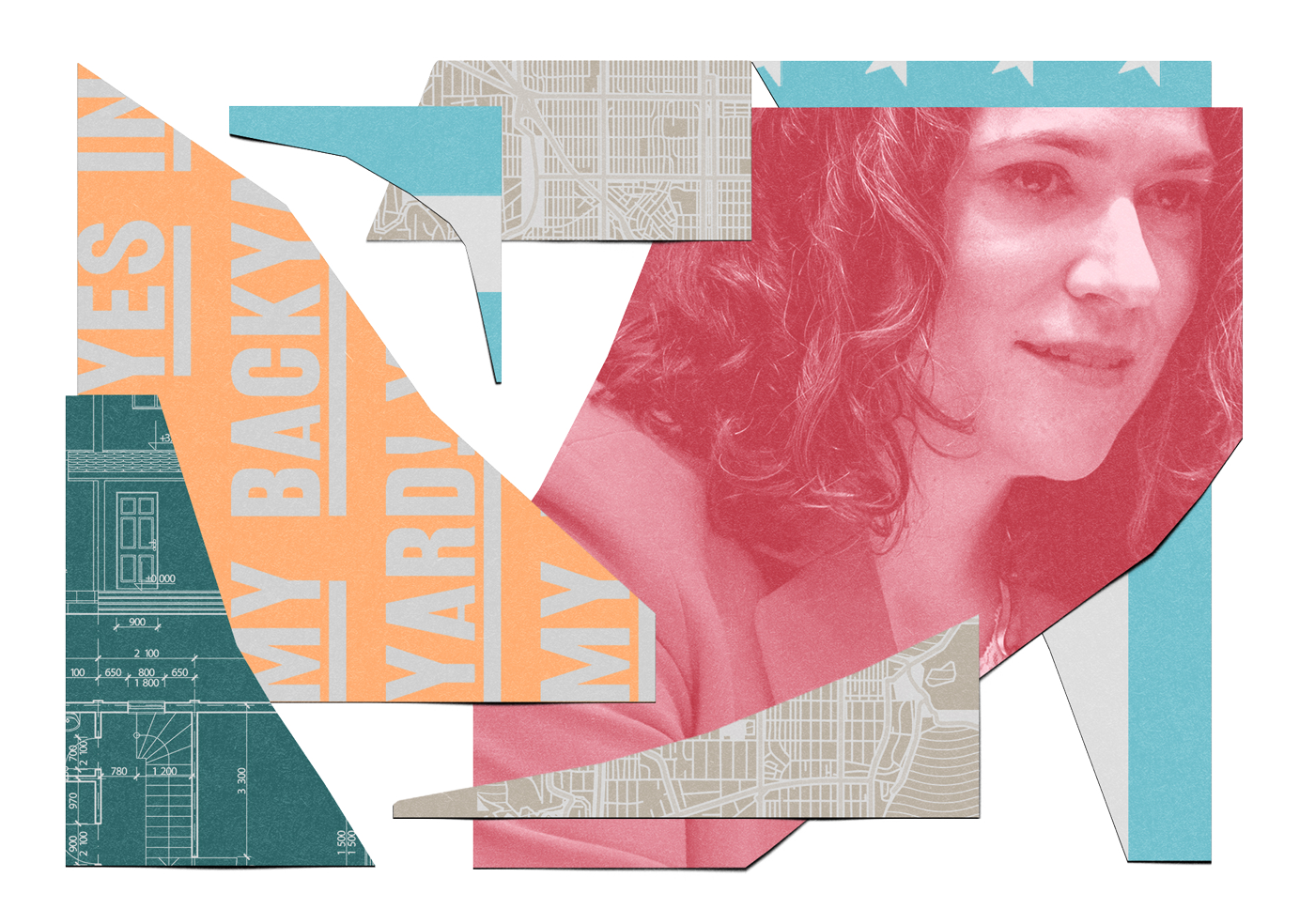 "There are two things driving NIMBYism: Fear is number one, and number two is a knowledge gap," Worthington says. Addressing NIMBYism in Minneapolis, therefore, required hearing NIMBY concerns. "We did our best to listen. [Homes] are a huge financial investment, and people feel their home value is at risk," says City Council President Lisa Bender. The city's strategy also required thoughtfully educating residents about the proposal. While eliminating single-family zoning sounds dramatic, Kneebone points out, another way of putting it is that the city wanted to allow for duplexes and triplexes specifically. "It helps to assuage fears that a change in zoning doesn't mean the Manhattanization of the neighborhood," she says. "It's not a large tower next door. It's more of these missing middle-type houses."
The city also helped soften those fears by playing a long game, implementing smaller changes over the past decade that laid the groundwork for Minneapolis 2040. Before Bender was elected to the city council in 2013, the city already had upzoned for density along public transit corridors. After she became the chair of the zoning and planning committee, she spearheaded the legalization of accessory dwelling units (ADUs) and eliminated parking requirements for developments in transit corridors that have less than 50 units, which are a huge impediment to smaller multifamily projects. Edwards says that those smaller-scale zoning changes also helped activate the community, as people had been discussing the relevant issues long before bigger proposals were on the table. "People saw that those changes made sense and that they were incremental, and it allowed us to make bigger changes," he says.
Together, all those strategies added up to make Minneapolis's housing story a unique case that the rest of the country can study. "A lot of other cities will be paying attention to Minneapolis," says Doug Duncan, senior vice president and chief economist with Fannie Mae, which financed more than 7,000 multifamily units in Minneapolis last year. Indeed, several other places already have tried to follow the city's example. SB-50, California's plan to change the state's single-family zoning codes, was stymied this spring. But in July, Oregon lawmakers eliminated single-family zoning in cities across the state, allowing up to a fourplex on single-family lots in larger cities and duplexes in smaller ones.
Of course, rezoning alone can't ensure that affordable housing will be built—and many cities around the country lack the necessary resources to incentivize construction. Officials in Minneapolis, however, were able to triple the city's affordable-housing budget to $40 million, which will give very-low-income households the subsidies they need to afford housing in high-opportunity neighborhoods. They also were able to mandate that developers include affordable housing in new developments along transit corridors.
While advocates can look to Minneapolis for lessons, they undoubtedly know that even with some of the best practices for building consensus in place, navigating the powerful forces of both NIMBYism and YIMBYism was no easy task. Striking a workable balance required political courage from a crop of ambitious leaders. In 2013, seven young city-council members came into office in Minneapolis, among them Bender and Jacob Frey, who is now the mayor. Bender says that rather than backing away from the more controversial aspects of the proposal, they campaigned on them. According to Hayward, as communities seek to confront these challenges, it is important for officials to listen to long-term residents of the community as well as people in the community who have historically been priced out. "You have to have courage in the conviction to do what is right for the whole community and not just a few [residents]," Hayward says.