Why did Shazzi Felstein decide to take on a roommate at the age of 73? "It was money—totally money," she says.
Felstein, a retired computer data specialist, has lived in New York City all her life. But making the rent with her Social Security benefits and retirement savings alone was becoming difficult—and finding a new place in her price range seemed impossible in a city that's in the grips of an affordability crisis. So last year she turned to Home Sharing, a program run by the nonprofit New York Foundation for Senior Citizens that matches elderly homeowners and tenants with younger people unable to find affordable housing. Through the program, Felstein found a 27-year-old interior design student she liked, and soon they were living together. "I considered other options, and one of them was moving to Florida, where life was cheaper. But I really wanted to stay in the city," says Felstein.
Predicaments like Felstein's are increasingly common among people of all ages. Nearly a third of all U.S. households and almost half of all renters now pay more than 30 percent of their income on housing—the standard measure of excessive housing costs—per the Joint Center for Housing Studies at Harvard University. In many parts of the U.S. this housing affordability crisis is extending from low-income households to lower-middle-income ones, which are becoming cost-burdened in growing numbers. According to Brookings Institution researcher Jenny Schuetz, policy has not yet caught up to help these people: "Many of them are still renters, so they're not benefiting from tax policies around homeownership, and they're not eligible for housing assistance." Overall, she says, "this is a group that's pretty stretched, and we don't have much of a safety net designed for them."
While housing supply is critically constrained, there's a broad consensus in the housing world that the issue doesn't lend itself to fast, easy solutions. As a result, people are taking matters into their own hands and finding inventive—and often arduous—ways to afford housing. Some are accepting longer commutes, staying in cramped living quarters for longer, or even moving into vans and boats. Others are taking out mortgages with their parents or grandparents or turning their monthly rent into a down payment. Still others are discovering ways to monetize their homes, such as turning their closets into rentable storage. "All of these things that we're seeing are accommodations for an underlying problem, which is that there's not enough homes where people need them," says Jon Lawless, Fannie Mae's VP for product development and affordable housing.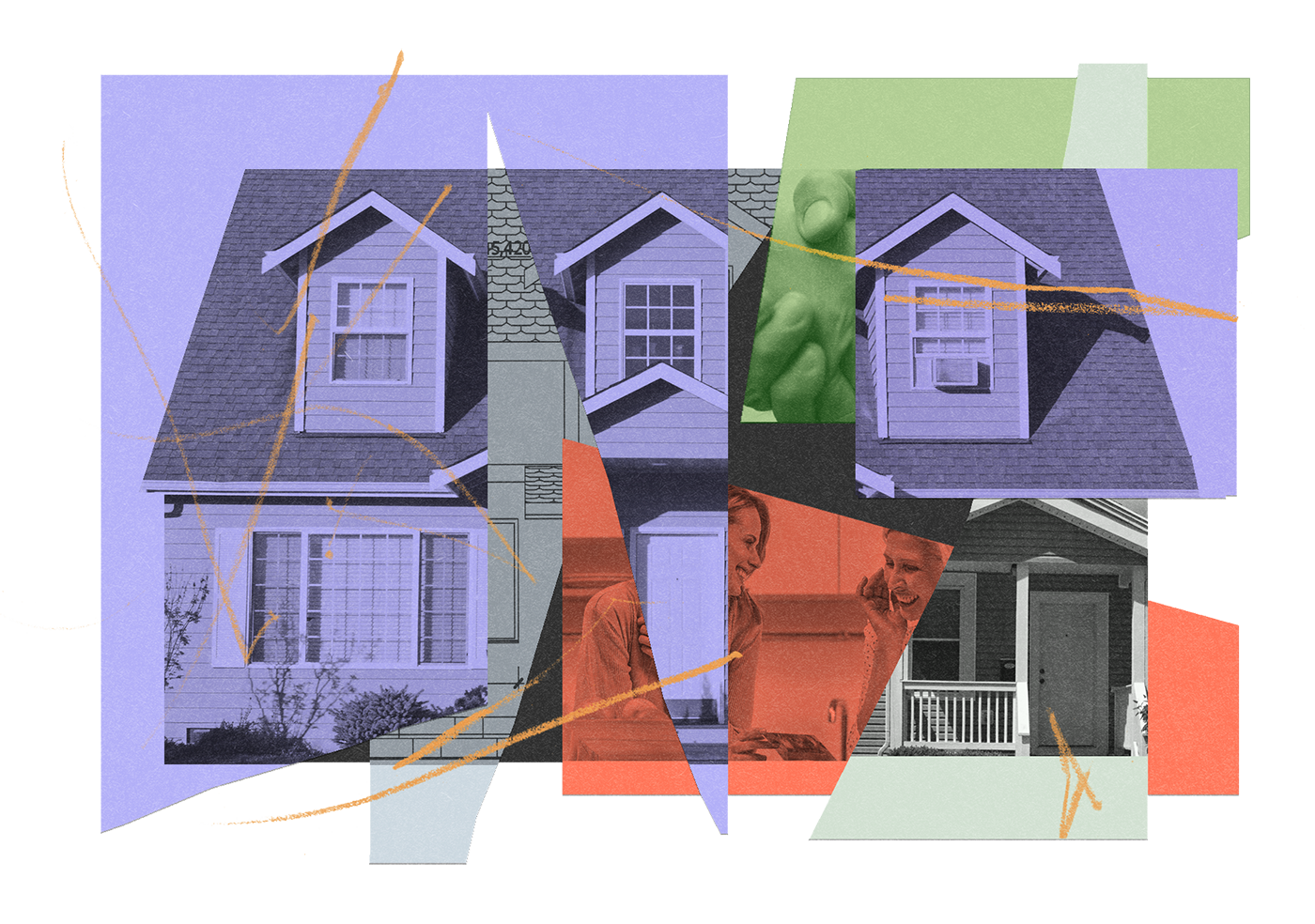 Bringing in additional housemates to help with the rent or mortgage payments, as Felstein did, is a time-honored tactic to help make ends meet. Schuetz notes that sharing with extended family members has long been the most common arrangement. Today, however, sharing one's home with strangers is an increasingly popular option for those who've already bought homes but worry about continuing to afford them. The National Shared Housing Resource Center offers a directory of local programs that connect hosts with roommates—and the number of such programs appears to be growing across the country. Karen Coppock, director of the shared housing program Home Match San Francisco, noted that of the 40 or so nonprofits present at a recent home-sharing conference, most were only one or two years old. "We're definitely seeing an uptick. The sharing economy is becoming more common and more accepted," she says.
For homeowners or prospective homeowners who would like to earn extra income without sharing close quarters, an alternative option is arriving in the form of accessory dwelling units (ADUs), small structures that can be built in the backyard of an existing home and rented out.
Dave Cutler, a nonprofit manager in Portland, Oregon, says building an ADU was a perfect solution when his partner's mother lost her husband several years ago. "She wanted to move to Portland, but lots of people want to move to Portland," says Cutler, who noted that even a small house would have cost her upwards of $400,000 in the hot local real estate market. Instead, for about $250,000, she was able to build an 800-square-foot ADU in Cutler's backyard. Eventually, Cutler and his partner may move into it themselves so they can rent out their current home to pay their living expenses.
Portland is one of a handful of cities that have responded to rising housing costs by easing the construction of ADUs, says Kol Peterson, author of the ADU guide Backdoor Revolution. He says that he's seeing movement in high-housing-cost states like California, Washington, and Massachusetts, where legislatures are starting to ease local regulatory barriers like requirements for off-street parking and owner-occupancy that can otherwise hamstring those seeking to build additional homes on their property.
Today those looking to construct ADUs have a range of new financing options. United Dwelling, for instance, converts garages into ADUs for free and shares the rental income with homeowners. Fannie Mae, meanwhile, recently made it easier for people to finance their own home improvements—including, for the first time, the construction of ADUs—through its loan program HomeStyle Renovation®. "One of the major obstacles people face when it comes to building ADUs is the cost," Lawless says. "Having a source to finance it as a mortgage is a really important thing."
Peterson built an ADU on his property in 2010. The investment, he says, paid for itself in four years with the rent he collected from a tenant, even though he charged less than the market rate. In Portland, he adds, 2 percent of residential properties now feature an ADU, a low rate that's still "incredibly high compared to everywhere else in the country." With two-thirds of the U.S. population living in one- or two-person households, he says, there's plenty of room for expansion.
For many middle-income Americans, buying a home of one's own remains a lifelong goal—but one that's become frustratingly out of reach as home prices continue to rise faster than the rate of inflation and wage growth. One option for those unable to afford a home on their own is to jointly buy one with friends or family members. Now the multifamily home market is booming, and online platforms like CoBuy have emerged to help people go in on a home together.
Josh Dubnau, a college professor on New York's Long Island, became an early adopter of co-owning when he and his wife purchased a two-family house with a friend 18 years ago. "We didn't realize how smart we were being. It was a little bit of dumb luck," he says. About eight years ago, after his friend decided to move, he was able to buy the other half of the house and fulfill his dream of full ownership.
Not every story of the housing crisis has a similarly happy ending. In Felstein's case, she can't imagine affording a place of her own in the city of her birth anytime soon. But life with her new roommate has been good, she says, even if, like almost any shared housing situation, it hasn't been entirely ideal. "When they asked me what I was looking for in a roommate, I said, 'Someone who's just a nice person and honest,'" she says. And, she laughs, "someone who's almost never home."