The rise of the social enterprise means organizations are looking beyond the balance sheet to combine performance with purpose, both inside their walls and in the broader marketplace. HR isn't just along for the ride; it has a critical role to play.
Remember a few years ago, when HR was trying to earn a coveted "seat at the table?" And business-driven HR and speaking the language of the business was a way to get there? Now that HR has that seat, the rest of the C-suite is looking for HR leaders to drive tangible impact as their organizations shift to become social enterprises.
The CFO is asking about the human capital balance sheet and how to get the most value from workforce investments. The CIO is driving automation. The CMO understands that customer brand is closely tied to employer brand, and if workers aren't happy, customers will know about it, thanks to social media and online employer reviews and ratings. The CHRO is working to provide a stellar employee experience. The CEO—with an eye on the big picture of the social enterprise—is asking for all of this.
So, with all these "asks" (aka expectations) to answer, HR is looking at a very different future. Forget about traditional HR transformation projects that meant implementing a technology or changing the operating model—the expectations and changes are happening so fast that by the time you've finished a transformation, you're already behind. HR has to look beyond these point-in-time snapshots and take a more holistic view to stay ahead of the expectation curve.
How can HR lead real change for the future? Four shifts need to happen. A new mind-set: Adopt new traits and behaviors to thrive in the digital age. A broader focus: Drive value from through the combination of quantitative (table stakes) and qualitative (employee/human-centric) solutions. A fresh lens: Reimagine work beyond organizational structure shifts and move toward continuous improvements in how work gets done. And finally, advanced technology enablers: Create a productive, simple employee experience through a unified engagement platform.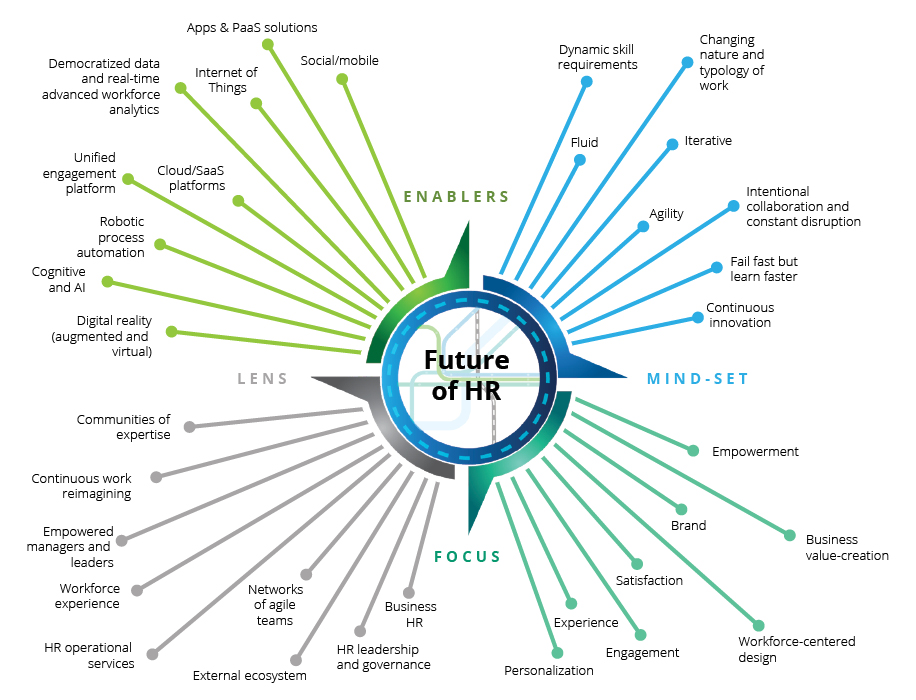 Shifts across all four of these areas will enable HR to get off the treadmill of point transformations, stay ahead of expectations, and quickly respond to—even anticipate—business needs. This ability to lead rather than follow will help HR meet the biggest expectation of all: that it won't just rise with the social enterprise, it will be a major force in lifting it.
Click here to learn more about the Future of HR.
Endnotes
Erica Volini is the US Human Capital leader for Deloitte Consulting LLP.
Art Mazor is the Human Capital Digital Leader and the Global Practice Leader for HR Strategy & Employee Experience for Deloitte Consulting LLP
Michael Stephan is the US and Global HR Transformation Leader for Deloitte Consulting LLP.