Every fall, rice farmers in California's Sacramento River Valley face the same problem: Following the harvest, they are left with tons of rice straw, a natural by-product that requires disposal.
For decades, farmers burned the reedy, fibrous material, filling the sky with smoke—a process that damaged the ozone layer. So farmers adopted a method of flooding their fields to accelerate decomposition of the straw. But this process has its own. environmental downsides: It uses up water—valuable in a state perpetually beset by drought—and emits significant amounts of methane, which is 84 times more potent of a greenhouse gas than is CO2 over a 20-year period.
When it comes to generating waste, rice farming is not unique. Examine any part of our modern industrial economy, and you'll find the same pattern: We take raw materials and natural resources, we make needed and valuable products, and, at multiple points along the way, we create lots of waste that we end up ignoring or discarding just because we can't figure out a way to use it.
And like rice straw, much of this waste creates problems. Our oceans are choked with plastic. Our landfills are teeming with toxic metals. Carbon emissions produced by human activity—55 billion tons annually—are driving climate change. Everywhere you look, the aforementioned and traditional "take, make, waste" model of economic growth is becoming increasingly unsustainable.
In response, a growing "circular economy" movement is aiming to rewire the systems of production and consumption that undergird our lives. The central idea? Rather than take, make, and waste in ways that harm the planet and deplete finite resources, we should pursue sustainable approaches to making and using products that are inherently regenerative.
This means shifting from a throwaway consumer culture in which everything is disposable to placing more value on practices and materials that are long-lasting, can be repurposed, and reduce the need for new extraction. For example, there are footwear companies making soles out of recycled tires, start-ups turning human waste into fertilizer, and one company using a chemical-free process to clean and restore old bricks for use in new construction.
Dating to the 1970s, the circular economy movement has recently been building momentum, gaining support from major consumer brands and global leaders. Earlier this year, Citi announced its 2025 Sustainable Progress Strategy to help accelerate the transition to a low-carbon economy. This new strategy features a $250 Billion Environmental Finance Goal to finance and facilitate environmental solutions globally, which includes support for circular economy projects and businesses.
In California's rice fields, one of those businesses, a company called CalPlant, has pioneered a solution to the age-old problem of straw waste. If the company's innovation catches on, it could greatly reduce postharvest flooding and burning—and serve as a meaningful case study in how the circular economy can change the world for the better.
Straw Into Green
When you first see the stacks of rice straw bales spread out like a small city under the vast sky and across the flat landscape of the Sacramento River Valley, one thing comes to mind. They're freaking huge.
"In order to really appreciate it, you've got to get up close and personal with one of these stacks," says Jerry Uhland, the co-founder and CEO of CalPlant. "They're 33 feet tall, 56 feet wide, and 620 feet long, and we've got over 100 of them on [our production site]. The individual bales weigh, on average, 1,100 pounds, and we have more than 600,000 of them."
The gathered stacks are by design. California is second in the nation, behind Arkansas, in rice production, and nearly all of the roughly 500,000 acres of land used for the crop are situated in this area, which straddles the I-5 freeway north of Sacramento.
That production creates lots of rice straw—about 1.5 million tons annually. Hence the piles. CalPlant is on the verge of launching a $400 million operation that aims to transform those piles into eco-friendly medium-density fiberboard (MDF), a common building material used in everything from cabinets to flooring and furniture.
Nearly three decades in the making, CalPlant's first-of-its-kind process is the brainchild of Uhland and Jim Boyd, a longtime rice buyer and entrepreneur who passed away in 2009. In the early 1990s, Boyd had an idea: There must be a way to put rice straw to use. So he called Uhland, a friend and fellow grower. "This wise 80-year-old guy comes to me and says, 'Hey, let's use these lemons and make some lemonade,'" Uhland says. "And I just embraced the challenge."
After reading about a group in Canada working on a way to create particle board from wheat straw, the duo had their inspiration. Trial, error, and plenty of sweat equity followed. Today CalPlant is preparing to open its very first factory in Willows, California, located in the Sacramento Valley. At the heart of the production process is a $20 million continuous hot press built by German company Siempelkamp, and the key to the operation is Uhland and Boyd's patented process for converting the straw into MDF fiber.
Like the stacks of baled straw surrounding CalPlant's facility, the continuous hot press is a sight to behold: 10 feet wide, 117 feet long, fashioned from more than 1,000 individual parts, and operating at 400 degrees Fahrenheit. Rice straw fiber goes in one end, and after the very careful application of pressure, heat, and a nontoxic adhesive, it emerges as MDF at a rate of 300 feet per minute. The material is later sawed into panels and shipped to customers.
By using straw that otherwise would be destroyed, CalPlant's transformative process promises to reduce the water consumption and methane emissions that currently result from growing rice. And that's not the only potential environmental benefit. MDF typically is made of wood, which requires manufacturers to cut down trees for raw materials—a process that typically releases CO2 into the atmosphere and eliminates trees that otherwise would remove CO2 from the atmosphere through photosynthesis.
By contrast, CalPlant's MDF is inherently renewable. "In my mind, wood has a higher purpose than being ground up and turned into a composite panel," says Elizabeth Whalen, CalPlant's vice president of marketing and sustainability. "If we've got a waste product that's available in abundance in North America and then all over the globe, why would anyone make MDF out of wood again?"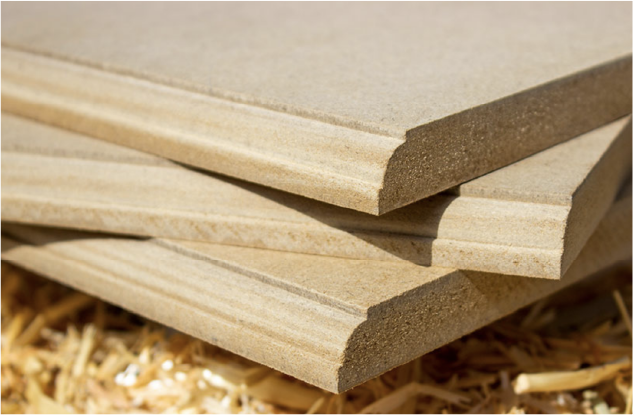 Systemic shift
CalPlant represents the circular economy in action: It reuses instead of wastes; regenerates instead of extracts virgin materials; and features a system of production that provides the goods and materials people want and need—in this case, MDF to build things—in a sustainable way.
Transforming waste products into building materials is not unique to CalPlant. A well-known home furnishing company recently began selling home accessories also made from rice straw.
For a truly circular economy to take hold, however, it won't be enough for individual companies to create innovative processes and products. Instead, it will require a systemic shift in how everyone thinks about the development, consumption, and disposal of products.
That will be challenging. Companies not only will need to reimagine how they make products and turn profits but also convince investors and other stakeholders that transitioning to a circular economy makes both environmental and financial sense. Initiatives such as Citi's $250 Billion Environmental Finance Goal, which finances projects and companies that are making a positive environmental impact, will help.
"To tackle climate change, we need to invest in and support activities that accelerate the transition to a low-carbon economy," says Davida Heller, Senior Vice President of Sustainability & ESG at Citi. "Solutions that integrate a circular approach to reduce waste and regenerate natural systems, like CalPlant, is a great example of the type of projects we look to finance."
In CalPlant's case, it wasn't enough to create and test a brand-new product that could perform as well as or better than existing alternatives; the company also had to prove to investors that its innovation could be the basis of a viable business. Uhland and his team spent more than a decade securing financing to build their plant. There were times, he says, when things felt hopeless: "We were building the world's first [process and plant to transform rice straw into MDF]. A lot of the time, it seemed as if we were building the plane as we were flying it."
Beginning in 2017 and continuing with follow-on transactions in 2019 and 2020, CalPlant finally secured the financing it needed through public offerings underwritten by Citi and Stifel Nicolaus, an investment bank and financial services company headquartered in St. Louis, Missouri. The financing underwritten by Citi and Stifel Nicolaus—$344 million of bonds that were certified "green" because of CalPlant's environmental aspects—came as part of Citi's previous $100 Billion Environmental Finance Goal, which the bank met four years ahead of schedule with a total of $164 billion worth of activities that reduce the impacts of climate change.
A virtuous circle
Like many other businesses, CalPlant's plans have been altered by the ongoing coronavirus pandemic. Rather than launch sales of its MDF this past fall, it expects to go to market in early 2021. The company anticipates that its factory—which will employ 140 full-time staffers—will become an economic driver in Willows, an area with few good-paying jobs beyond farming.
The company also hopes to expand to other rice-growing regions where the environmental impact of burning and flooding rice straw is still being felt. Uhland and his team have already spoken to potential partners about opening plants in Arkansas and India.
"We've only scratched the surface on this as far as the economic impact," Whalen, CalPlant's vice president of marketing and sustainability, says. "But I think that, over the next several years, we're going to see the fruits of that. I think we will always be producing this [MDF] with our operations located in the middle of where we're getting our raw material—that is part of our strategic advantage and part of our environmental profile."
Ultimately, this is the beauty of CalPlant's business model: It offers a vision of how a company can embody the circular economy as a way to grow. Each plant the company opens will be able to create its own closed loop of waste reduction and MDF production. There is a vast global supply of rice straw and a massive opportunity for economic and environmental impact. Rather than being at odds, what's good for business and good for the planet can reinforce each other in a virtuous circle.
"We're doing something good for the environment—taking waste and converting it to something useful—and by doing this, we are also creating economic opportunity for growth in the community and for our neighbors," says Uhland. "It's a win-win."