O ver the course of the coronavirus pandemic, many Americans' living rooms transformed into their offices. A walk around the block became the day's outing. Gatherings were canceled, the prospect of travel limited. During these long, difficult months spent close to home, people were reminded that having something to look forward to is key to their well-being.
A recent survey, conducted during the pandemic, found that 71 percent of respondents felt increased energy knowing they had a trip planned within the next six months, and 74 percent felt planning something made them feel more in control in the midst of the year's uncertainty. "It's sort of a line in the sand," says Michelle Gielan, the researcher who fielded the study with the Institute for Applied Positive Research. "Planning travel can represent a return to normal."
After a period during which so little about the future felt stable, planning something can provide assurance and expand the sense of possibilities before you. As the world continues to open up, the psychological benefits of anticipating travel, which is now a safe possibility, can bring immediate joy and serve as an emotional salve.
To make the most of anticipatory pleasure, planning and savoring the concrete details of a potential trip—the places you'll visit, the meals you'll have, the activities you'll do—is important. That could mean spending your free time working on an itinerary, researching the history of your destination, looking at photos of local sites, or discussing your plans with loved ones.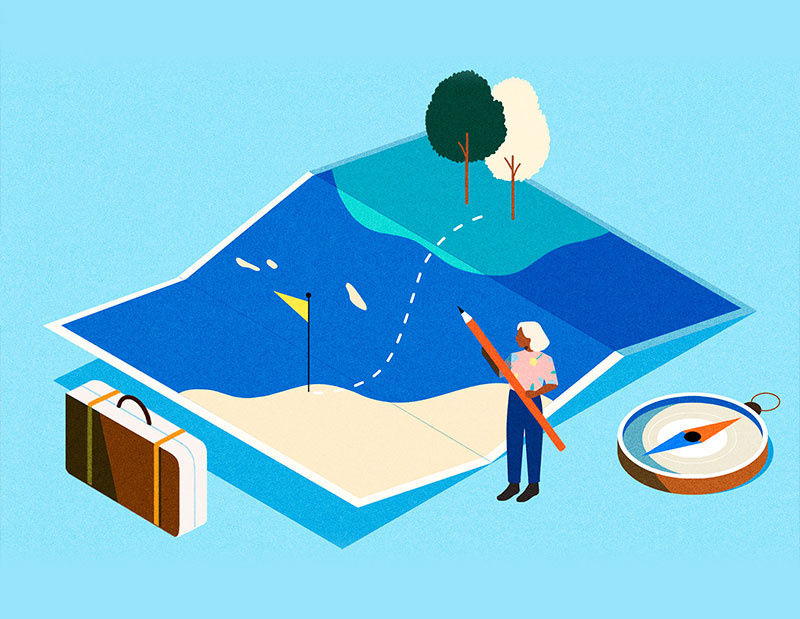 Vacation Generator
The Case for Getting Away
Research shows that the upsides of travel are manifold. This vacation generator can help you discover what type of trip you'd benefit from the most.
Take the Quiz
Part of the pleasure of planning is envisioning the distance between your present and what's ahead—which opens up imaginative space. "The great thing about the future is that it hasn't happened yet," says Dr. Elizabeth Dunn, a professor in the Department of Psychology at the University of British Columbia and chief science officer for Happy Money. "So we can be the most ideal version of ourselves and imagine the most ideal vacation."
This "mental time travel," she says, is something humans often do, and can increase happiness in the present. Consider planning for retirement: You're finding security in saving for a distant, future version of yourself. When you're arranging a vacation, the payoff of that mental time travel is in your immediate future. And after a long stretch of time spent close to home, that joy of planning a vacation doesn't necessarily need to come from a major splurge; you can begin by arranging a short, nearby trip.
The fact that planning, and ultimately taking, a small, local vacation improves your well-being can be attributed to hedonic adaptation—"a fancy term, but it just basically means we get used to whatever we generally have," says Dunn. Many people have adapted to a limited lifestyle during the pandemic, when they've had to spend time away from friends and family and have had less opportunity for casual social activities, such as a dinner out. This creates a "happiness reset" of sorts, explains Dunn, in which there's "a sweet spot, a window in time, where we won't yet be readapted" to the experiences that, prior to the pandemic, were a regular part of our lives. During this period, a brief change of scenery can feel like a big getaway and bring significant pleasure.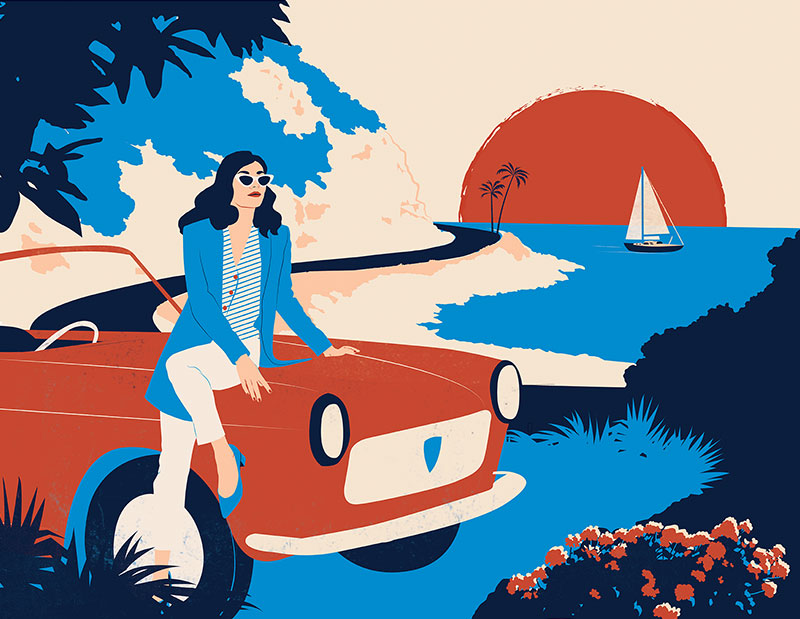 Weekend Getaway Map
The World Around the Corner
Getting out of town or changing your surroundings, even for a few days, can have big benefits for your well-being. These itineraries are designed to inspire your next weekend getaway.
Choose Your Destination
And the joy derived from a trip isn't, of course, limited to planning it. Vacations are a type of experiential purchase—money spent on activities such as travel, a meal out, a ticket to a play—which are shown to bring greater happiness than material purchases do before the activity, at the time of consumption, and upon reflection. "Even when you statistically control for [cost], consuming experiential purchases is associated with higher happiness," says Dr. Amit Kumar, an assistant professor of marketing and psychology at the University of Texas at Austin. That's not the only positive impact: "Experiential purchases seem to inoculate people against regret," says Dunn. "People rarely seem to report regretting their experiential purchases, whereas regret for material purchases is relatively common."
This is, in part, because experiential purchases often take the form of shared social experiences or provide stories to share after the fact, and also because they seem to be connected with how people understand themselves. "People see their experiential purchases as being deeply interlinked with their own sense of identity and their life stories in a way that material purchases typically are not," says Dunn.
In this way, vacations are not only a way to derive immediate joy from planning and expanding your world; the experience of travel also helps you build upon your sense of self, the stories you carry, and your relationships with others. Getting away pays off in more ways than one, and you can experience the benefits before even exiting your front door.
Making arrangements for your next weekend away or journey abroad is even more gratifying when it comes with rewards.
The Marriott Bonvoy Boundless™ Card
unlocks new possibilities with travel-centric benefits designed to enhance every trip you take. Heighten your joy of planning with up to 17X total points at hotels participating in Marriott Bonvoy™, a Free Night Award every account anniversary and the extra perks of automatically upgrading to Silver Elite Status.