The opinions expressed herein do not necessarily reflect the opinions of the BMS-Pfizer Alliance.
Dr. John Fontaine, professor of medicine in the Cardiology Division at Drexel University College of Medicine, once knew a fellow cardiologist who suffered a stroke. Ironically, that cardiologist turned out to have a previously undetected heart condition that he may have helped manage in other patients: atrial fibrillation (AFib), a type of heart arrhythmia (irregular heartbeat), which increases the risk of stroke.4
Dr. Fontaine shared the anecdote with a small group of health-care providers, scientists, and advocacy experts convened at an event sponsored and moderated by the BMS-Pfizer Alliance as part of their Matter of Moments initiative. "I'm sure that story, regarding the occurrence of a stroke in patients with asymptomatic AFib and a presumably low-risk profile, is not unique," he noted. "I've had patients tell me, 'This is my first time hearing about this,' even though they have had a history of AFib."
AFib can present as anything from occasional shortness of breath to dizziness to heart palpitations (though in some cases, patients can also be asymptomatic), and can lead to blood clots, strokes, and more.2,4 And for individuals with AFib, there's a five times greater chance for stroke than those with regular heartbeats.5 Further, AFib-related strokes are more severe than non-AFib related strokes and are more likely to be life-threatening or debilitating,4,5 making diagnosis even more important.
Matter of Moments is a BMS-Pfizer Alliance initiative which aims to elevate awareness of AFib, its connection to stroke and the importance of AFib diagnosis. The Alliance event was organized to open up an interdisciplinary dialogue about the connection between AFib and stroke and the importance of AFib detection and diagnosis. Attendees emphasized the role of awareness efforts to help patients and doctors address this health condition. As our country's population ages, the number of cases of AFib is expected to increase.2 While only about 2 percent of people younger than 65 have AFib, an estimated 9 percent of those over 65 have this condition2,5—and in a study, it was projected that AFib would affect approximately 12 million Americans by 2030.6 How can both patients and health-care providers be better prepared for that future, with the goal of identifying AFib before stroke occurs?
an opportunity to increase general awareness around afib and its connection to stroke.
The first step is simple awareness. Like Dr. Fontaine observed, some patients don't know much about AFib and its connection to stroke—and it's sometimes still true even after they've received a formal diagnosis of AFib. A 2014 survey conducted by the Heart Rhythm Society and National Stroke Association showed that of 248 AFib patients with no history of stroke, 32 percent could not describe the most common stroke symptoms and 64 percent were aware that AFib is associated with a higher risk of stroke.7 Within the same survey, 89 percent of 203 caregivers of stroke or transient ischemic attack (TIA) survivors with AFib wished that they had learned more about the relationship between AFib and stroke before the survivor in their care had experienced a stroke.7
Christina Wurster, chief revenue officer for the Heart Rhythm Society, questioned why AFib hasn't become more prominent in public health conversations, even though AFib was projected to impact 8 million Americans in 2019.6 "The prevalence [of AFib] is significant, but from my perspective, it's not at the same level of consciousness among patients and providers as other common conditions,"6 she noted.
Dr. Ankur Kalra, a structural heart interventional cardiologist at Cleveland Clinic, also stresses the importance of equipping primary care doctors (PCPs) with more information about AFib. Doing so may help raise awareness about AFib for more patients and doctors. "In my experience, a lot of [AFib] patients aren't even seen in cardiology offices. They're seen in family care offices. So that means education has to be at a primary-care level," he pointed out.
However, it's a tall order to ask PCPs and nurses to try to check for another condition during a routine check-up in the limited time they have with patients, according to Sue Koob, CEO of the Preventive Cardiovascular Nurses Association. "The patient population our nurses are treating are complex and have multiple comorbidities," Koob said. "And because of this, so much educational information needs to be delivered in a very short period of time. Nurses maybe have 20 to 30 minutes with their patients. Even with these time constraints we need to encourage an environment for increased communication about AFib."
education is key to elevating awareness.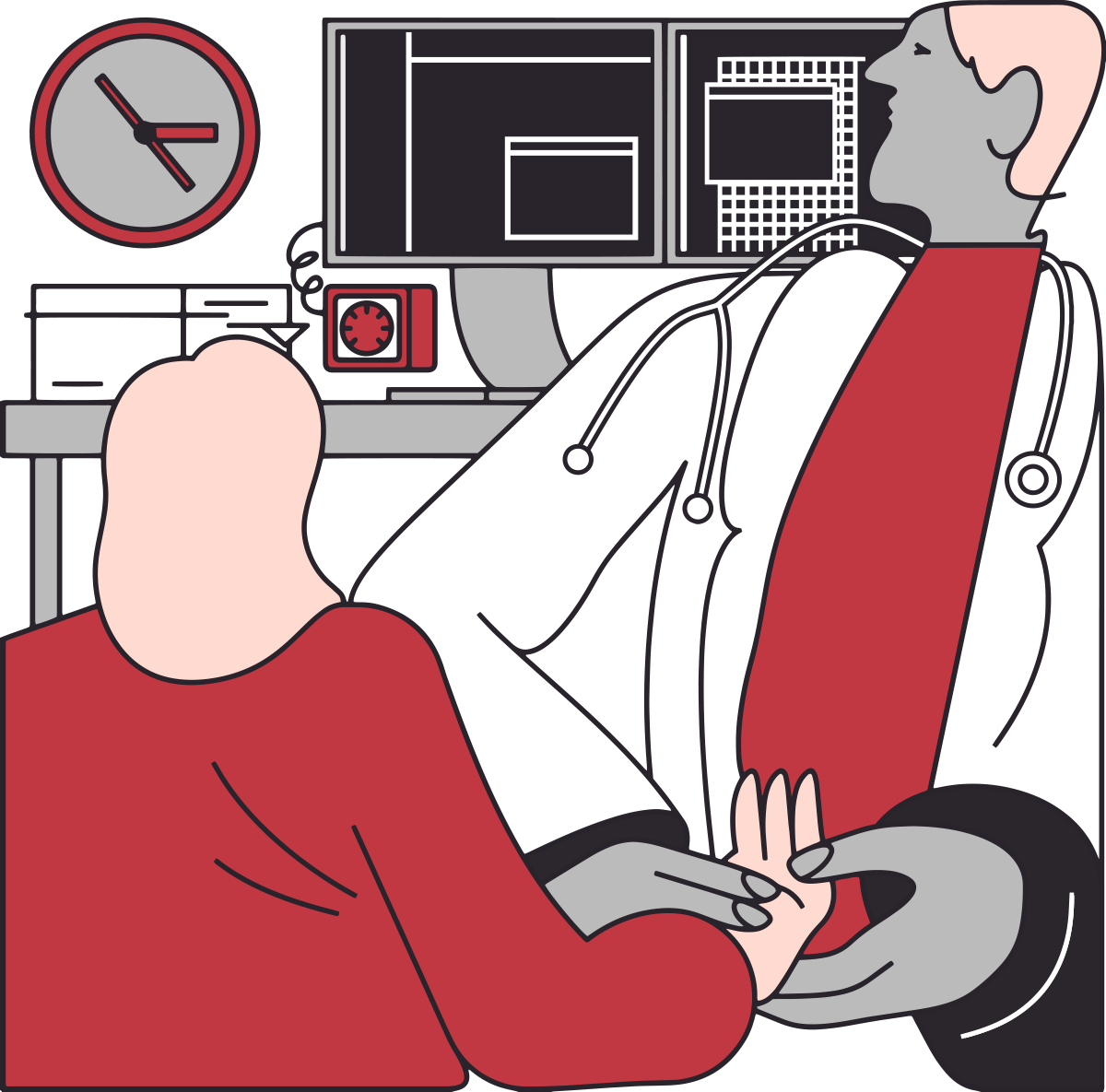 AFib detection may take a matter of moments during a routine exam with a primary care provider. Pulse palpation is one simple way to check the rhythm and regularity of a patient's pulse by placing and holding fingers somewhere on the skin's surface near an artery, such as the neck or inner wrist.8 It is important to note that if AFib isn't happening during the actual routine exam, it will not be detected using this method. However, if your doctor suspects an irregular heartbeat, ECGs can then be used to further confirm a suspected heart rhythm condition.9
"I think there has to be a general understanding about the importance of knowing the risks of AFib," Dr. David McManus, a cardiologist who specializes in electrophysiology at UMass Memorial Medical Center, said.
In his opinion, it's crucial to make sure patients at-risk for AFib, such as those with hypertension, heart failure, diabetes, ischemic heart disease, or who are 65 and older,2 understand what's at stake for them and their caregivers if they do receive an AFib diagnosis. "Particularly for older individuals who are at higher risk of AFib and stroke,2 I think storytelling interventions are really effective, where people who look and sound like you tell a story about their experiences."
Dr. McManus also pointed out that if patients are educated about the risk factors for AFib, they can be prepared to know how to bring the topic up with their doctors.
And according to Dr. Rod Passman, professor of electrophysiology at Northwestern Memorial Hospital, when PCPs see a patient with risk factors for AFib or stroke, they should keep in mind that AFib detection can take a matter of moments during a routine exam. Pulse palpation is one simple way to check the rhythm and regularity of a patient's pulse by placing and holding their fingers somewhere on the skin's surface near an artery, such as the neck or inner wrist.8 Electrocardiograms (ECGs) can then be used to help diagnose any suspected heart rhythm condition.9
partnership among the medical and advocacy communities could have a great impact on afib awareness.
"In my experience, if you ask AFib patients what they think and feel, the number one thing is they feel uninformed," Dr. Samuel Sears, professor of psychology and cardiovascular sciences at East Carolina University, said. To help change that, both doctors and patients can continue to be part of broader health-care dialogues to improve disease awareness.
The group agreed that raising awareness about AFib, its relationship to stroke, and the importance of AFib diagnosis may be addressed through a collaborative effort between medical and advocacy organizations.
"In the era of shared decision-making, patient education or community education is very important," said Cassandra McCullough, CEO of the Association of Black Cardiologists, suggesting that interdisciplinary conversations should be ongoing and replicated.
Through the Matter of Moments, Recognizing AFib-Stroke Risk initiative, the BMS-Pfizer Alliance aims to elevate awareness of AFib, its connection to stroke and the importance of AFib diagnosis.
Dr. McManus provides paid consultation services to the BMS-Pfizer Alliance for separate activities.
The Heart Rhythm Society has received funding grants from the BMS-Pfizer Alliance.