Doctors and specialists who treat chronic conditions like diabetes and heart and kidney disease often face an uphill battle. These interconnected conditions, also referred to as cardio-renal-metabolic conditions, are the leading cause of death worldwide, accounting for up to 20 million deaths annually. The interconnected nature of the heart, kidney, and endocrine system means that a disease affecting one system can adversely influence another; for example, type 2 diabetes increases the risk for chronic kidney disease and hospitalization for heart failure. The question is: If these conditions are all connected, which specialists are responsible for treating them?
Collaborative care may be the answer. Managing these interconnected systems together means that improving or protecting the health of one organ or system can lead to positive impacts throughout others. Professional societies, including the American Diabetes Association (ADA) and American College of Cardiology (ACC), express this sentiment in their treatment guidelines and encourage primary care physicians, endocrinologists, cardiologists, nephrologists, and advanced nurse practitioners to work together to treat people with cardio-renal-metabolic conditions. Since the shared goal for all healthcare professionals is to help people live longer, healthier lives, they are finding ways to work together to improve patient outcomes.
Specialists recognize the value of this necessary change in dynamics in their day-to-day practice. "I'm pleased to see a shift toward more collaborative partnership," said Dr. Susanne Nicholas, Associate Professor of Medicine, Division of Nephrology, UCLA. "We should all adopt a coordinated care model to aggressively heed the recommendations and positions of our respective organizations and improve care for patients with interconnected conditions."
Collaboration is on most physicians' minds. A recent Harris survey of 1,000 U.S. healthcare professionals, sponsored by the Boehringer Ingelheim and Eli Lilly and Company Alliance as part of its Unleashing the Truth About Diabetes and Heart Disease® campaign, found that healthcare professionals agree that people who have type 2 diabetes tend to have better outcomes if their specialists collaborate.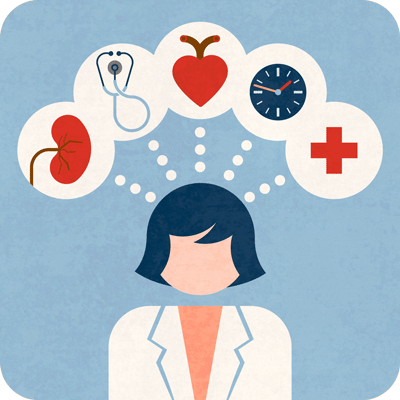 However, it's not always easy. Healthcare professionals have very little time to do more than they're already doing. Collaboration can quite simply mean looking at an electronic medical record; other times, though, it requires more to ensure the full care team is working together. Healthcare professionals need time to pick up the phone to speak to other specialists caring for their patients, update patient records prior to referring a patient, share medical notes or tests results, and explore collaborative telehealth techniques. Endocrinologist Dr. Rachel Pessah- Pollack, M.D., New York Langone Health, tries to make collaboration a reality in her own practice by ensuring all members of the collaborative care team are involved. "I am constantly on the phone with cardiologists, nephrologists, and my dietician, making sure that the collaborative care model is still in place," she said.
The Harris survey found that the majority of healthcare professionals agreed they would call another specialist to help treat these patients if they had the resources. Yet, many specialists surveyed said they often are not sent the medical history of referred patients in advance of the patient's first visit, suggesting a disconnect. Unsurprisingly, the Harris survey found that a lack of time was the most commonly reported barrier to greater collaboration; electronic medical record systems, geographic considerations, and burnout were also noted.
Collaboration is further complicated by uncertainty over responsibility for implementing treatment regimens. In theory, stepping on toes should not be a barrier, as the vast majority of surveyed healthcare professionals agreed that all specialists involved in the treatment of type 2 diabetes are responsible for prescribing the best treatments available regardless of their specialty. Yet in reality, 20 to 40 percent of nephrologists and cardiologists said they are hesitant to prescribe common diabetes treatments, since they are outside their primary area of expertise.
The healthcare community needs to find a way to overcome these barriers, knowing that collaboration is essential to improving patient outcomes. It is no longer the responsibility of just endocrinologists and primary care physicians to manage diabetes and its associated conditions. "Each specialty should be prioritizing their patients' overall health and developing treatment plans in collaboration with other specialists without worry of overstepping," said Javed Butler, M.D., Chairman, Department of Medicine, University of Mississippi. "When we collaborate, we give patients the best chance of success."
There is an opportunity to improve the way healthcare professionals collaborate. It's important we follow guidelines that reinforce multidisciplinary treatment decisions and take a collaborative approach to ensure all members of a care team are involved when treating complex conditions. Better care means evolving how healthcare professionals work together – with the shared goal of helping patients live longer, healthier lives.
About: Unleashing the Truth About Diabetes and Heart Disease®
Unleashing the Truth About Diabetes and Heart Disease® is an educational program aimed to facilitate awareness and discussion around the role of specialists in the treatment of people with type 2 diabetes and its associated conditions, and to promote opportunities for multidisciplinary collaboration in order to evolve the standard of care for diabetes patients. Healthcare professionals looking for tips and helpful reminders on how to make multidisciplinary care a reality among specialty groups can view a downloadable checklist, which will be available on https://unleashingthetruth.com/.
As part of this program, Boehringer Ingelheim and Lilly sponsored the national survey conducted online within the U.S. by The Harris Poll between June 11 and July 2, 2020. The survey included 1,000 U.S. healthcare professionals who specialize in cardiology (n=200), endocrinology (n=200), nephrology (n=200), family medicine/general practice/primary care internal medicine (n=200) or who are nurse practitioners (n=200), are duly licensed in the state where they practice, and see at least 5 patients each month diagnosed with type 2 diabetes, of which at least 15% are managing cardiovascular disease.