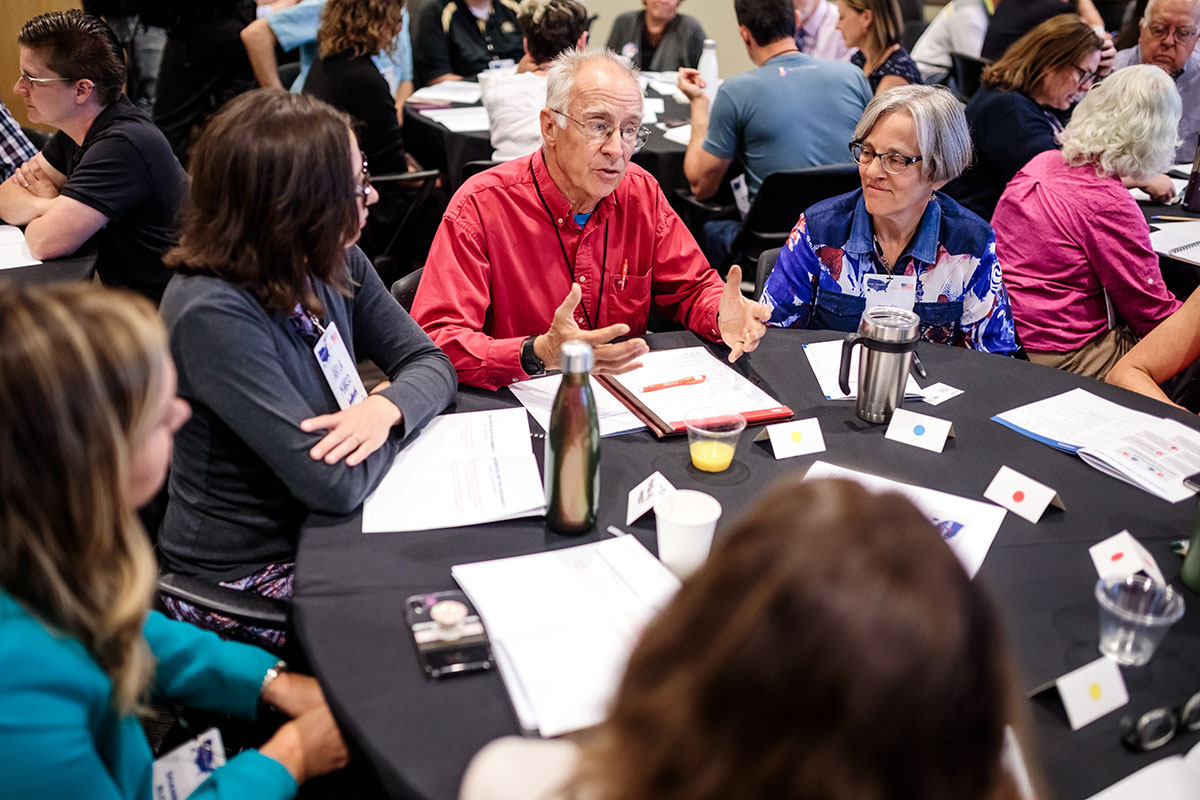 Fifteen miles outside of one of the nation's fastest-growing cities, roughly 100 residents gathered together—not because they shared a common belief, but precisely because they did not.
It was 8 a.m. on a Thursday in June, meaning everyone in attendance had taken the day off from work—or at least the time out of their mornings—to be at Anythink Wright Farms, a public library in Thornton, Colorado. People laughed as they exchanged pleasantries and business cards, but the convivial mood belied the event's true purpose: Everyone in the room was there to argue.
With this event, Denver became the second city to host The Better Arguments Project, a national partnership between the Allstate Corporation, Facing History and Ourselves, and the Aspen Institute that helps provide communities with the tools they need to bridge ideological divides. Over the course of four hours, residents were guided through facilitated conversations, communication techniques, and moderated panels with local leaders.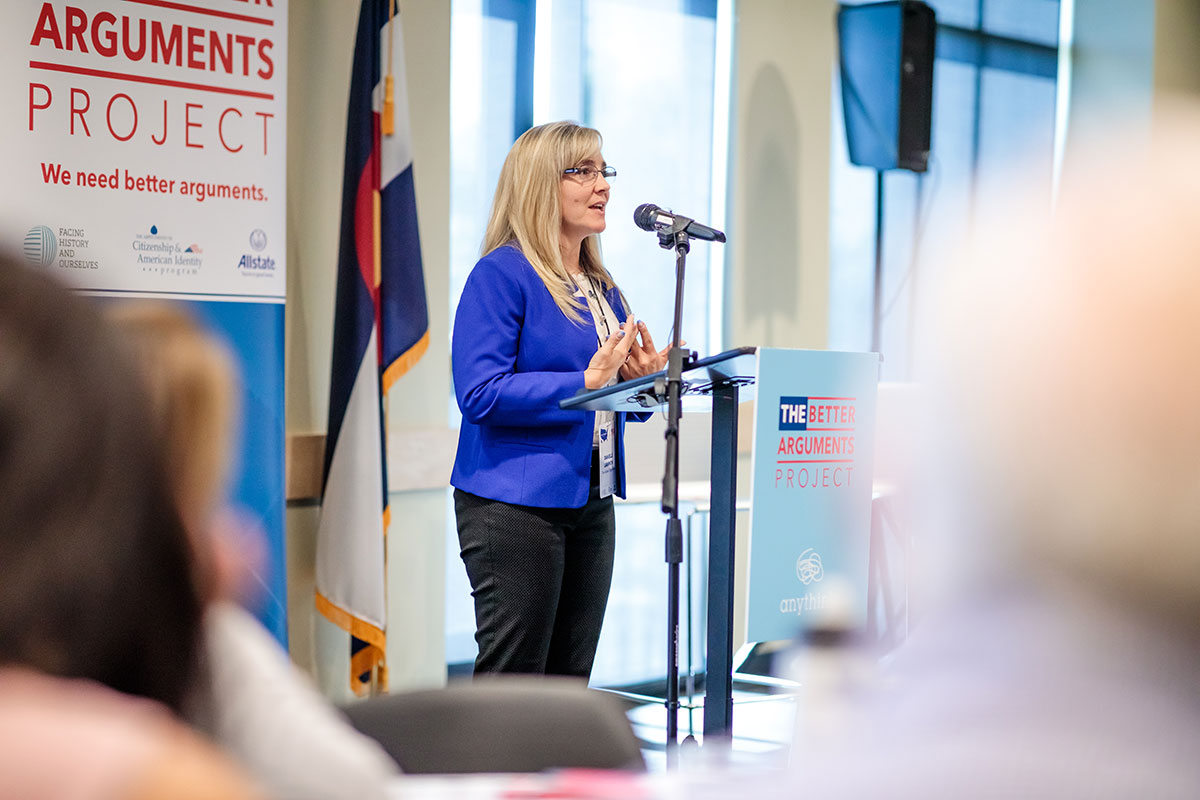 "We believe local communities have the power to engage more constructively about the ideas that divide us," says Danielle Lammon, a Denver Allstate agency owner and speaker at the event.
On a national level, an initiative like Better Arguments is sorely needed. According to a recent study from the Pew Research Center, the majority of Americans believe the tone and nature of our political debate—which can often frame the discourse for communities across the country—has become more hostile in recent years. Roughly 85 percent say political disagreement has become less respectful, while 60 percent report that it tends to be more personal and less issues-focused.
It's not that Americans need to have fewer arguments. They just need to have better ones, informed by empathy and historical context.
In 2019, Better Arguments launched its pilot program in Detroit, where longtime residents and recent transplants came together to openly share their experiences, many for the first time, with gentrification and racial bias in the city.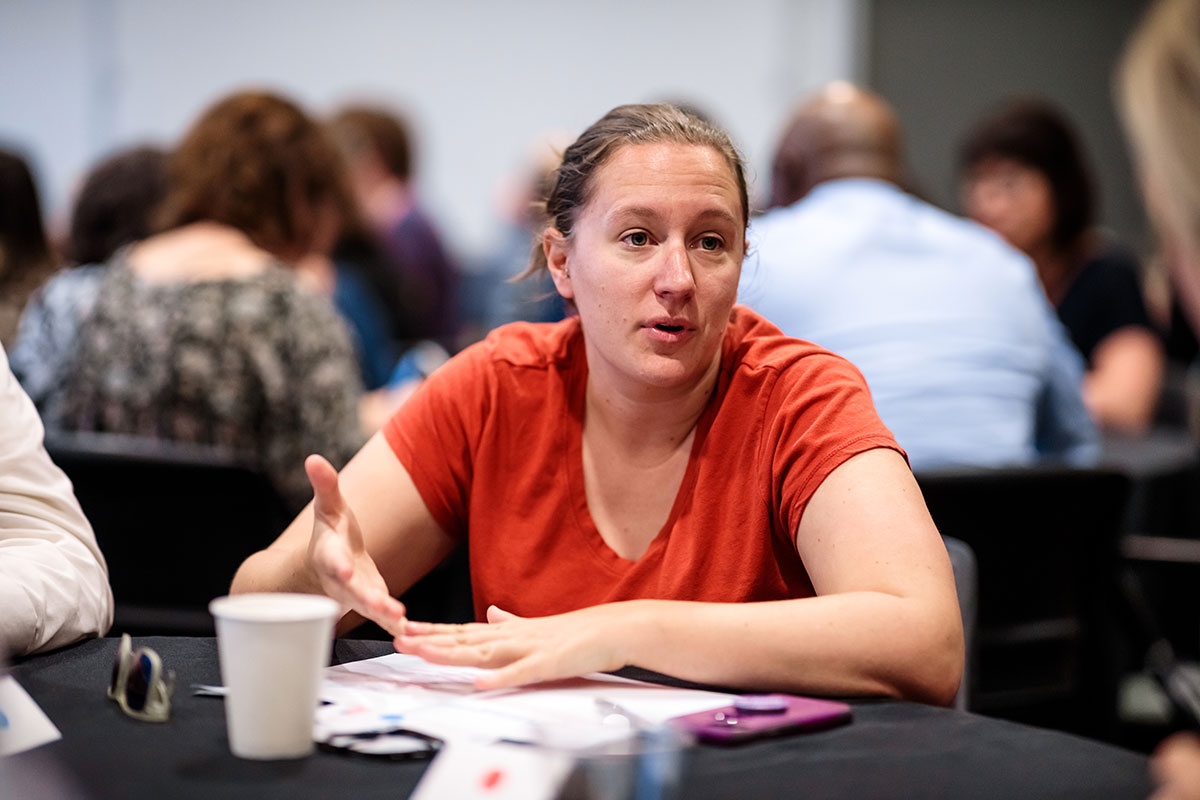 In Denver, the conflicts are similar, even if halfway across the country. Over the last decade, residents have watched jobs come, small businesses go, and the face of downtown Denver change for the better or worse, depending on who you ask. These issues aren't new for Denver. Residents have been feeling the growing pains of population growth, economic development and technological change for years.
What is new, however, is that residents are finally coming together to talk about them.
Better Arguments recognizes that when residents enter a conversation, they bring different experiences, opinions, and communication skills to the table. That's why, as part of their curriculum, they first introduce participants to the five principles of having a better argument:
1. Take winning off the table;
2. Prioritize relationships and listen passionately;
3. Pay attention to context;
4. Embrace vulnerability;
5. Make room to transform.

According to resident Jordann Hoelzel, those principles came to Denver at just the right time. "I have a fear that if we don't do something soon, we're going to end up like San Francisco or Seattle, cities where the tech boom has benefitted some people but left many others behind," she said.
For some, Denver's tech boom means "new jobs, economic opportunity, and more tax revenue for local schools," per Lisa Caldéron, professor of sociology at Regis University and one of the event panelists. "On the one hand, we can appreciate that jobs are coming here. On the other hand, it's not necessarily benefiting marginalized communities." Growth, she says, doesn't mean that everyone gets equal access to its benefits.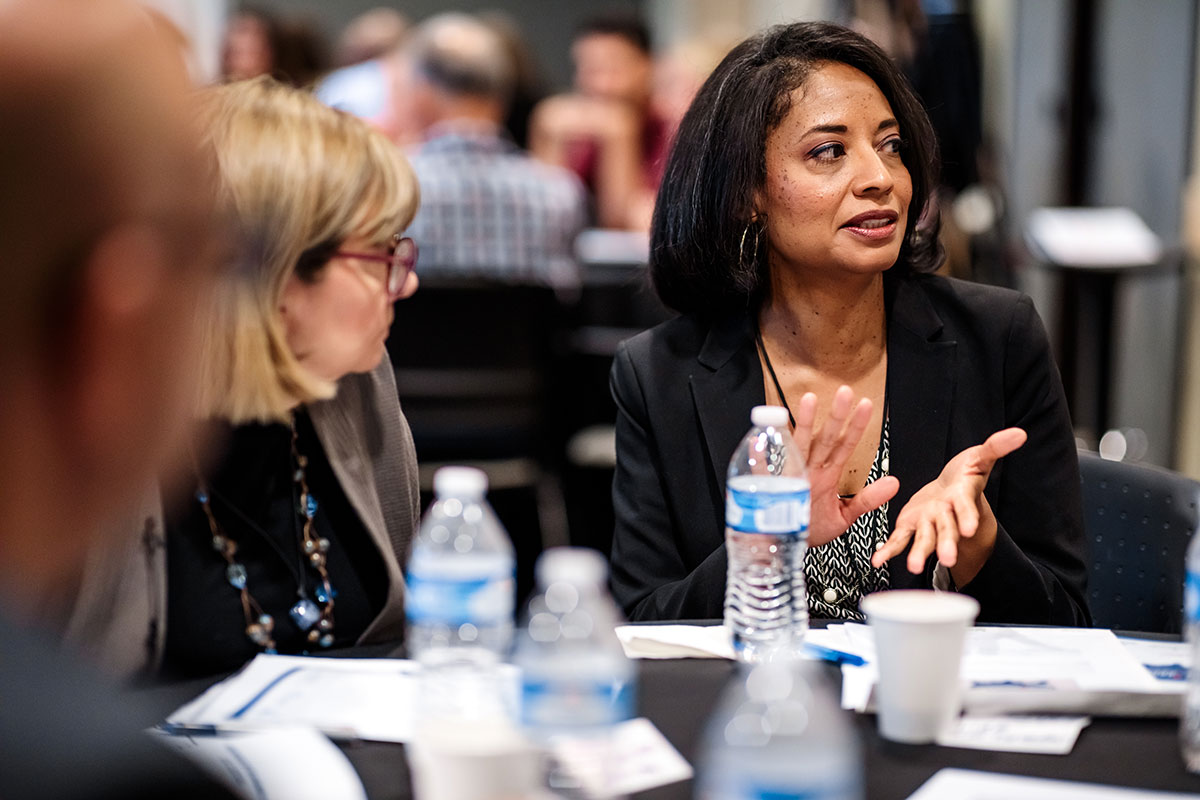 As participants settled into the Anythink Library event space, they clustered around tables in groups designed to ensure a diverse range of perspectives, making small talk with their neighbors, fidgeting with their name tags, and excusing themselves for third cups of coffee.
Roger Brooks, President & CEO of Facing History and Ourselves, then opened the morning by asking participants to respond to the prompt, "What makes you proud to be a member of your community?" For most, the answer to that question began with their reasons for coming to, or staying in, Denver. Between discussions of LoDo, Denver's oldest neighborhood, and the legalization of marijuana, participants spoke of their experiences using words like local, new, born-and-raised, originally from, third-generation, recent transplant, moved on Monday, glad to be here.
The tech boom is a familiar issue, even for newer residents, but structured conversation about it, less so. "Everywhere I go people are airing their grievances about this issue," Hoelzel said, "but I wanted to have a more constructive, organized conversation."
Hoelzel is a sign-language interpreter who lives in Broomfield with her wife and fellow interpreter, Betsy Kessler. In addition to the story of how she and Kessler met—"a deaf friend set us up on a blind date; it sounds like the punchline of a joke, but it's true"—Hoelzel shared that she attended Better Arguments to learn more about Denver's housing access crisis.
When measured by population, Colorado is the second fastest-growing state in the United States, driven in large part by growth in Denver. Since 2010, Denver's population has grown by more than 100,000 people, exceeding 700,000 people for the first time in July 2017. By 2040, that number could increase by as many as 200,000 people.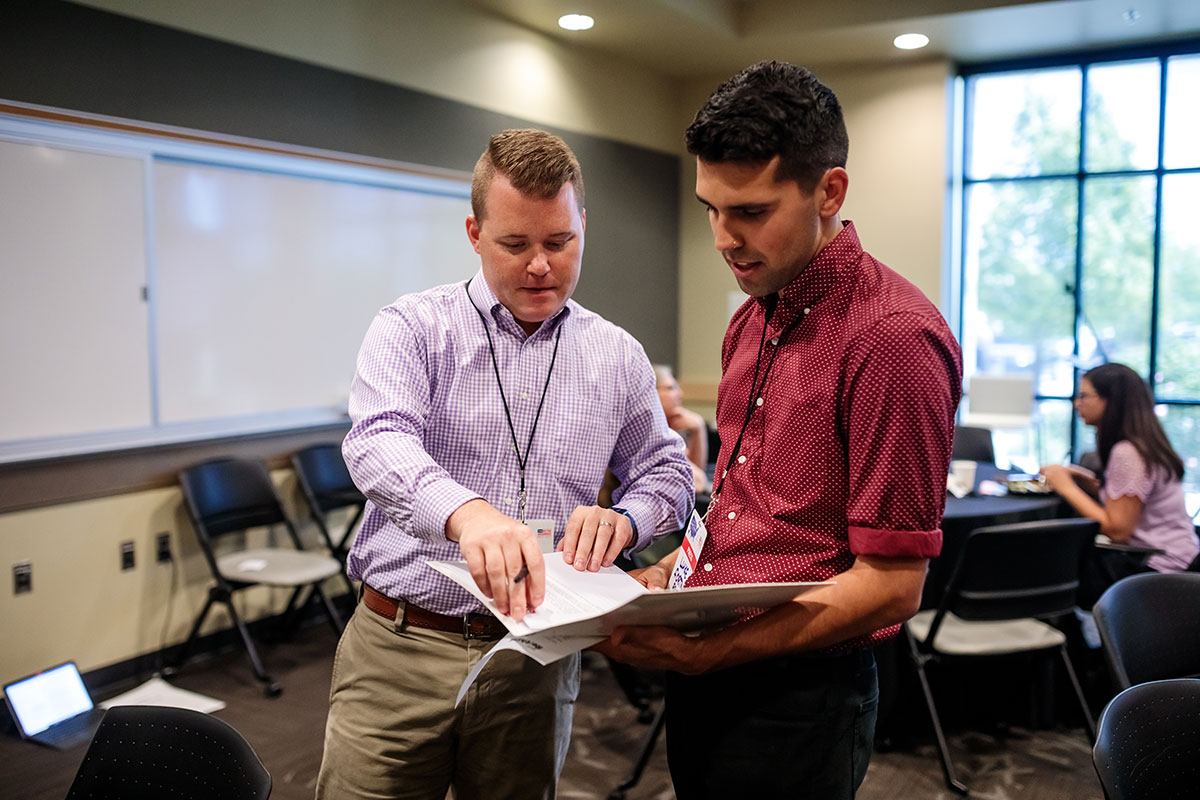 For Sam Bailey, vice president of economic development at the Metro Denver Economic Development Corporation, that growth is exciting: It signals to companies that Denver is worth investing in, which can create jobs and generate tax revenue for local programs.
But it can also come with growing pains.
"Denver is growing, but not everyone is benefitting in the same way," Calderón said. "We need to make sure that what's happening here isn't just a tech boom. It also needs to be an inclusive tech boom."
In Denver, like in Seattle and San Francisco, that hasn't always been the case.
Partly due to population growth, the cost of housing in Denver has risen by more than three times the national average since 2014. Rising housing costs are not exclusionary in and of themselves, so long as incomes are increasing proportionally. However, in Denver, the average median income sits at $57,773, roughly 6 percent less than the national average.
Over the last five years, this discrepancy between average rent costs and average incomes has created what residents refer to as an "eviction crisis" in Denver. More than 7,000 residents were evicted from their homes in 2017, most often due to non-payment of rent, and people of color living in areas of rapid growth are most likely to be affected.
"That isn't sustainable," Calderón said. "You can't just cater solely to the most affluent. We may want a revitalized city, but it also needs to benefit everybody in an equitable way."
To address that disparity, Bailey said the Economic Development Corporation has made efforts—like participating in the Better Arguments Project—to "humanize" economic development and help residents piece themselves into the growth happening around them.
"People don't always see the link between new jobs and where they are standing," he said. "The goal is for everyone to see the announcement of a new company and say, 'Hey, I can be a part of this, too.'"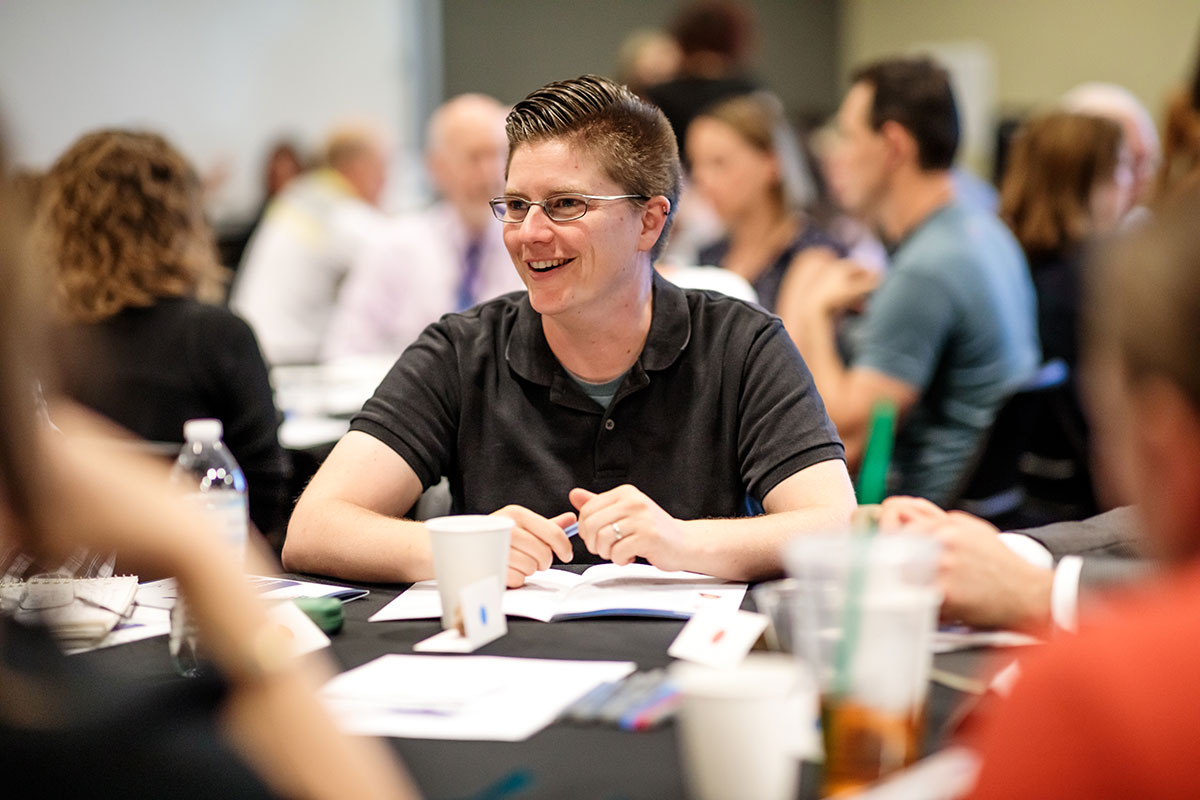 Time and again throughout the event, participants and panelists turned to Seattle, San Francisco, and the Silicon Valley as models of what they did not want Denver to become. But that reality is already beginning to take shape in the Mile High City. A recent study found that Denver had the fifth-steepest decline in housing affordability over the last year across major metropolitan areas.
The first four cities on the list? San Jose (home to Silicon Valley), San Francisco, Seattle, and Oakland.
But there's still one key difference between Denver and cities that may be further along in the tech boom, something that cannot be expressed in numbers: its size.
"Denver is too small of a community for us not to appreciate the differences of others," Bailey said. "We have to recognize them, acknowledge them, and work on them. Ultimately, it's in all of our best interests to do so."
In Denver, it's not that residents disagree about the issues facing their city; it's that they have different ideas about how best to solve them. If you ask Bailey, "that's a great place to be starting from.
"Listen to the conversations we're having. Everyone is coming from a different background, but there are no accusatory remarks because we have prior relationships with each other," Bailey said. "It's a luxury we still have that some places have lost."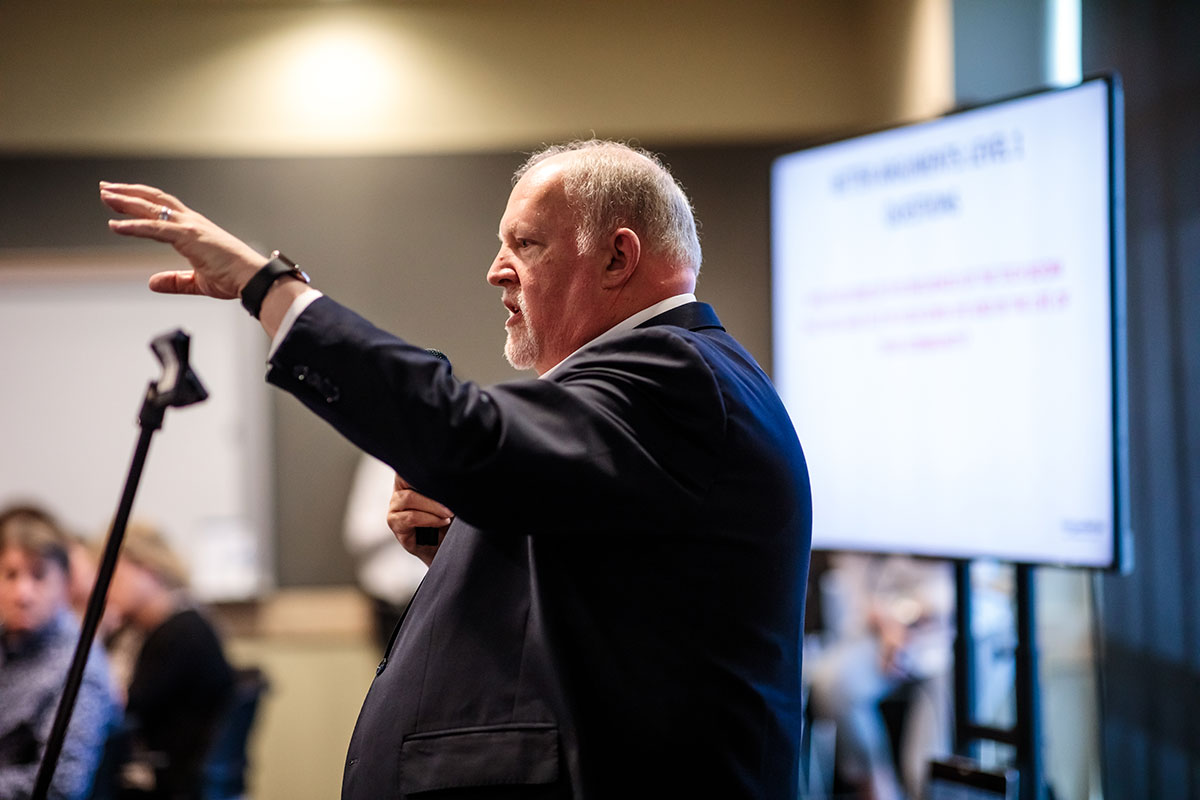 Bailey worked with Denver journalists when the Economic Development Corporation was pitching Denver as a possible location for a major tech company's headquarters. He earned a bachelor's degree from Regis University, the same college where Caldéron currently teaches sociology and criminal justice. Many members of the audience may also recall that Calderón ran for mayor of Denver earlier this year.
However tight-knit Denver may be, the issues raised by the tech boom are too complex to solve through an afternoon of communication trainings alone. But that's not the point.
The point is for individuals to challenge one another—and themselves—to see things from another perspective. When Betsy Kessler, Hoelzel's partner, decided to come to Better Arguments, she had already been thinking about the city-wide impacts of the tech boom, but the event helped her put a face to those issues.
The impact of that experience will ripple beyond the four-hour event.
"My mind changed today," she said. "Now that I'm thinking about this, I'm going to bring this up with other people. That's how it starts. First, you have two people that have a conversation, and then those two people have another conversation, and so on."