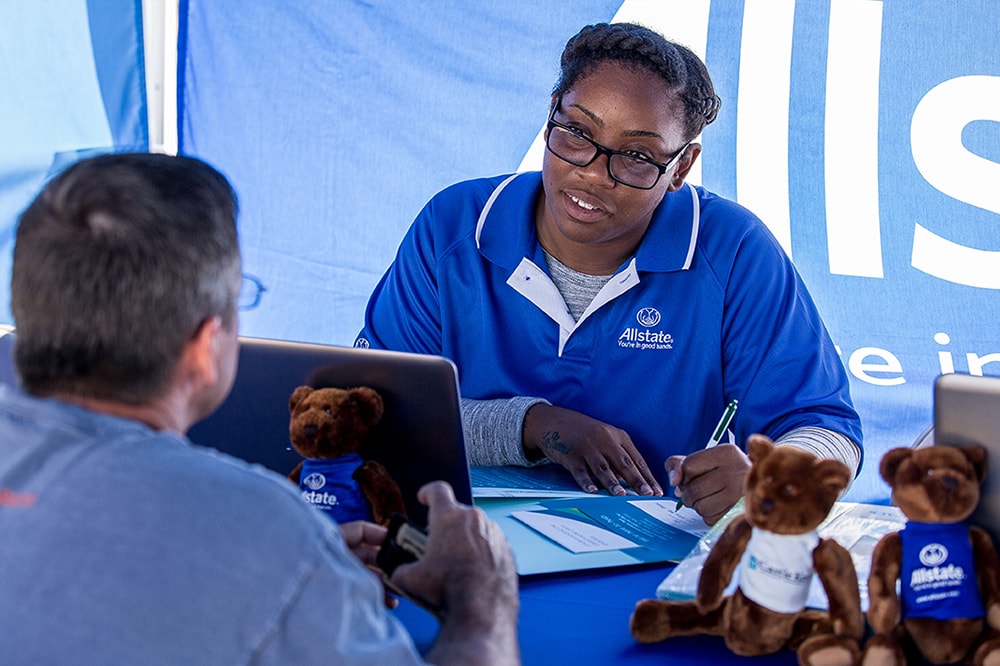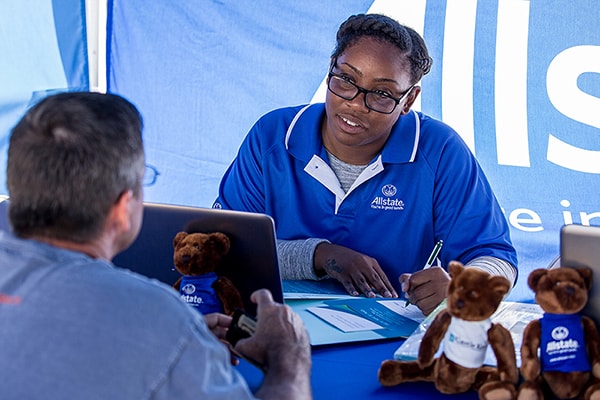 Abrush fire raging out of control that leaves a neighborhood in ruins, a hurricane that drowns an entire city, a fusillade of hailstones puncturing roofs and denting cars—catastrophe can come in many forms.
What comes next matters even more.
For a seasoned group of disaster-response veterans, it begins with a phone call—specifically, a call from the Allstate headquarters in Northbrook, Illinois, to one or more of nine field managers who are spread evenly across the United States.
After disaster strikes, that phone call sends action rippling across Allstate's 746-person catastrophe response team. It's their job to make sure that the team, along with dozens of other moving parts (including emergency vehicles, contract workers, and more), come together seamlessly for a coordinated response that quickly assesses damage, checks in with people who may still be at risk, and ultimately allows people who might have lost property, homes, or even loved ones to start the long process of recovery.
This is what it takes to respond to catastrophe. A hundred times a year.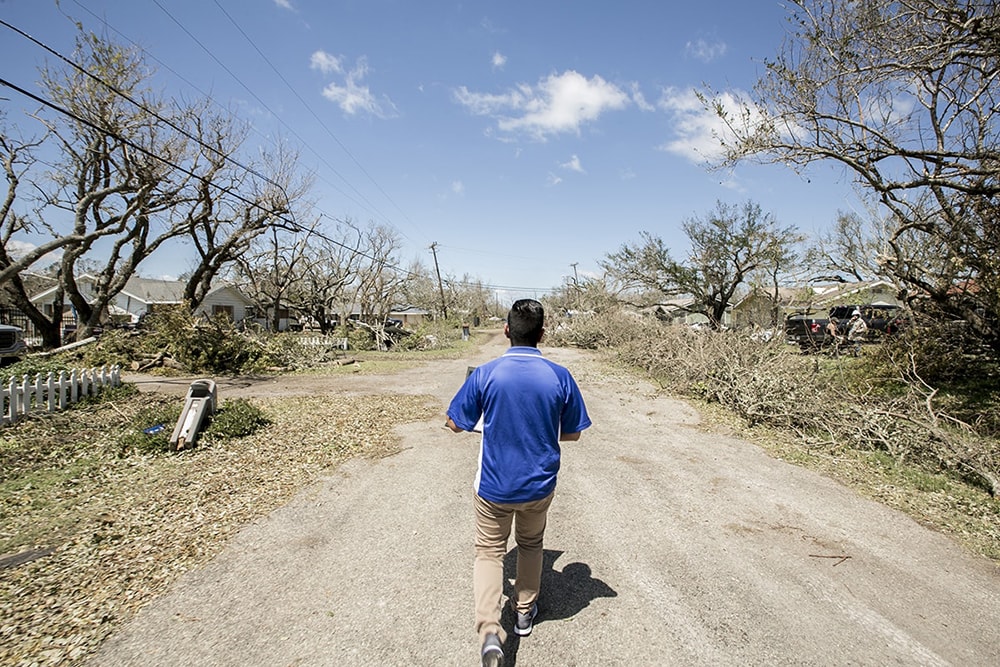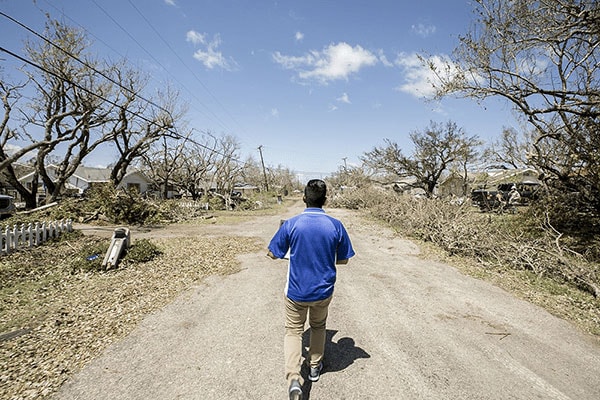 step one ASSESSING THE DAMAGE
Allstate's field managers are constantly hunting for signs of impending disaster: Checking weather reports for early indicators of wind storms, wildfires, or a gathering hurricane, and monitoring breaking news for word of industrial or residential explosions.
Roland Jeanlouis is one such field manager. A 28-year veteran of Allstate, he is always ready to leave his home office in New Iberia, Louisiana, and head to the airport when that call comes from headquarters. Once he arrives on the scene of a disaster, he must determine the extent of the damage and create a corresponding master plan for the response effort. To do so, one of the first orders of business is to gather information from state and local emergency management agencies, while coordinating with other team members on the ground.
But regardless of how much intel a field manager gathers, these are volatile situations, and there's always the possibility of a wildcard scenario: a second tornado that comes on the heels of an initial storm; a wave of rioting triggered by civil unrest; a building collapse that occurs days after a hurricane levels a neighborhood. "There's always something that's going to come up that wasn't planned for," says Jeanlouis.
Only so much planning can be done in the wake of a destructive event—and as a result, Jeanlouis and his teammates have helped cultivate a response process that continues to evolve, and is nimble enough to rise to any occasion.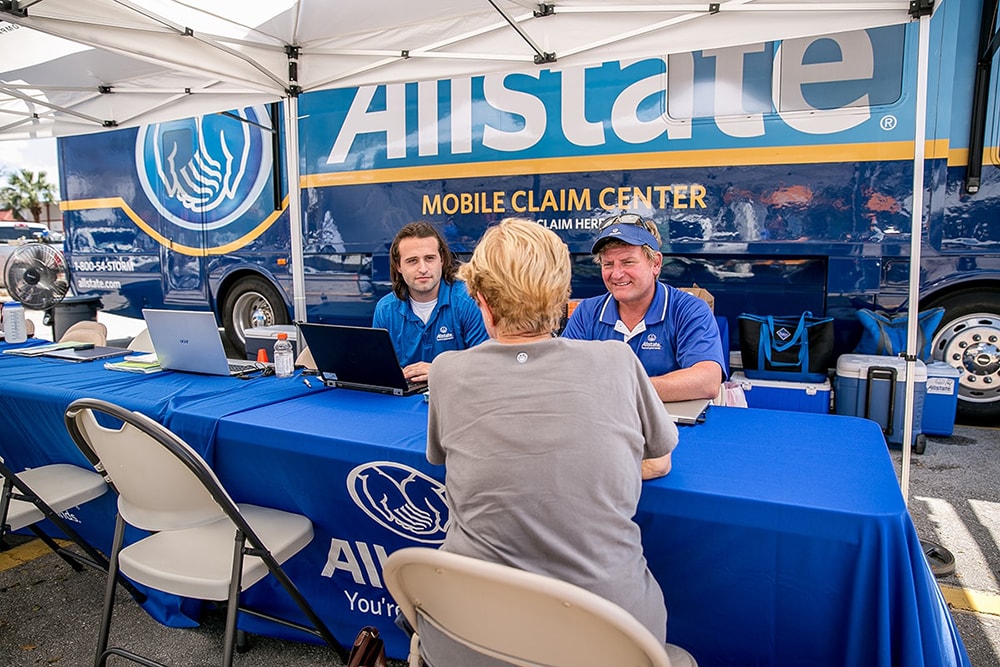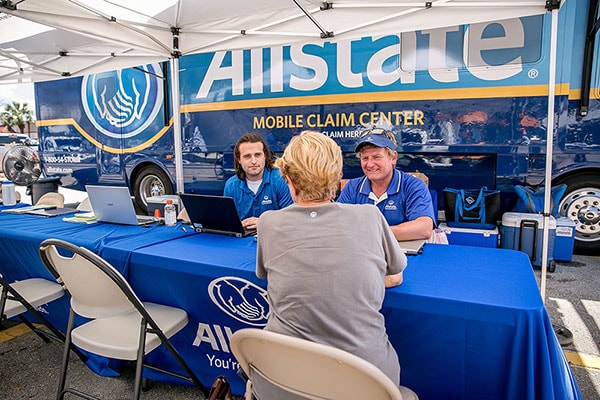 step two TRUSTING THE PROCESS
Whether a disaster affects a few, a hundred, or several thousand survivors, it can prevent them from contacting anyone for help. Phone lines could be jammed, or cell service may be down.
"The first person customers tend to reach out to is their Allstate insurance agent," explains Jeanlouis. "Just to get some instruction, get some direction. They're asking, 'What do I do? How do I deal with this?'"
This is usually where Allstate's mobile claims centers come in.
The mobile claims centers are state-of-the-art motor coaches that have been converted into crisis centers on wheels. They're equipped with meeting tables, generators, satellite technology, and computers with high-speed internet connectivity. Allstate stores the vehicles around the U.S.—in Northern California, Alabama, and the Chicago area—where they can be dispatched to locations that are as near as possible to a disaster site. There, they serve as backup to specialists in the field, who may be overwhelmed by calls or whose offices have been damaged or destroyed.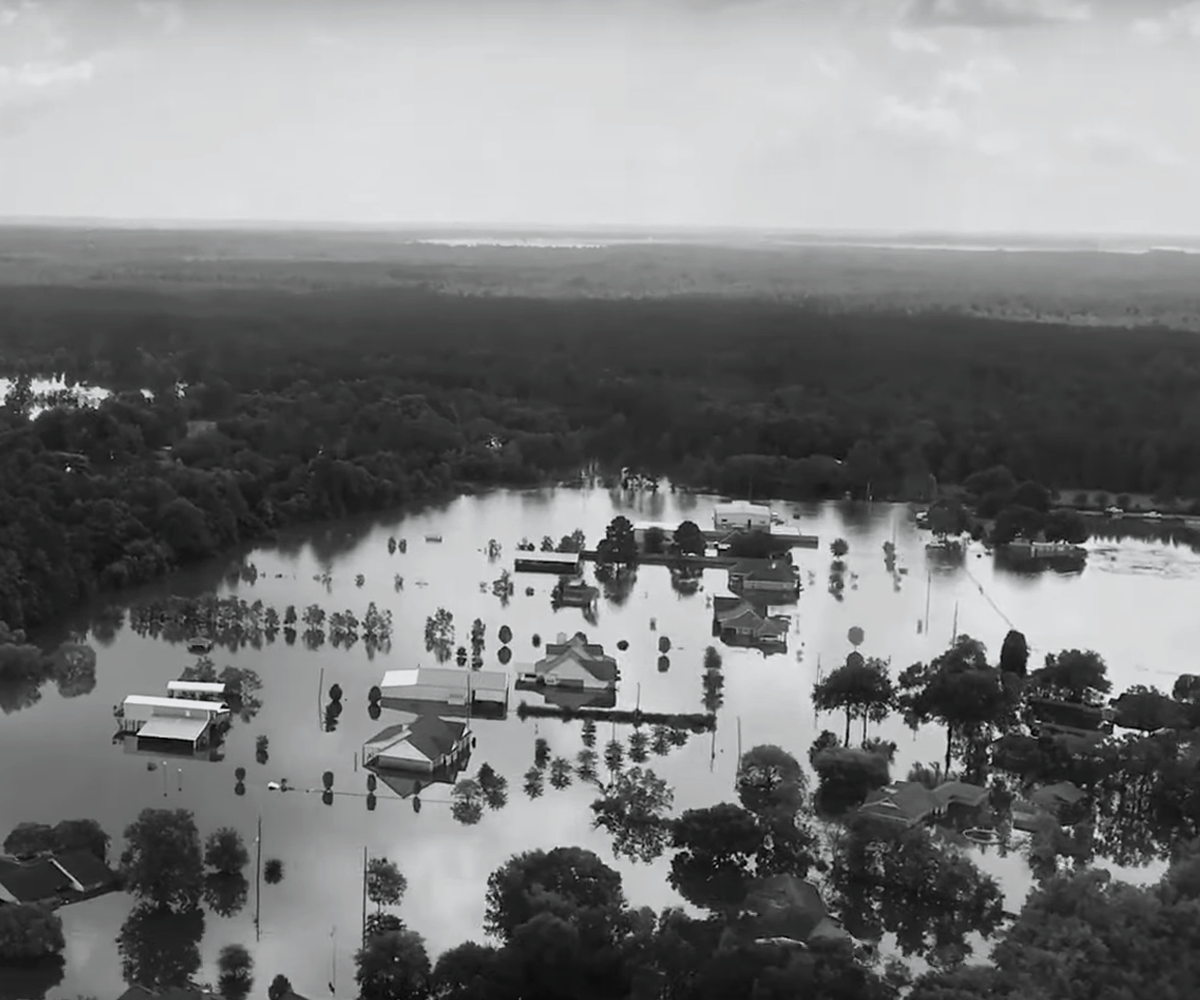 More from Allstate on CAT Response
High Ground
Watch Now
Inside the centers, which are outfitted with satellite dishes and followed by dedicated fuel trucks, catastrophe team members begin the claims process: They interview survivors, while also taking care of other immediate needs, both practical—checks for temporary living expenses can be issued on the spot, as can money for urgent repairs—and emotional. In fact, Allstate catastrophe team members often play the role of counselor, listening to people who just want to talk, and consoling those who have been traumatized by their loss. The company also provides therapy dogs, which are trained to play with children and calm them, while their parents or guardians file a claim.
This kind of emotional support is an integral part of any catastrophe response, according to Dr. Susan Krauss Whitbourne, professor emerita of psychological and brain sciences at the University of Massachusetts Amherst. "When a disaster strikes, people need psychological aid first," she says.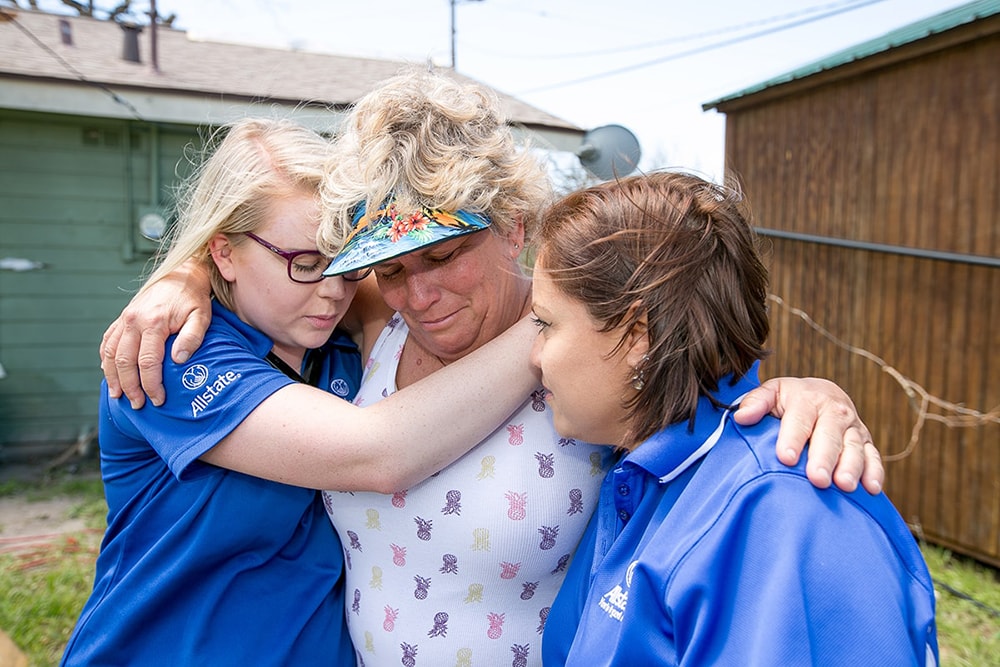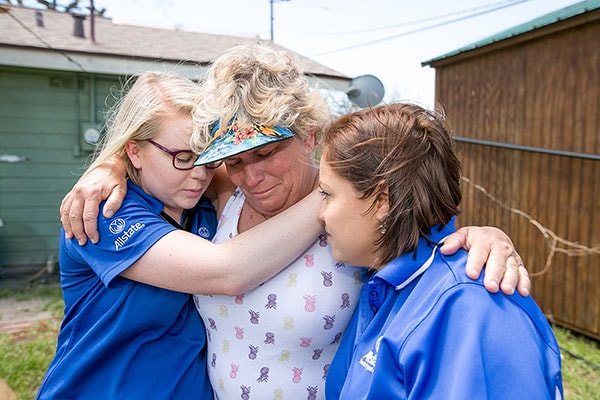 step three REACHING PEOPLE WHERE THEY ARE
Survivors aren't always able to make it to those mobile units. So team members travel to them in catastrophe response vehicles (CRVs), if road and neighborhood conditions are safe. To identify who may need this kind of assistance—whether it's a full-on rescue or just help filing a claim—team members check a customer database for the addresses of individuals they've yet to hear from. "Getting our people into neighborhoods is part of the response effort," says Jerry Jimenez, a claims operations leader for Allstate's National Catastrophe Team.
When the incident is a major storm and power is down, or if transportation has been affected, field managers and CAT team members turn to social media, which has become a key form of communication during and after catastrophes. During Hurricane Sandy, for instance, Twitter became a lifeline for victims, as people sent out 20 million messages in the days leading up to and following the storm, according to the Pew Research Center. Allstate has quickly adapted to this new reality, with CAT response team members now regularly searching disaster-related hashtags and other online posts to locate missing persons.
According to Amber Silver, an emergency preparedness expert, social media allows responders to crowdsource data about "which areas have been hit hardest," as well as broadcast "vital information beginning, while, and after a disaster."
Modern technology is helping advance catastrophe-response efforts in other ways, too. For example, Digital Locker is a tool in Allstate's mobile app that lets users create an inventory of their belongings, so they can be better prepared in the event of a natural catastrophe.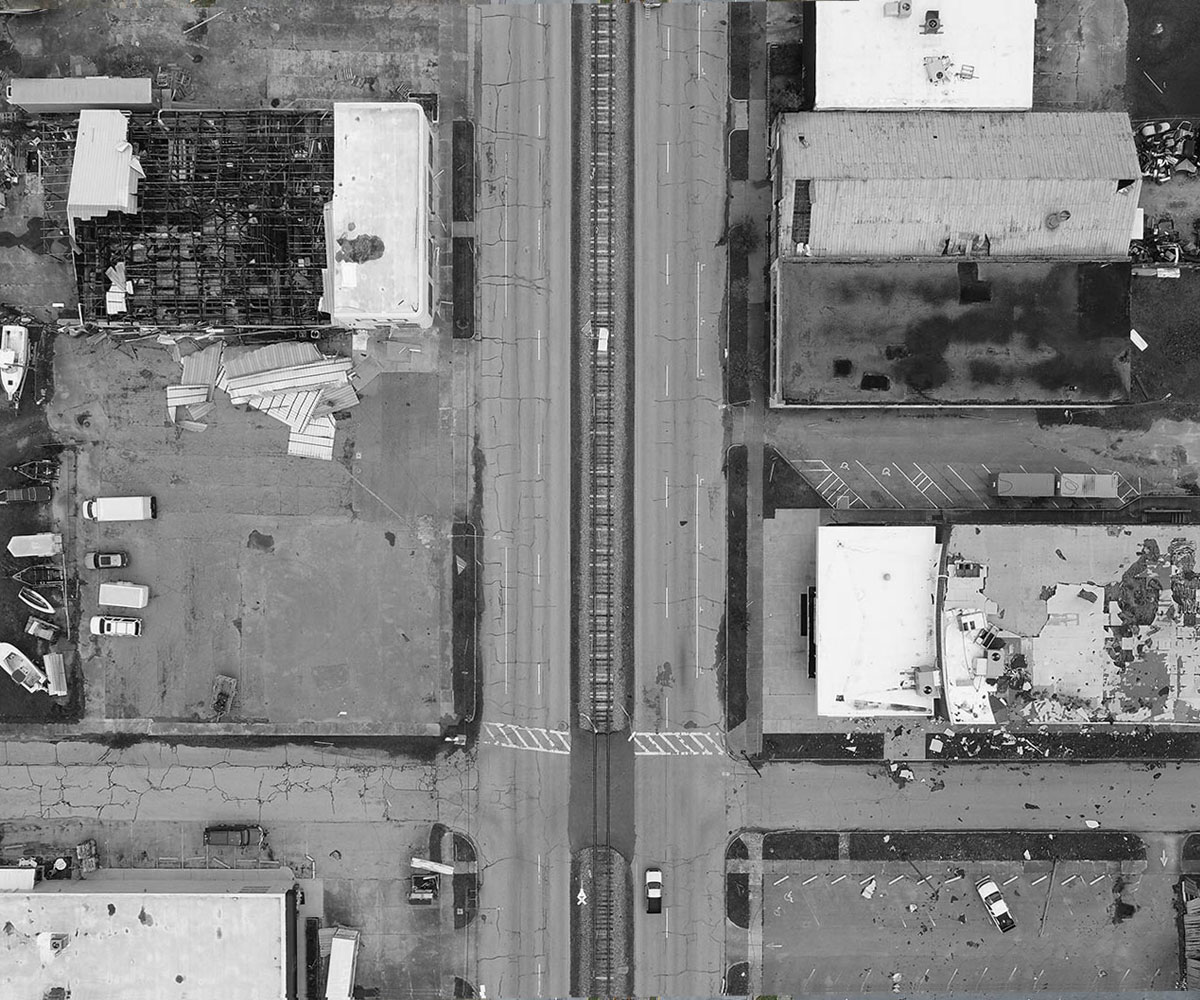 More from Allstate on CAT Response
The Day of the Drone
Read Now
Drones also are becoming increasingly important in the immediate aftermath of a disaster. During Hurricane Harvey, Allstate CAT team members ordered up to 1,000 drone flights a week to evaluate property and neighborhood damage. The drones, which are equipped with high-resolution cameras and zoom lenses, capture images that are then sent to a team of adjusters, who calculate the amount of loss that same day. This technology not only saves time and money, but also offers people peace of mind: the knowledge of what happened to their home.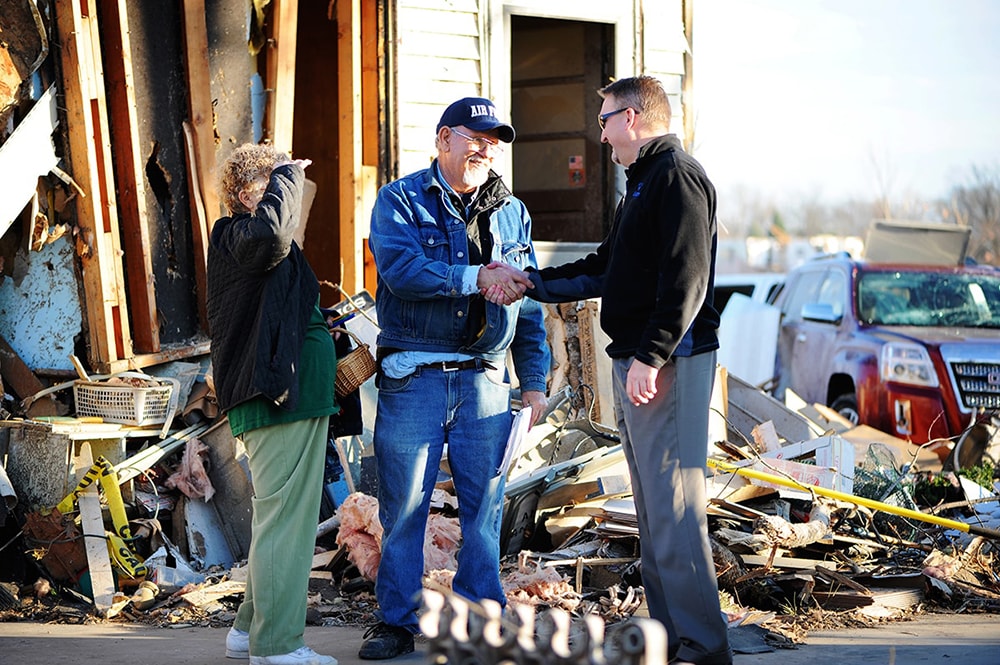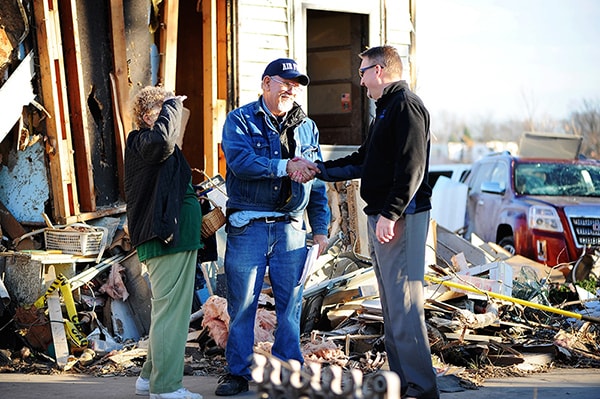 step four THE ROAD TO RECOVERY
After most of the claims have been processed and the flow of people at the mobile centers has been reduced to a trickle, the field manager will send CAT team members to take the trailers back to their home base. The army of other team members and response personnel similarly recede.
After the field managers return home, the work continues. There will still be claims to be filed and processed, and people who need help getting back into their homes. And with natural disasters becoming more common and severe, Allstate's ability to spring into action will continue to be tested. Its agents are ready to meet the challenge.
"I find myself in a position where, because of decisions I made, a person has been able to mitigate their damage and put their life back together more quickly than if I were not involved," Jeanlouis says. "There's nothing more satisfying than that."
So the CAT team waits, always monitoring the news and the weather, always ready for the next disaster—and for a call that could come before they've even unpacked their bags.