C arol and her husband, Richard, live in Erie County, New York. Today their life together has the type of calm that many people imagine for themselves in retirement. They talk regularly with friends, go to the movies when there's a new showing, and walk their dog every night before dinner.
But it wasn't until recently—during a routine hospital screening—that a caseworker learned there was more to the couple's story. For more than a decade, Richard and Carol had been victims of elder abuse.
Using an app called Legal Risk Detector that screens seniors for potential legal issues, the caseworker learned that Carol's situation was very high-risk. She "felt unsafe at home," "was afraid of someone," and "had been verbally threatened," according to the assessment.
It came to light that for many years Carol and Richard had been housing Carol's adult granddaughter, who refused to pay rent or other expenses and often left her newborn daughter in Carol's care for hours, even days at a time without advance notice. The few times Carol and Richard protested, the granddaughter threatened them verbally—and once even resorted to physical violence.
That's when Carol learned there were legal options for people in situations like this one. "We didn't know where to turn," she says.
Today in the United States, millions of people like Carol lack access to basic legal resources for a variety of reasons. They forgo legal action because they find the system too overwhelming, for example, or because they perceive it to be too expensive. Many simply do not know when they qualify for legal services in the first place. And it isn't an issue that affects only the elderly. Middle-class Americans, recent college graduates, first-generation immigrants, and new parents can all experience barriers to accessing the legal resources they need.
This issue affects lawyers, too.
"Lawyers wrestle with the challenges that can make connecting with clients more difficult," says Bob Carlson, president of the American Bar Association and a shareholder with the Butte, Montana, law firm Corette Black Carlson & Mickelson, P.C.
But Carol's story also hints at a possible solution. "Technology can help bridge the divide here, making lawyers more effective and efficient," Carlson says.
In Carol's case, legal technology did more than diagnose her situation; it automatically connected her with attorney Stephen Cho of the Center for Elder Law and Justice.
"When Carol's case came to me, I already had background information, which enabled us to begin consulting on her choices quickly," Cho says. He helped Carol and Richard evaluate their legal options and eventually have their granddaughter removed from their home.
Taking a case from a hospital bedside to the desk of an attorney at no cost would have been unimaginable even a few years ago. Today the Legal Risk Detector tool is just one development in a growing movement to responsibly integrate new technologies into the United States' legal system.
The ABA offers countless resources to lawyers, judges, law students and those who are interested in law-related issues.
Learn More at americanbar.org/membership
The United States has a Justice Gap
Defendants facing jail time in criminal cases have a constitutional right to be provided an attorney, but many people are surprised to learn there is no equivalent guarantee for individuals in civil cases. Typically, defendants in such cases—including divorces, domestic violence orders, home foreclosures, evictions, wills, and immigration applications—are responsible for attaining their own legal representation. And therein lies the gap.
By one estimate from the Legal Services Corporation1, 86 percent of low-income people with civil legal problems received inadequate or no legal help in the past year. Between 2015 and 2018, roughly 80 percent to 90 percent of domestic relations cases in Philadelphia involved at least one self-represented party. In 2016, 75 percent of low-income rural households experienced a civil legal problem, but only 22 percent sought professional legal help. And in 2017, 90 percent of evicted tenants in New York City never made an appearance in court.
The justice gap2 knows no regional or demographic boundaries. In its research, Legal Services Corporation has given special focus to a variety of groups impacted by access-to-justice challenges, including veterans, rural residents, parents and guardians of minor children, and survivors of domestic violence or sexual assault.
In certain cases, having legal representation can quite literally mean the difference between staying in this country and being deported to life-threatening conditions. "When unaccompanied children go to a removal hearing without representation by a lawyer, they win legal relief in about 15 percent of the cases," says Jack Rives, executive director of the American Bar Association. "If they have an attorney, however, over 70 percent are able to remain in this country."
The justice gap also persists in part because people simply don't know when and how to engage with the legal system. Currently one in five low-income Americans cites "wasn't sure if it was a legal issue" as the reason for not pursuing the help of an attorney, while 22 percent say they "didn't know where" to begin their search for legal resources.
"Part of the problem is how people think about and understand the civil justice issues that they have," says Rebecca Sandefur, professor of sociology at the University of Illinois. "Many low- and middle-income people simply don't realize that the problems in their life have a legal element."
A host of reasons beyond income level can determine someone's ability to diagnose and address a legal issue. Older people, people with significant disabilities, and people with language barriers are less likely than others to be informed about the civil justice system and may lack social networks that can connect them to legal resources, Sandefur says.
Bringing Law to the People
Margaret Hagan is the director at Stanford Law School's Legal Design Lab. The organization looks at how technology can be used to create new legal-services solutions. Early in her research, Hagan noticed that for many low- and middle-income Americans who have questions about the law, the instinct is to start online.
"There's a huge population of people with legal needs right now," Hagan says. "But they're not picking up the phone or using other tools to find a lawyer." Instead, they're turning to free online sources of information.
Most observers agree that online advice cannot compare to professional legal counsel. (Reddit Legal Advice, which brands itself as a place to ask simple legal questions, explicitly advises users to "see a local attorney for the best answer" to their questions, for instance.) But even so, more than two-thirds of American adults now report that they would be willing to use online legal services if it would save them money, with younger adults and those with an annual household income below $100,000 even more likely to do so.
Part of the incentive is cost, but another is confidence, whether it's founded or not. Many middle-income people believe that they are capable of handling things without the assistance of an attorney, Rives says.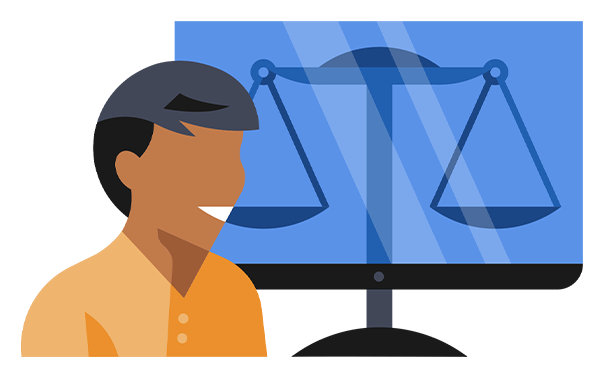 "Middle-income people, especially if they have a college degree, feel comfortable taking their questions to Google. They'll ask a question, they'll be taken to a form, and they'll think they know what they're doing—but really, they don't."
Searching for answers to everyday questions on Google can be rewarding, but the stakes are dramatically different when it comes to the law. For example, the answer to a legal problem in one state or jurisdiction can be quite different in another.
"Search results have a huge influence on what people trust," Hagan says. "If Google tells someone that an answer to their legal question is the number-one hit, people assume that it's correct, unaware that it may be based on laws in another state. We have seen people click on Australian legal advice even if they're in California."
In the same way that an individual can misdiagnose a serious medical condition by being overly reliant on online advice, someone using online legal resources can set themselves down a path that can become very expensive to get out of later.
Studies show that people have dramatically lower rates of success when they attempt to solve their legal problems without the assistance of an attorney.
According to an October 2018 study from Harvard Law School's Access to Justice Lab, when a legal aid group in Philadelphia County directed low-income divorce-seekers to use self-help resources to assist them with their divorce, only 5 percent managed to end their marriages without an attorney.
What's more, many self-help websites are not ultimately liable for errors and mistakes that can happen. Individuals who rely on these resources essentially have no claim if the information they get is incorrect or incomplete.
When consulting an attorney, people can trust that they are working with someone who has passed the bar examination, is licensed within a state, understands local regulation, and is typically responsible for fulfilling ongoing educational requirements and for adherence to ethical guidelines such as those outlined in the American Bar Association's Model Rules of Professional Conduct.
Hagan's research shows that a majority of people still prefer professional legal counsel to online resources, but access to legal assistance remains one of the most significant factors in people's decisions.
"Surveys show that people want and need attorneys to resolve legal problems," Hagan says. "Now we just need to make it easier and more affordable for people to access them."
The Power of Attorney
As with many lawyers today, Martin Tully did not have a single "eye-opening moment" that turned him onto legal technology. Instead, he had countless such experiences. "I remember thinking, This train is eventually going to leave the station, and I need to be on board," Tully says. "If you're not on board, chances are you're going to get run over."
Tully is a member of the American Bar Association's Privacy & Data Security Committee in the Section of Litigation and is a founding partner at Actuate Law in Chicago, Illinois. Over the course of a 25-year career in commercial litigation, Tully noticed that many parts of his job could be done more efficiently.
"There are so many parts of our jobs that can and should be automated," Tully says. "When you let the machine handle them, chances are they can be done better, faster, and cheaper."
If repeatable parts of a lawyer's job—like keeping records, conducting basic research, and completing form letters—were automated, Tully says, lawyers would have "more time to do the things that matter most."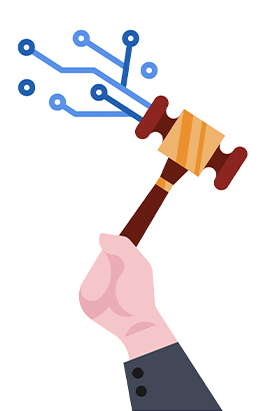 "With some of those things out of the way, lawyers may be able to assist more people for less," Tully says. "Maybe you only have time to do so much pro bono or low-cost assistance. But if you have tools that help you deliver services in a better, faster, and cheaper way, that may allow you to serve people using a different economic model."
A variety of vendors offer affordable artificial-intelligence tools that allow attorneys to automate basic tasks. As a result, firms can provide services to a broader spectrum of clients, including low- and middle-income people who previously might have been priced out of the market.
Tully says the next hurdle for lawyers isn't technological adoption—it's competency. "Nowadays the phone in someone's hands has more technology in it than many of the things NASA first sent to the moon," Tully says. "Clients already know how to use online legal resources because those resources were made for them.
"Now lawyers need to do the legwork in order to keep up."
Narrowing the Gap
"Let's be honest; Historically speaking, lawyers aren't always the first to pick up new technologies," says Daniel Rodriguez, professor of law at Northwestern Pritzker School of Law. "But given the severity of the situation, the modern profession needs destabilizing forces."
Rodriguez sees the current moment as an important opportunity for the legal industry. There is growing interest in legal technology at all levels, from the local—with Carol telling her friends about the Legal Risk Detector tool—to the national, with university programs like Stanford's Legal Design Lab. Importantly, this expanding focus on technology also is at the heart of the United States legal system: with the American Bar Association.
In 2012, the ABA voted to update Rule 1.1 of the Model Rules of Professional Conduct3 to make it clear that a lawyer's duty of competence includes a commitment to understand not only the law and its practice but also relevant developments in technology.
According to Andrew Perlman, dean of Suffolk Law School, that change in standards came about as a result of people having increased access to legal technology. "Expertise in an area of law is not enough anymore," he says. "Lawyers need to understand how to deliver their services more efficiently and effectively by using technology if they are going to meet the public's legal needs."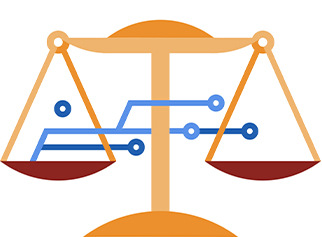 But the Model Rules of Professional Conduct can only do so much. That's why, four years after that change in language, the American Bar Association decided to take its commitment to legal technology a step further.
Rodriguez and Perlman work with the American Bar Association Center for Innovation, Rodriguez as the center's chair and Perlman, the former chair, as a special advisor. Founded in 2016, the Center for Innovation brings together attorneys, technologists, everyday people, and even chatbots to explore how technology can help lawyers start to tackle the justice gap.
"We know the most successful technological solutions to the access-to-justice gap involve collaboration with lawyers, with technologists, with entrepreneurs and, hopefully to an increasing extent, with consumers," Rodriguez says. "The object of what we're doing is to improve the ability of lawyers to provide representation, not to supplant their businesses."
As part of its mission, the American Bar Association Center for Innovation has partnered with legal technology organizations across the United States to design and develop several tools to close the justice gap.
It supports apps like Flood Proof, which helps individuals complete disaster-relief applications, and the Miranda Tool, currently in testing, which aids police in informing people with limited English proficiency of their constitutional rights. The center also supports Hate Crime Help, which assists victims of harassment, violence, and property damage resulting from hate crimes, and Immigration Justice, which supports pro bono attorneys seeking to offer immigration-law assistance.
In addition to supporting the development of new legal technologies, the Center for Innovation also helps bring to light those that already exist. In May, the center launched a partnership with Legal Services Corporation called Legal Tech for Change4. The program is designed to give LSC-funded legal aid programs free access to technology that can help lawyers reach more people with the same resources.
Perlman and Rodriguez acknowledge that legal technology is "not a magic bullet" that can solve the justice gap overnight. But it is "an important supplement," they say, and a step in the right direction.
"How much time does it take a lawyer to create documents for a client? How quickly can the lawyer find the needed documents?" Perlman asked. "If lawyers can do both of those things and others more quickly, they can serve more clients in the same amount of time and better serve the public."